This article is one in a series, covering the self-storage industry, a sub-sector of the commercial real estate market. The article will be used to discuss the competitive landscape of the self-storage industry. Included in the article is a discussion of the market concentration, key success factors, cost structure benchmarks, the basis of competition, barriers to entry and industry globalization of self-storage companies.
Market Share Concentration
The self-storage industry is very fragmented and has a low market share concentration. Three of the top companies in the industry contribute to less than 15% of the revenue.[1] The dominant player in the industry has 8.3% of the market share.[2]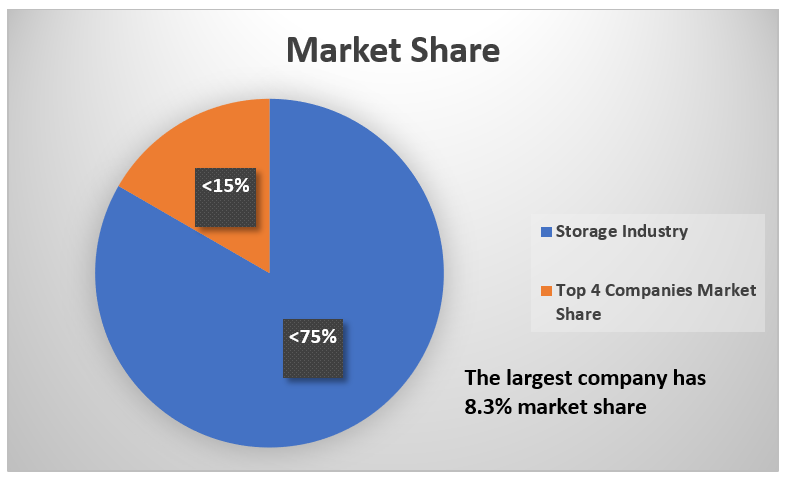 Source: IBISWorld
Key Success Factors
Reputation: Self-storage companies need desirable reputations to be successful. Having a flawless customer service enhances the success of the industry.2 According to IBISWorld, companies that have a good reputation, price, security and access to facilities for customers can improve their business.1
Economies of scale: Companies that can offer higher number of real estate and self-storage services with reduced costs can create economies of scale and earn more profit.1
Proximity to major markets: The geographical location of facilities can impact success. Self-storage companies can increase access to facilities when they are close to population centers. Proximity to densely populated markets can create an advantage for companies.2
Economies of Scope: Self-storage companies that provide a broad range of storage space sizes can gain a larger share of the market.
Excellent financial management and debt management: Thriving self-storage/real estate operators are able to manage costs and debt levels.1
Cost Structure Benchmarks
The cost structure of self-storage companies differs based on the size and structure of the company.
Profit: In 2017, the industry profit was 42.2% of the revenue. The industry is expected to have high profit margins due to small operational costs. The main costs in the industry is associated with purchases, leases and procurement of real estate.
Purchases: In 2017, purchases accounted for 4.6% of the industry revenue. Industry purchases included office supplies, legal and accounting fees, computer and printer supplies, lawn care and waste removal services.
Wages: In 2017, wages were forecasted to account for 11% of the industry revenue. Over the past few years, wages have declined as operators are using more automated technologies such as locking systems to reduce costs.
Depreciation: Depreciation has contributed to the largest expenses in the industry and has been projected to account for 13% of the industry revenue. The high levels of depreciation costs have been associated with purchase of equipment, buildings and land. Depreciation costs have declined over the past five years as companies have reduced location growth.
Marketing: Marketing costs contribute to 2.5% of the industry revenue and includes advertising and promotional costs.
Rent and utilities: Rent and utilities have contributed to 11.3% of the industry revenue. Rent is expected to increase in the next five years due to higher costs of financing. The increase in property valuation tax and other expenses have increased costs.1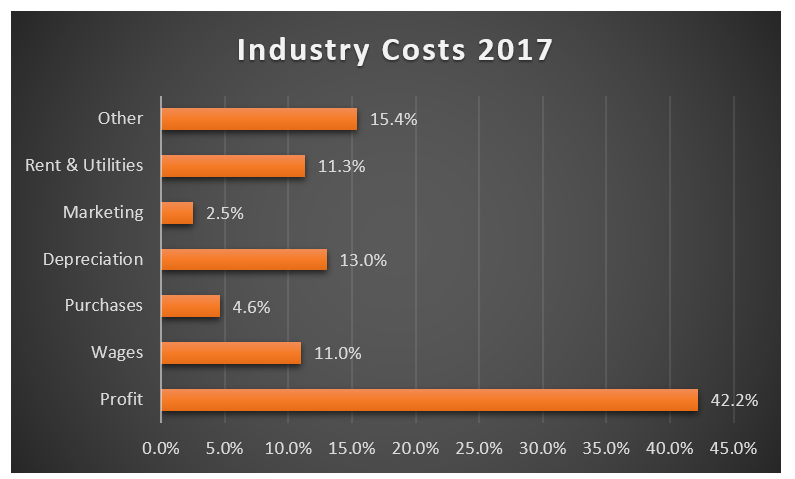 Source: IBISWorld
Basis of Competition
Location: The proximity of facilities to residential areas, customer's office and population centers influence competition.
Price: Companies compete for customers based on prices and other terms of storage contracts. Companies provide incentives such as low-monthly prices to attract customers.
Security: Security items such as camera surveillance systems, alarm systems, fencing and protection from thefts influence customers to select more secure facilities.
Management: Management personnel determine the success of facilities. Hiring and training management as well as using innovative techniques to enhance management are critical in the industry.
Safety: Companies that provide a wide variety of storage options, offer specialized facilities to protect the goods of customers and use temperature and moisture-control technologies can meet the demands of customers.1
Barriers to Entry
In the 2000s, the industry has experienced a fairly low barrier to entry with variations in states and cities.1 Barriers to entry are low in cities that have a high demand for storage space. For example, the demand for self-storage in New York market is three times more than the supply.[3] Although, property taxes, cost of land or facilities differ across regions, they can be a major barrier to entry. One of the barriers to entry is the high cost of land for competing sites. Self-storage companies are having challenges obtaining zoning and are restricted to develop facilities in certain areas.[4] Entry to the self-storage market can be affected by regulatory requirements, advertising and promotional costs, consolidation, operational costs, competition and concentration.1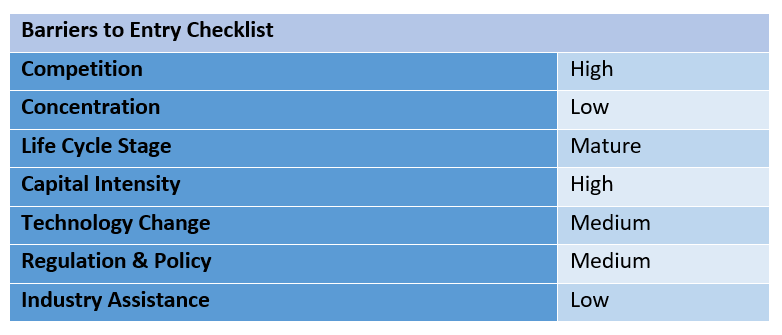 Source: IBISWorld
Industry Globalization
The level of globalization in the industry is increasing with small companies operating in countries such as Mexico and Canada. The trend is expected to increase since self-storage operators are likely to open more facilities in other countries. The Asia-Pacific region is also expected to establish more facilities in the future.1
Summary
The self-storage industry has a low market share concentration. The success of self-storage companies can be influenced by factors such as economies of scale, proximity to major markets, reputation and economies of scope. Profits, wages, depreciation, rent and utilities and purchases can impact the cost structure of self-storage companies. Many self-storage companies compete based on locations, safety, prices, management and security. Overall, barriers to entry in the industry are low. For more detail on capital formation with venture capital, including mergers and acquisition transactions in self-storage, click here.

Sources
[1] Marisa Lifschutz, Storing up: Low rental vacancies have paved the way for high demand for storage units, IBISWorld, (Nov 2017).
[2] GO MINI's, Mobile Self-Storage Meets Growing Market of DIY Customer, (2016),
http://gominisfranchise.com/cms/wp-content/themes/gominisfranchise/assets/attachments/GM_Industry_Guide_2016.pdf.
[3] Beth Matson-Teig, New Yorkers Can't Get Enough Self-Storage, (July 5, 2017), https://www.sparefoot.com/self-storage/news/5517-new-yorkers-cant-get-enough-self-storage/.
[4] C. William Barnhill, CCIM, and Michael McCune, The Self-Storage Transformation, (2017), https://www.ccim.com/cire-magazine/articles/self-storage-transformation/?gmSsoPc=1
Jenn Abban contributed to this article.

Nate Nead is a licensed investment banker and Principal at Deal Capital Partners, LLC, a middle-marketing M&A and capital advisory firm. Nate works with corporate clients looking to acquire, sell, divest or raise growth capital from qualified buyers and institutional investors. He holds Series 79, 82 & 63 FINRA licenses and has facilitated numerous successful engagements across various verticals. Four Points Capital Partners, LLC a member of FINRA and SIPC. Nate resides in Seattle, Washington. Check the background of this Broker-Dealer and its registered investment professionals on
FINRA's BrokerCheck
.

Latest posts by Nate Nead
(see all)