This article is the fourth part of a series covering the self-storage industry, a sub-sector of the commercial real estate market which falls directly under the firm's real estate investment banking practice.
The article will present the products and markets associated with the self-storage industry including supply chain, a description of the products and services and determinants that influence demand in the industry. Major markets, international trade and the business locations of self-storage companies will be presented.
Supply Chain
The supply chain for the self-storage industry include wholesale trade, retail trade and consumers in the U.S. Small wholesale operators utilize the industry's services to warehouse items bought from stores. Smaller retail shops utilize self-storage properties as a storage for inventory and stock. Households also use self-storage facilities to store household items and possessions.[1]
Products and Services
Self-storage facilities are segmented into different sizes and charge for rental space based on the length of the lease, size and location of the storage space.
The 5-by-5-foot and 5-by-10-foot storage spaces are used to store small items such as small furniture, seasonal goods, gardening tools and files. Consumers who rent this type of space include college students and households with limited space.
The 10-by-10-foot and 10-by-15-foot storage spaces are the most popular rental space and can store larger items to meet both short and long-term needs. Households use the space to temporarily store furniture as they transition to new homes. The 10-by-10-foot and 10-by-15-foot storage spaces account for 23.1% and 14.4% of the industry revenue, respectively.
The 10-by-20-foot and 10-by-25-foot storage spaces are projected to make up 20.6% and 5.3% of the industry revenue, respectively. Households use the storage space to store vehicles and furniture for several rooms.
The 10-by-30-foot storage spaces account for 6.2% of the industry revenue. The storage space is used to rent larger items such as boats, store furniture and vehicles.1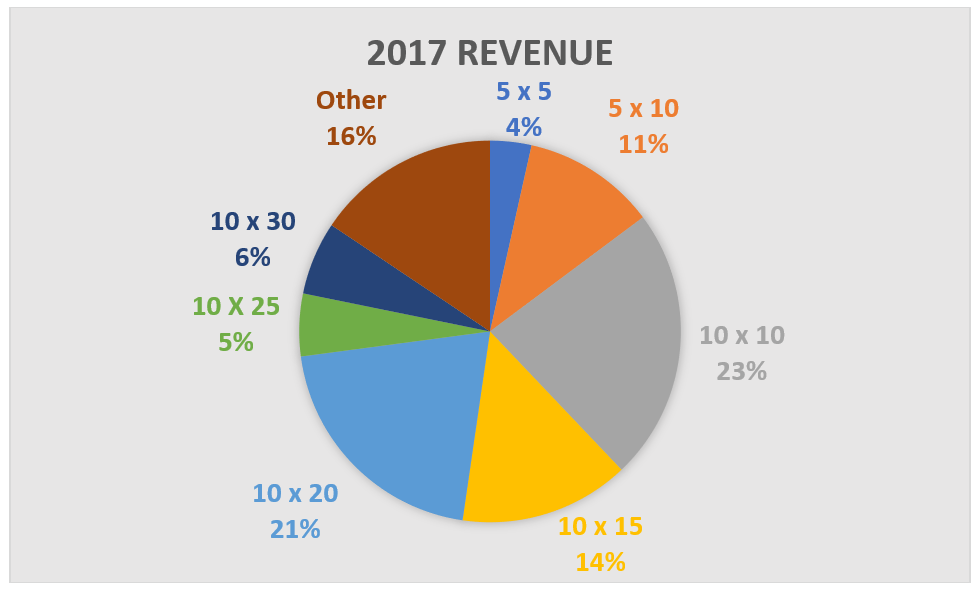 Source: IBISWorld
Demand Determinants
The most significant drivers for demand for self-storage are population growth and rental vacancy.  Population growth increases the growth of self-storage companies. For example, the increase in the U.S population has influenced 8% of the population to use storage facilities compared to 3% of the population using the facilities in the 1980s.[2]  The increase in population density influences a demand for apartment rentals. Renters seek additional space from storage facilities due to limited space in their home increasing the demand for storage space. The price of storage properties plays a role in demand for industry services.  Demand in the industry is also influenced by the need for consumers to maintain their business records and personal information.1
The earning curve of consumers affects self-storage demand. As consumers gain more income, they can afford self-storage space. Local markets also enhance the growth of the industry. For example, several self-storage companies advertise to consumers to increase their awareness about the benefits and availability of space.[3]
Major Markets
Residential customers can rent self-storage units for a short-term or long-term and store a variety of goods such as vehicles, business files and sporting goods. The residential sector has accounted for more than half (69.9%) of the industry revenue with 21% short-term rentals and 48.9% long-term rentals.1
Commercial operators contributed to almost a fifth (18.4%) of the industry revenue in 2017. Wholesale, retail and business companies use self-storage to store equipment and supplies.1 Truck rental and towing companies use self-storage facilities to store trucks and towing equipment.[4]
Students use self-storage facilities to store books and other belongings for a short-term period. The industry gains 5.8% of its revenue from student renters.1
Military personnel renters contributed to 5.9% of the industry revenue in 2017. Self-storage companies have rented out over 700,000 units to military personnel.1
International Trade
International trade does not apply to the self-storage industry since the industry does not provide import and export services internationally.1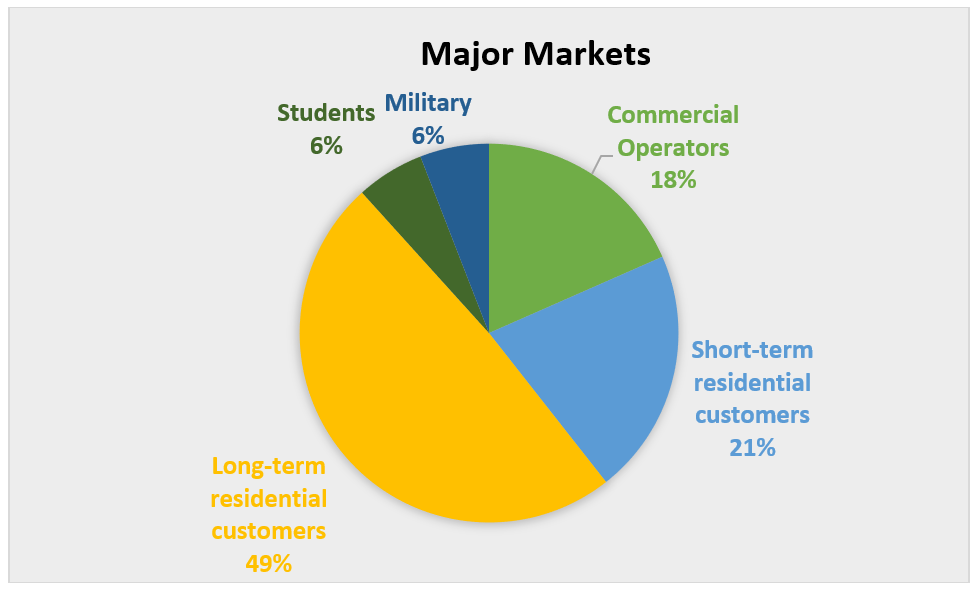 Source: IBISWorld
Business Locations
More than half (52%) of the self-storage facilities are located in suburban areas and 32% and 16% are located in urban and in rural areas, respectively. In the U.S., the southeast region has the largest number of self-storage facilities with 28.5% of the establishments. Florida has the highest concentration in the southeast region. The western region has 21.4% of the establishments and California has the highest concentration of facilities in the region.1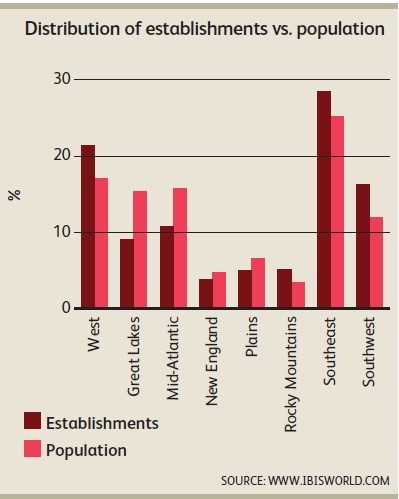 Source: IBISWorld
Summary
The supply chain of the self-storage industry includes wholesale, retail and commercial operators. Rental vacancy, population growth and the earning curve of consumers have influenced the demand for storage space. The industry is segmented into different rental spaces to meet needs of consumers such as residential customers, commercial operators, students and military personnel. Although self-storage facilities have locations in all the U.S states, the southeast region has the highest concentration of facilities.
Sources
[1] Marisa Lifschutz, Storing up: Low rental vacancies have paved the way for high demand for storage units, IBISWorld, (Nov 2017).
[2] Esther Fung, Self-Storage Boom Shows Signs of a Slowdown, (July 11, 2017), https://www.wsj.com/articles/self-storage-boom-shows-signs-of-a-slowdow-1499811468
[3] C. William Barnhill, CCIM, and Michael McCune, The Self-Storage Transformation, (2017), https://www.ccim.com/cire-magazine/articles/self-storage-transformation/?gmSsoPc=1
[4] R. Christiane Sonne, Self-Storage Economics, The Appraisal Journal, (2013).
Jenn Abban contributed to this article.

Nate Nead is a licensed investment banker and Principal at Deal Capital Partners, LLC, a middle-marketing M&A and capital advisory firm. Nate works with corporate clients looking to acquire, sell, divest or raise growth capital from qualified buyers and institutional investors. He holds Series 79, 82 & 63 FINRA licenses and has facilitated numerous successful engagements across various verticals. Four Points Capital Partners, LLC a member of FINRA and SIPC. Nate resides in Seattle, Washington. Check the background of this Broker-Dealer and its registered investment professionals on
FINRA's BrokerCheck
.

Latest posts by Nate Nead
(see all)