This article offers a look into M&A activity within the Media and Telecom industry up to and during 2020. It aims to update readers on deal volumes and values within the industry and to provide a framework to predict future trends in 2021. 
U.S. Media and Telecommunications Deals Hold Steady Despite COVID-19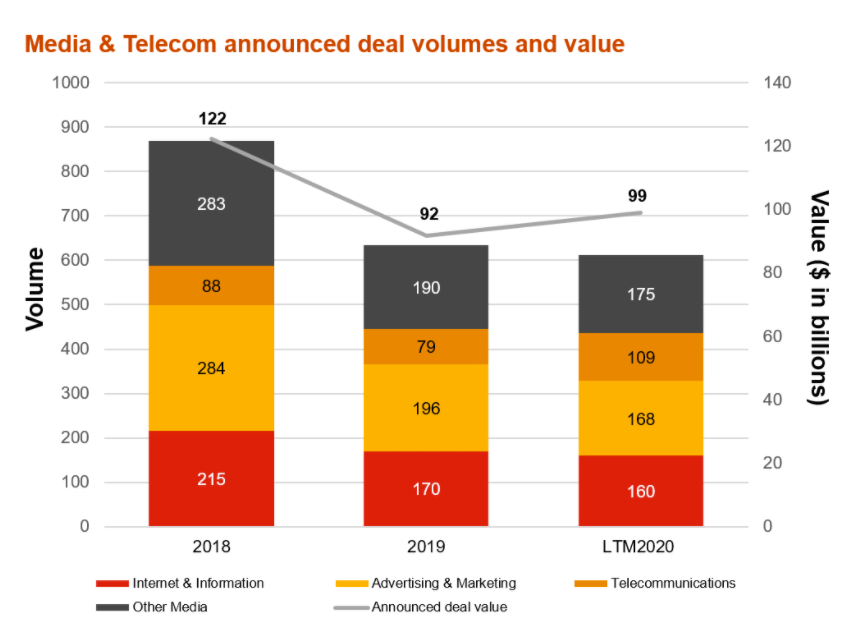 (1)
Coming off a down year in 2019, the U.S. Media and Telecommunications industry was surprisingly resilient in its response to the economic effects of the pandemic. The crisis meant more people stayed home and streamed movies or shows, played video games, and listened to music.
This helped keep demand within this industry high and enabled investments in this sector to shoulder less risk than quite a few other industries. 
Deal Volume
(1)
Deal volume in Media and Telecommunications started off normal through February, with about 129 deals according to PWC data (1). However, when COVID-19 fully hit, the industry saw a dramatic reduction in deal volume from March to June.
Volume in the second half of the year increased, which help to compensate for the slower preceding months. By the end of the year, Media and Telecom M&A activity had achieved a level comparable to that of 2019 (2). 
Deal Value
U.S. Media and Telecommunications deal value in 2020 resulted in a total of about $99 billion or more in transactions, according to sources at PWC. (1) This came as a surprise to some, because deal value managed to remain healthy by year's end, despite the pandemic.
A large portion of the deal value stems from changes in consumer behavior over the year. As consumers were in lockdown, the craving for media and telecom services in the home soared.
More apps and streaming services became available and active competitors expanded to possess the technology and resources necessary to deliver what consumers desired. Internet, telecoms, and other media all experienced similar deal values throughout the year. 
Trends
Investment Trends: Private equity investments had a record year in the industry, with private equity investments making up 34% of deal volumes. PE investments soared beyond 2019 volumes, in which 28% of the deal volume was from PE investments. (1) As private equity investments continue to rise in the general market, it is safe to assume 2021 will see a similar or greater PE deal volume.
Industry Trends: The Media and Telecom industry still has room to grow. We live in a world ruled by technology, so consumers are continuing to change their behavior, which has lead to more at-home streaming and gaming.
The big players in the industry, such as Disney+, are still looking for ways to expand their reach and popularity. This will probably lead to more deals in 2021 as companies acquire more talent and resources to dominate their industry. (3)
The industry will also continue to expand, with 5G technology projects occurring around the country. However, a few sub-sectors such as the movie cinema wing, were hit hard during 2020 due to in-person restrictions. Some of these sub-sectors may not recover as fast as the rest of the industry because of their reliance on in person attendance.
But the other sectors will continue to deliver their services directly into the residences of consumers. Thus, most observers predict a bright and healthy future for the Media and Telecom industry in 2021.
Jackson Casper contributed to this article. 
Sources
PricewaterhouseCoopers. (2020). Media and Telecommunications deals insights: 2021 Outlook. Retrieved April 1, 2021, from https://www.pwc.com/us/en/industries/tmt/library/telecom-media-quarterly-deals-insights.html (last visited April 13, 2021).

Szalai, George. (December 10, 2020). Media and Telecom Deal Activity Stable Despite Pandemic: Study. Retrieved April 1, 2021 from

https://www.hollywoodreporter.com/news/media-and-telecom-deal-activity-stable-despite-pandemic-study

Pitchbook. (February 6, 2021). 2020 Annual North American MA Report. Retrieved March 15, 2021 from https://files.pitchbook.com/website/files/pdf/PitchBook_2020_Annual_North_American_MA_Report.pdf

Nate Nead is a licensed investment banker and Principal at Deal Capital Partners, LLC, a middle-marketing M&A and capital advisory firm. Nate works with corporate clients looking to acquire, sell, divest or raise growth capital from qualified buyers and institutional investors. He holds Series 79, 82 & 63 FINRA licenses and has facilitated numerous successful engagements across various verticals. Four Points Capital Partners, LLC a member of FINRA and SIPC. Nate resides in Seattle, Washington. Check the background of this Broker-Dealer and its registered investment professionals on
FINRA's BrokerCheck
.

Latest posts by Nate Nead
(see all)