This article is one in a series covering healthcare big data and analytics, a sub-sector of both software & computing and healthcare investment banking.
Definition
Data Analytics enhances the entire process of data collection, storage, mining, analysis, and visualization to discover meaningful patterns in data.
Healthcare Analytics, a subset within the broader Data Analytics industry, facilitates improved decision making by combining big data and mathematics to change the way healthcare companies think, interpret, and act on information. As a result, firms operating within the industry hope to improve patient care, operating performance, and the bottom line by converting clinical and financial data into actionable insights.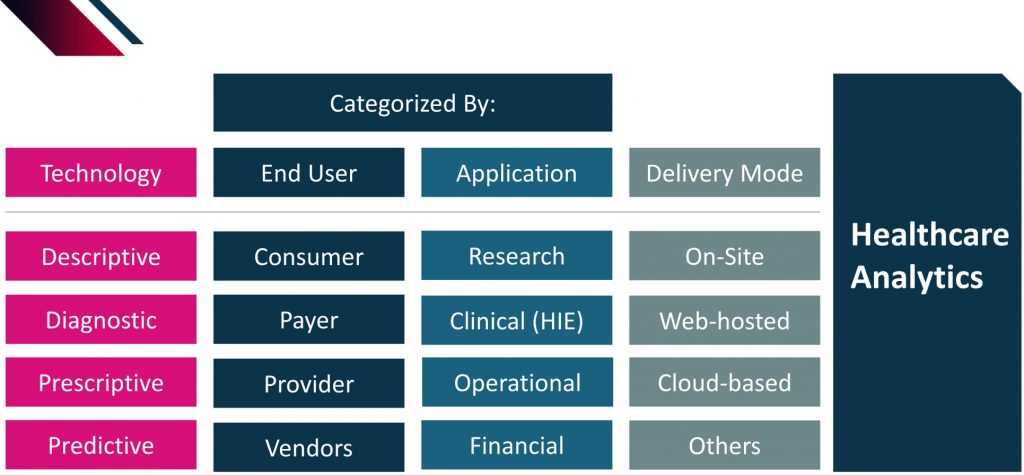 Statistics
Between 1960-2016, National Health Expenditures as a percent of GDP has risen from 5% to 17.9%; Per-capita health expenditures have risen from $146 in 1960 to $10,348 in 2016 [i]. During the same period, the United States population ages 65 and above has represented an ever-growing proportion of the overall population [ii].
These major market forces – rising healthcare costs and an aging population suffering from chronic conditions – have brought with them an increase in federal healthcare mandates. As such, payers and providers are increasingly motivated to invest in connected healthcare technology in order to deliver patient care more efficiently.
Market Segmentation
The Healthcare Analytics industry can be categorized according to technology (descriptive, diagnostic, prescriptive, predictive analytics), end-user (consumers, payers, providers, and vendors), application (research, clinical, operational, financial), and mode of delivery (on-site, web or cloud-based) [iii].
While most of these categories are self-explanatory, it might help to define the end-user constituents.
Consumers: Individuals who receive medical care
Payers: Institutions, such as employers or insurance carriers, that pay the providers for delivering medical care to patients
Providers: Institutions that provide medical care to patients
Vendors: Firms that sell products, devices, services, and solutions to providers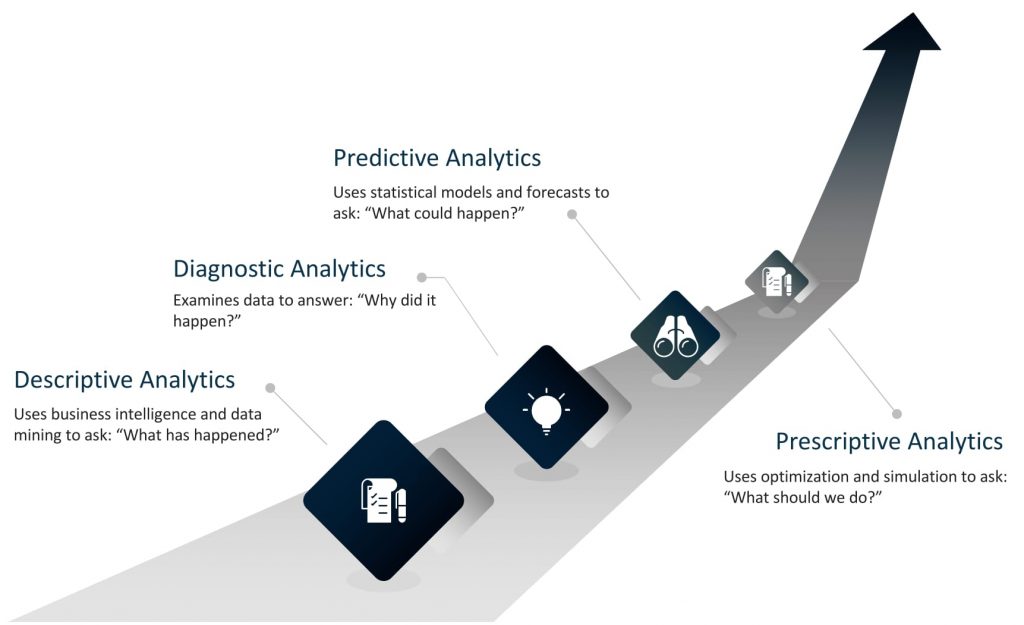 Main Activities by Application
Research
The ultimate goal of healthcare research is to bridge data collection with data analysis to identify the root causes of disease as well as help evaluate disease and treatment patterns. Recent technological developments such as wearable sensors and mobile phone apps aid firms in collecting and analyze real-time with the intent to create algorithms which help detect and treat diseases.
Clinical Data
The creation of an electronic health records (EHR) and a health information exchange (HIE) allows consumers and providers to standardize and securely access or share a patient's medical information electronically— effectively reducing costs while simultaneously improving the speed and quality of care [iv].
Operational
A 2006 study by the American Hospital Association concluded that over $30 billion was spent on unnecessary hospital admissions, and that 20% of all hospital admissions occur within 30 days of a previous discharge. Operational Analytics helps improve healthcare operations to reduce readmission rates and improve patient outcomes.
Financial
The collection, storage, and analysis of financial data can help healthcare providers optimize business performance and provide insight into the whole revenue cycle. For customers, these insights can be used to create price benchmarks to compare providers. For providers, analytics will improve billing and reimbursement processes, clinical services, payer relations, charge monitoring, etc.
Similar Industries
Business Analytics, Business Intelligence, Big Data, Cloud Computing Software, ERM Software, Computer Software, Data Management
Sources
National Health Expenditure Data, Centers for Medicare & Medicaid Services (2017), https://www.cms.gov/.
Population Ages 65 and Above for the United States, FRED (2017), https://fred.stlouisfed.org/series/SPPOP65UPTOZSUSA/
Healthcare Analytics Global Market, MarketResearch.com (2014),
https://www.marketresearch.com/.
Health Information Exchange, HealthIT.gov,
https://www.healthit.gov/HIE/.
Big Data Analytics for Healthcare, Society for Industrial and Applied Mathematics (2013),
https://www.siam.org/meetings/sdm13/sun.pdf/.
Britton Sorensen contributed to this article

Nate Nead is a licensed investment banker and Principal at Deal Capital Partners, LLC, a middle-marketing M&A and capital advisory firm. Nate works with corporate clients looking to acquire, sell, divest or raise growth capital from qualified buyers and institutional investors. He holds Series 79, 82 & 63 FINRA licenses and has facilitated numerous successful engagements across various verticals. Four Points Capital Partners, LLC a member of FINRA and SIPC. Nate resides in Seattle, Washington. Check the background of this Broker-Dealer and its registered investment professionals on
FINRA's BrokerCheck
.

Latest posts by Nate Nead
(see all)