05 Dec

Cloud Services Industry – Executive Summary

The cloud computing industry is divided into three main types of service models: Software-as-a-Service (SaaS), Infrastructure-as-a-Service (IaaS), and Platform-as-a-Service (PaaS). While the SaaS model involves the on-demand licensure of software applications over the internet, usually provided on a subscription basis, the IaaS model involves the delivery of cloud computing infrastructure, such as servers and storage, as an on-demand service. On the other hand, the PaaS model is an online platform, also delivered over the internet, that enables clients to create their own software.[1]Moreover, these cloud computing services can be deployed in three different ways: public (clouds that are offered to the general public and operated by third-party provider), private (clouds that are operated solely for a single firm or enterprise), or hybrid (clouds that are a combination of public and private clouds).[2]

The industry is very diverse and highly competitive, once constant technological advancements, increase in demand and low barriers to entry contribute to emergence of new firms in the market. Despite this diversity, the industry is currently dominated by Google, Amazon, and Microsoft, who capture most of the industry's revenues. These large players, which enjoy brand recognition from their long standing of operating histories, and whose size allowed them to gain market share by setting more attractive prices without affecting their overall business profitability, have made the market environment much more hostile to smaller firms. However, the so called Big Three can expect to encounter a higher level of competition, especially from firms such as Alibaba, IBM, and Oracle, in the next few years. On top of that some of these firms, more specifically Google and Oracle, have been involved in a few acquisitions during 2017, for different strategic motives. Among recent Initial Public Offerings (IPOs), MuleSoft, Okta, Cloudera, and Tintri were the most notable cloud startups to have gone public this year.

Current trends in the industry include the increase in cloud storage capacity and use of co-location services, the pivotal role cloud services play in the operation of the increasingly popular Internet of Things (IoT) devices, a better cloud cost containment by managers, and the choice by several businesses to deploy cloud services in a hybrid model. Furthermore, the main opportunities in the industry arise from the exponential growth projected in cloud services and solutions, as well as the demand for those offerings, and the opportunity of firms tailoring their offerings for different customers and their specific needs, thus differentiating themselves from competitors. Finally, the main risks present in the cloud services industry relate to security issues, with the occurrence of cyber-attacks globally, the high level of competition and the subsequent price war that ensued.
Industry Trends
Increased Cloud Storage Capacity
As the demand for cloud services continues to increase, firms in the industry are expected to open new data centers, thus increasing the overall data storage capacity. According to a survey by Cisco, storage capacity is expected to almost double between 2017 and 2018 (from 600 EB to 1.1 ZB), which is likely to lead prices, especially those for custom cloud services, to decrease.[3]
Internet of Things (IoT) and the Cloud
The increased production and commercialization of IoT devices, which rely heavily on cloud services to function properly when connected with other devices, is expected to be one of the growth drivers in cloud usage in 2018. As these devices become more popular, cloud services are expected play a crucial role in assisting in information storage and communication between those devices. [4]
Cloud Cost Containment
By making use of public cloud computing services, companies are able to decrease or eliminate capital expenses related to the purchase of equipment and software to operate their own datacenters. However, for firms who contract with more than one cloud provider, the cloud costs can partially offset the benefits of those infrastructure expenditure reductions, mainly due to managers lack of experience with cloud management and overwhelmingly different options of cloud offerings and pricing. As managers gain more experience in cloud cost containment and more cost management instruments become available, such as Cloudability and Cloudyn, decision makers are expected to make informed decisions, and to better control their firms' cloud expenses.[5]
Hybrid Cloud Solutions
Many businesses choose to deploy hybrid cloud services, by maintaining their in-house data centers while also making use of some public cloud services that can best suit them. These firms choose the hybrid deployment model due to the possibility of scaling globally, while avoiding the lengthy period and prohibitive high costs of transferring all their data to the cloud and keeping their most sensitive data in-house, where they have better control over network security.[6]
Co-location Services
The use of co-location services has also been increasing. Businesses are able to rent space in data centers firms, such as Equinix, where they have the opportunity to connect with some public cloud services.[7] This allows them to try-out the services from different cloud firms at the same time, and make better informed decisions on which cloud provider would be the best fit for their needs.

Transactions
During the first quarter of 2017, some of the largest firms in the cloud services industry have acquired smaller industry competitors in a way to obtain assets and technologies that would either facilitate their transition into the cloud industry or consolidate their position as one of the industry leaders. Among the most active firms during that period were Salesforce (most relevant deal involving Sequence), Oracle (most relevant deals involving Wercker, Moat, and Aconex), and Google (most relevant deals involving AppBridge, Bitium, and Kaggle).[8]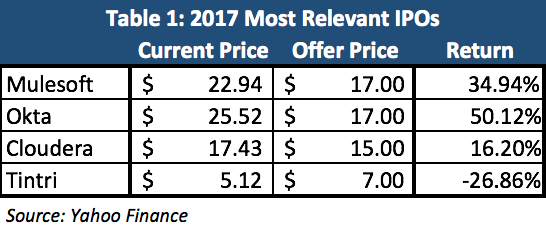 Among the most relevant firms to have gone public this year are MuleSoft (March 2017), Okta (April 2017), Cloudera (April, 2017), and Tintri (June 2017). [9]As of today, the share prices of Mulesoft, Okta, and Cloudera have gone up 34.94%, 50.12%, and 16.20% in comparison to their IPO prices, respectively.[10] On the other hand, the share price of Tintri has decreased by 26.86% (See Table 1). Moreover, Cloudera lost $1.6 billion in value from the estimated $4.1 billion, after its last funding round, to $2.5 billion at the closing of the day it went public.
Opportunities
Growth in Cloud Services and Solutions
According to the latest report by Forrester on cloud computing, the total public cloud market worldwide will increase from $146 billion this year to $178 billion in 2018, and is expected to grow at a compound annual growth rate of 22%.[11] On top of that, Gartner estimates the global spend on cloud computing to reach $350 billion in 2020, up from $210 billion in 2016, sustaining a compound annual growth rate of 19% during the period.[12] Whereas one can think of those growth rate estimates as being too optimistic, an analysis by SharesPost has shown that industry estimates by IDC, Forrester, and Gartner have in fact underestimated the annual spend on the industry for each of the last 5 years.[13] Furthermore, Forrester estimates that the SaaS and IaaS revenues are projected to reach $58.6 billion and $34.7 billion by the end of 2017, respectively.[14]
Strategic Differentiation and Customer Needs
Due to the large number of firms and the existing price war in the industry, cloud service providers have an opportunity to gain competitive advantage by tailoring their offerings to the specific needs of the different-sized business worldwide. Those who manage to offer the best tailor-made solutions will stand out in a period in which businesses are deploying cloud solutions with a higher focus on an IT strategic perspective.[15] This is true to all players in the industry, but most importantly to the smaller and mid-sized providers, to whom a price competition against giants such as Google, Amazon, and Microsoft is unlikely to lead to large profitable gains, except perhaps among smaller untapped niches.
Risks
Security Issues
Security has been and will continue to be one of the greatest issues with technology, and as a consequence with cloud services, in the coming years. This year, cyber-attacks, such as the data breach at Equifax and the
WannaCry ransomware[16], have increased the debate as to whether cloud providers and clients alike will be able to launch effective preventative and active measures to protect themselves from possible attacks. A successful cyber-attack aimed at a cloud provider in the near future could lead businesses to become more hesitant to deploy cloud services and even lose confidence in the reliability of the cloud industry. At the same time, the security concerns provide an opportunity for firms specialized in cybersecurity[17], or those who invest more heavily in security measures, to differentiate themselves and secure contracts with those businesses who place a greater priority on security.
From Cloud War to Price War
The fierce competition between the Big Three firms (Google, Amazon, and Microsoft) eventually led to the beginning of a price war in the cloud services industry in 2016[18]. Such price war not only led to concerns of thinner margins for the three firms, but have also made it much more difficult for smaller and mid-sized firms in the industry to compete with the market leaders, since they do not have nearly as many clients or alternative revenue sources as those of these giant tech firms. This ensuing price war can also be seen as one of the factors that have led Google, Microsoft and Amazon to capture more than 70% of all cloud platform revenue, while estimates suggests their share of the cloud platform revenues will increase to 76% in 2018, and expand even further to 80% by 2020[19]. Under those circumstances, the best available option for smaller-sized firms is trying to differentiate themselves, or hope that competition in the near future will no longer be based on price.
Significant Competition and Level of Complexity
The existence of a reasonable number of large competitors in the industry, coupled with the fast pace at which new cloud technologies emerge and the ensuing price competition, have contributed to a sharp increase in the complexity level of the cloud computing industry.[20] On top of that, the fact that businesses also place special attention on reputation and reliability when selecting their cloud services providers, put an extra pressure on the level of competition in the industry. However, the reluctance of fair number of companies in contracting cloud services from a single provider, mainly due to concerns over data security, allows the smaller and mid-sized firms to acquire a level of business that still makes the industry attractive to them, despite placing a higher pressure on the price competition.
Sources
Clint Boulton, 6 trends shaping IT cloud strategies today CIO (2017),
https://www.cio.com/article/3137946/cloud-computing/6-trends-that-will-shape-cloud-computing-in-2017.html
(last visited Dec 22, 2017).
Cloud Computing Trends to Watch for in 2018 – GlobalDots Blog, GlobalDots – CDN, Security and Performance Solutions (2017), http://www.globaldots.com/cloud-computing-trends-watch-2018/ (last visited Dec 21, 2017).
Crunchbase, https://www.crunchbase.com/ (last visited Dec 22, 2017).
Donna Fuscaldo, Google: No to Price War Over Cloud Computing Investopedia (2017), https://www.investopedia.com/news/google-no-price-war-over-cloud-computing/ (last visited Dec 21, 2017).
Investopedia Staff, Cloud Computing Investopedia (2017), https://www.investopedia.com/terms/c/cloud-computing.asp (last visited Dec 21, 2017).
Katie Roof, Most of 2017's tech IPOs are performing well TechCrunch (2017), https://techcrunch.com/gallery/most-of-2017s-tech-ipos-are-performing-well/ (last visited Dec 22, 2017).
Louis Columbus, Cloud Computing Market Projected To Reach $411B By 2020 Forbes (2017), https://www.forbes.com/sites/louiscolumbus/2017/10/18/cloud-computing-market-projected-to-reach-411b-by-2020/#2928ac9d78f2 (last visited Dec 22, 2017).
Louis Columbus, Forrester's 10 Cloud Computing Predictions For 2018 Forbes (2017), https://www.forbes.com/sites/louiscolumbus/2017/11/07/forresters-10-cloud-computing-predictions-for-2018/#a7a0a9f4ae18 (last visited Dec 21, 2017).
Marty Puranik, 5 cloud computing trends to prepare for in 2018 Network World (2017), https://www.networkworld.com/article/3233134/cloud-computing/5-cloud-computing-trends-to-prepare-for-in-2018.html (last visited Dec 21, 2017).
Nasdaq,  Cloud Computing: Industry Report & Investment Case | Nasdaq MarketInsite, http://business.nasdaq.com/marketinsite/2017/Cloud-Computing-Industry-Report-and-Investment-Case.html
(last visited Dec 21, 2017).
Nathan Cranford, Top five cloud computing trends of 2017 RCR Wireless News (2017), https://www.rcrwireless.com/20171002/fundamentals/top-five-cloud-computing-trends-of-2017-tag27-tag99
(last visited Dec 22, 2017).
Rohit Kulkarni, Dropbox: Going From Storage To Collaboration and Profits (2017).
UnfoldLabs, 8 Trends in Cloud Computing for 2018 – UnfoldLabs –  Medium (2017), https://medium.com/@Unfoldlabs/8-trends-in-cloud-computing-for-2018-d893be2d8989 (last visited Dec 21, 2017).
Yahoo! Finance, https://finance.yahoo.com/ (last visited Dec 21, 2017).
[1] http://business.nasdaq.com/marketinsite/2017/Cloud-Computing-Industry-Report-and-Investment-Case.html
[2] https://www.investopedia.com/terms/c/cloud-computing.asp
[3] https://www.networkworld.com/article/3233134/cloud-computing/5-cloud-computing-trends-to-prepare-for-in-2018.html
[4] https://www.networkworld.com/article/3233134/cloud-computing/5-cloud-computing-trends-to-prepare-for-in-2018.html
[5] https://www.rcrwireless.com/20171002/fundamentals/top-five-cloud-computing-trends-of-2017-tag27-tag99
[6] https://medium.com/@Unfoldlabs/8-trends-in-cloud-computing-for-2018-d893be2d8989
[7] https://www.cio.com/article/3137946/cloud-computing/6-trends-that-will-shape-cloud-computing-in-2017.html
[8] https://www.crunchbase.com
[9] https://techcrunch.com/gallery/most-of-2017s-tech-ipos-are-performing-well/
[10] https://finance.yahoo.com
[11] https://www.forbes.com/sites/louiscolumbus/2017/11/07/forresters-10-cloud-computing-predictions-for-2018/#a7a0a9f4ae18
[12] https://cdn2.hubspot.net/hubfs/365044/SharesPost/SharesPost_Dropbox_Report_9-6-17.pdf
[13] https://cdn2.hubspot.net/hubfs/365044/SharesPost/SharesPost_Dropbox_Report_9-6-17.pdf
[14] https://www.forbes.com/sites/louiscolumbus/2017/10/18/cloud-computing-market-projected-to-reach-411b-by-2020/#2928ac9d78f2
[15] http://www.globaldots.com/cloud-computing-trends-watch-2018/
[16] https://www.networkworld.com/article/3233134/cloud-computing/5-cloud-computing-trends-to-prepare-for-in-2018.html
[17] https://medium.com/@Unfoldlabs/8-trends-in-cloud-computing-for-2018-d893be2d8989
[18] https://www.investopedia.com/news/google-no-price-war-over-cloud-computing/
[19] https://www.forbes.com/sites/louiscolumbus/2017/11/07/forresters-10-cloud-computing-predictions-for-2018/#7a6ec1424ae1
[20] http://www.globaldots.com/cloud-computing-trends-watch-2018/
Marcelo Scott contributed to this report