27 Dec

In-Vitro Diagnostics — M&A and VC Trends and Investments

This article is one of a series outlining investment banking and M&A trends in diagnostics and in-vitro diagnostics.

The In Vitro Diagnostics (IVD) market experienced a record year of deal-making in 2016. With an estimated $61B in market revenue in 2016, growing at a 5-year CAGR of 5%, growth trends support another strong year of investment activity in 2017.[i] This article will discuss the transaction activity, buyer profile, notable transactions, and valuation methodologies in the IVD industry.

In-Vitro Diagnostics Investment Overview
The IVD market experienced heavy investment and a hot transaction market in 2016. With a few blockbuster M&A deals, 2016 surpassed the record breaking year of 2011 with the highest amount of capital invested in the industry's recent history. In 2016, there was just over $13B in disclosed transactions, compared to 2011's $11.76B. Despite varying amounts of invested capital over the past seven years, deal flow has seen consistent and strong growth. Growing at a CAGR of 10.6%, deal flow has grown from 174 total deals in 2011 to 319 in 2016. This growth has been largely driven by venture capital and private equity deals, while M&A activity has been relatively stable over the same period.
2017 is set to surpass all previous years in capital invested, already matching 2016's total of $13B by 12/1, despite seeing flat or even negative YoY deal flow growth. The dip in deal flow is a consequence of a drop of late stage VC deals from 101 in 2016, to 58 in 2017. However, the total late stage VC funding in 2017 was $761M, which still surpassed 2016's total of $546M.
The most interesting development in the transactions of 2017 is the growth of the average deal size. Both median and mean deal size reached new peaks in 2017, with the mean deal size growing from $62.2M in 2016 to $71.6M in 2017, and the median deal size hitting $3.63M in 2017, almost double that of $1.75M in 2016. This growth in average deal size indicates the companies are placing higher value on each individual deal. Higher business valuations can make it more attractive for new companies to enter the market, speeding growth and increasing M&A activity.
| | | | | |
| --- | --- | --- | --- | --- |
| Year[ii] | Deal Count |  Total Capital Invested ($M) | Capital Invested Mean ($M) | Capital Invested Median ($M) |
| 2011 | 174 |  11,756 |  67.56 | 3 |
| 2012 | 215 |  7,970 | 48.3 | 2.5 |
| 2013 | 234 |  4,295 | 25.75 | 2 |
| 2014 | 265 |  11,658 | 63.36 | 1.8 |
| 2015 | 300 |  7,963 | 38.1 | 1.73 |
| 2016 | 319 |  13,318 | 62.23 | 1.75 |
| 2017 | 271 |  13,317 | 71.6 | 3.63 |
Major Investors
The In Vitro Diagnostics market has seen a large amount of consolidation in the past ten years. As a result the market is dominated by eight to ten key players who compete in multiple verticals within the IVD market. Due to the lack of product differentiation, economies of scale are essential to generating a profit.[iii] Consequently, the largest investors in IVD companies are the major market participants looking to acquire or build strategic partnerships in order to gain access to a larger clientele.
IVD is among the fastest growing verticals within the massive medtech market with strong trends to support that growth. As a result, both venture capital and private equity investors continue to pour in capital in both small, specialized IVD shops, as well as more established companies – like the Carlyle Group's $4B acquisition of Johnson & Johnson's blood testing division.
Notable Deals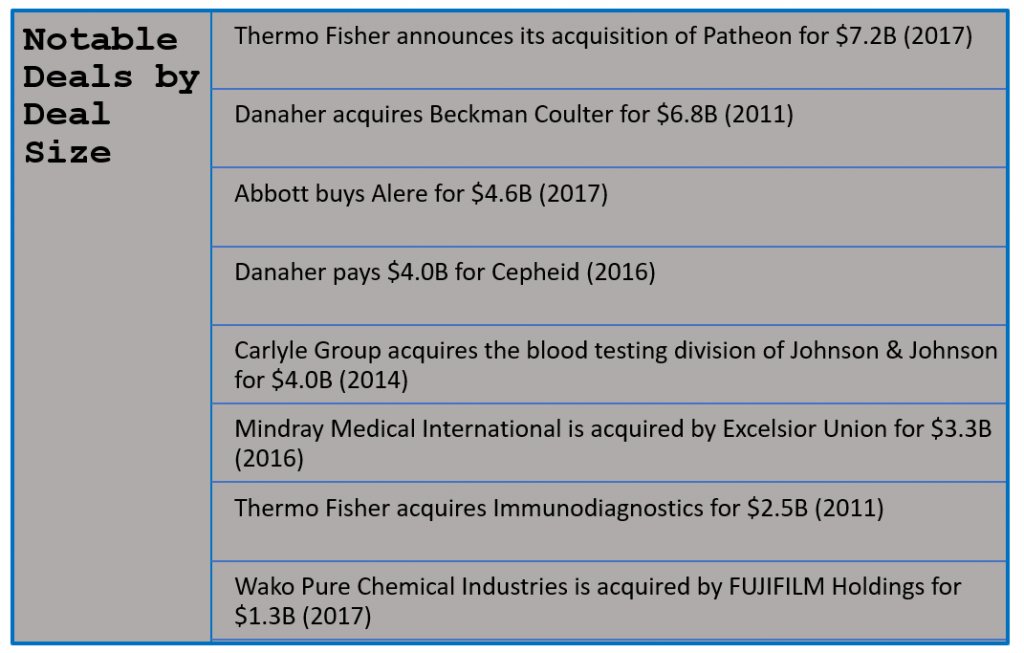 IVD has seen several blockbuster deals in the past 7 years. As industry consolidation continues, almost all of these transactions have been completed by a few of the market's largest players like Danaher, Thermo Fisher, and Abbott as they seek to gain economies of scale. The majority of these deals have taken place between American companies. The major exceptions are China-based Mindray Medical, which was originally listed on the NYSE before being taken private by Excelsior Union, and Japanese Wako Pure. This demonstrates the rough split of deal activity between global regions where North America leads Europe and Asia. It is worth noting that this list excludes Abbott's mega-acquisition of St. Jude Medical which included a price tag of $25B and closed in 2017. Despite the fact that Abbott competes directly in the IVD market, its acquisition of St. Jude Medical will allow it compete more in the cardiovascular and therapeutic device markets. As was discussed previously, it can be observed that the more recent deals have been, on average, larger in terms acquisition price. This demonstrates the market's determination that IVD companies will provide high amounts of growth and value over the next 10 year period, boosting corporate valuations as time moves forward.
Valuations and Multiples
As the IVD market reaches the mature stage, its cashflows and revenue streams have become predictable. As a result, the methodologies used to value IVD companies fall into traditional categories.[iv]
Asset-based valuation
Income approach (capitalization of earnings)
Income approach (DCF)
Market approach (public comps)

The above chart gives the industry multiples based off PitchBook data on 14 of the industry's main participants as of 9/30/2017 and excludes outliers.[v]
Valuation Drivers –
Client reach – Due to the lack of product differentiation, building solid revenue growth is a matter of acquiring more books of sale. The greater a company's client base, the higher valuation they can justify.
Specialization in niche vertical – Large strategic buyers must compete in multiple industry verticals to generate profit. Acquiring smaller specialized competitors with a client base in that vertical is the generally the simplest way of doing that. Smaller companies that specialize and generate profits can justify higher valuations.
Industry Outlook
The IVD industry is the fastest growing sector within of medtech, and it has strong supporting growth trends that will sustain its growth for the next ten years.[vi] Because of this both VC and PE investing is expected to increase. As technology plays a larger role in IVD advancements, additional partnership and VC investments from outside the IVD industry will increase. Industry consolidation is expected to continue, and as a result M&A activity is expected to grow as companies pay higher premiums for acquisitions. While deal flow is expected to maintain modest growth, capital invested and average deal sizes are expected to increase moving forward.
Sources
[i] Abha Thakur, IVD Market by Product Type (Reagents, Instruments and Software & Services), by Technique (Immunodiagnostics, Blood Testing, Molecular Diagnostics, Tissue Diagnostics, Clinical Chemistry, and Other IVD Techniques), by Application (Infectious Diseases, Cancer, Cardiac Diseases, Immune System Disorders, Nephrological Diseases, Gastrointestinal Diseases, and Other Indications), and by End Users (Standalone Laboratory, Hospitals, Academic and Medical Schools, Point of Care Testing, and Others) – Global Opportunity Analysis and Industry Forecast, 2017-2023 Allied Market Research, https://www.alliedmarketresearch.com/ivd-in-vitro-diagnostics-market (last visited Dec 18, 2017).
[ii] PitchBook data found searching the following keywords: "in vitro diagnostics" or "ivd" or "point-of-care testing" or "blood testing device" or "point-of-care diagnostics" or "blood diagnostic" or "point-of-care diagnostic" or "vitro diagnostic" or "point-of-care device" or "diagnostics test" or "cancer diagnostic" or "clinical diagnostic" or "disease detection" or "disease diagnostics" or blood testing system" or "diagnostic reagents" or "research diagnostics" or "clinical diagnostics" or "molecular detection" or "clinical chemistry" or "molecular diagnostics" or immunoassay or flow cytometry or haemostasis or hematology or coagulation or histology or "research reagents" or "reagent systems"
[iii] Maria Shepherd, An Update on the In Vitro Diagnostics Sector Your online source for medical device product information – Medical Product Outsourcing (2017), https://www.mpo-mag.com/issues/2017-04-01/view_columns/an-update-on-the-in-vitro-diagnostics-sector (last visited Dec 22, 2017).
[iv] Valuation Guide: Medical Device Industry, Experts on Damages, Valuation & Accounting, http://www.fulcrum.com/medicaldevice_appraisal/ (last visited Dec 22, 2017).
[v] Includes Abbott, Alere, Becton Dickinson, Danaher, Roche, Siemens, Thermo Fisher, Sysmex, Illumina, Myriad Genetics, Qiagen,                Luminex, BioMerieux, Diasorin
[vi] Zacks Equity Research, Global In Vitro Diagnostic Market Booms: Stocks in Focus Zacks Investment Research (2017), https://www.zacks.com/stock/news/283747/global-in-vitro-diagnostic-market-booms-stocks-in-focus (last visited Dec 22, 2017).
William Montgomery contributed to this report