This is the first of a series of articles that outlines the market trends, developments, investments, and impacts of blockchain technology in the Residential & Commercial Real Estate Industry.
Industry Definition
The main segments of the real estate industry can be broken down into two sectors:
Commercial Real Estate [$1 trillion in Revenue]
Residential Real Estate [$158.4 billion in Revenue]
Within the commercial real estate sector, construction and commercial leasing services contribute up to 43.2% and 19.8% of businesses respectively[1]. On the other hand, 71.4 % of residential real estate transactions consist of residential sales and rentals[2].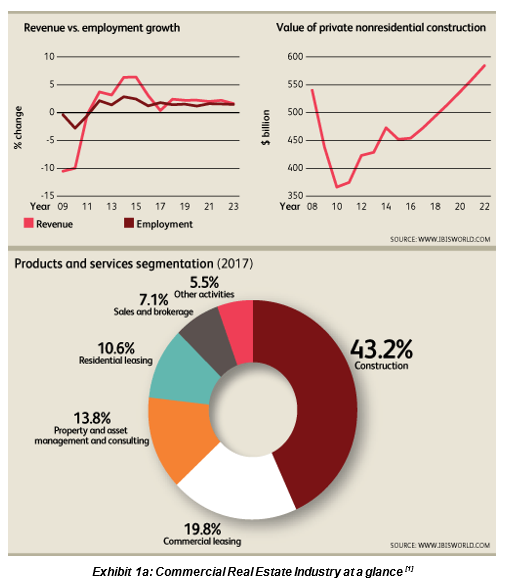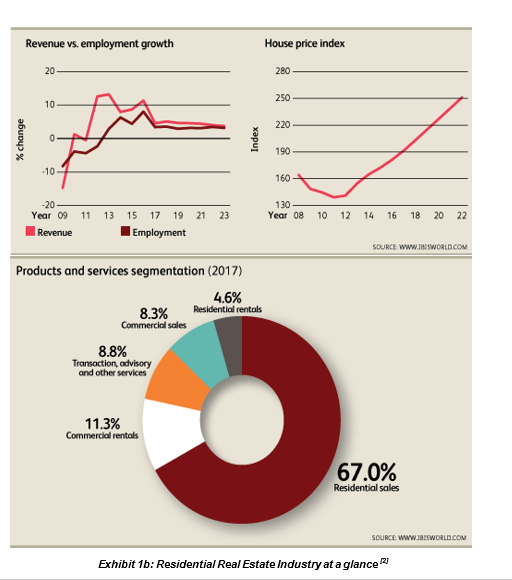 Blockchain Impacts in Real Estate
As blockchain technology continues to gain traction, there is a growing potential that it could disrupt the real estate industry with its capabilities to increase efficiency, lower transaction costs, and enable real-time database analysis[3].
A survey of 800 executives and IT sector experts in the 2015 World Economic Forum shows that 57.9% of the respondents believe that 10% of the global GDP information will be stored on blockchain technology by 2025[4].
Real estate services that blockchain is most likely to disrupt include:
Multiple Listing Services property data (MLS)
Title records processes
Commercial real estate leasing processes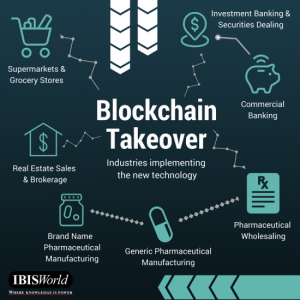 Blockchain's impact on MLS
Almost every real estate transaction goes through multiple listing services (MLS) which handle leasing agreements, contracts, appraisals and more. Blockchain technology has the potential to disrupt this segment of the real estate industry which is worth up to $311 billion[3]. Given that the current state of MLS is highly fragmented with information that is restricted, and prone to inaccuracies it often hampers real estate agents or investors abilities to make comparisons and identify trends.
Thus, with blockchain technology – a digitized, distributed ledger that immutably records and shares information – it could enable the real estate industry to address these inefficiencies and inaccuracies[4]. By providing a platform to efficiently and securely store and share data, blockchain technology makes possible a nationwide database which offers real-time information straight from the source[5]. This new technology has the potential to create many opportunities in the real estate industry.
Blockchain impact on Commercial Leasing & Title Record process
Blockchain enabled solutions have the potential to facilitate the commercial leasing and title records processes in real estate transactions. Since the current process is time consuming, paper-driven and predominantly offline, blockchain's ability to create secure digital identities and provide real-time data analysis could significantly expedite the transactions[4].
Integrating smart-contracts could also automate the process of managing complex ongoing lease agreements, property operations and cash flows. Such functionality is currently undergoing trials by the Dubai Land Department with a project that aims to secure all government documents on a blockchain by 2020[6].
Potential of Blockchain in Real Estate Investment Trusts (REITs)
The notion of pooling together a group of individuals to invest in real estate is not revolutionary. However, this business model has been plagued with the problem of liquidity. Due to the illiquid nature of real estate, it often takes investors a long time to withdraw their investments and exit from their real estate positions. Now, it may be possible for real estate investment trust firms to inject liquidity into this business model with the help of the token offering enabled by blockchain technology. The increased liquidity will be realized when tokens can be readily traded on licensed exchanges.
Blockchain Startups in the Real Estate Industry
With many opportunities to disrupt a large market many blockchain startups have focused on the real estate industry. The table below highlights a few notable startups and the segment of the industry they are targeting. This table should not be taken as a definitive list of real estate focused startups or an endorsement of any of the companies listed.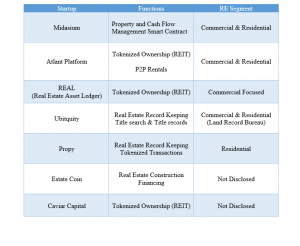 Jing Ming (Jimmy) Soo contributed to this report.
[1]Commercial Real Estate in the US. (n.d.). IBISWorld Industry Report NN007. Retrieved March 15, 2018, from http://clients1.ibisworld.com.ezp3.lib.umn.edu/reports/us/industry/default.aspx?entid=2009
[2]Real Estate Sales & Brokerage in the US. (n.d.). IBISWorld Industry Report 53121. Retrieved March 15, 2018, from
http://clients1.ibisworld.com.ezp3.lib.umn.edu/reports/us/industry/default.aspx?entid=1354
[3]Murphy, M. (2018, January 12). Three Ways Blockchain Could Transform Real Estate In 2018. Retrieved March 15, 2018, from https://www.forbes.com/sites/forbesrealestatecouncil/2018/01/12/three-ways-blockchain-could-transform-real-estate-in-2018/2/#13afe22d17b7
[4]Kejriwal, S., & Mahajan, S. (2017). Blockchain in Commercial Real Estate. Deloitte Center for Financial Services,1-18. Retrieved March 15, 2018, from https://www2.deloitte.com/content/dam/Deloitte/us/Documents/financial-services/us-fsi-rec-blockchain-in-commercial-real-estate.pdf.
[5]Miller, D., & Hadad, J. (2017, November 21). Bit by Bit: Blockchain Takeover. Retrieved March 15, 2018, from https://www.ibisworld.com/media/2017/11/21/blockchain-technology/
[6]Hochstein, M. (2017, October 10). Dubai Land Department Launches Blockchain Real Estate Initiative. Retrieved March 15, 2018, from https://www.coindesk.com/dubai-land-department-launches-blockchain-real-estate-initiative

Nate Nead is a licensed investment banker and Principal at Deal Capital Partners, LLC, a middle-marketing M&A and capital advisory firm. Nate works with corporate clients looking to acquire, sell, divest or raise growth capital from qualified buyers and institutional investors. He holds Series 79, 82 & 63 FINRA licenses and has facilitated numerous successful engagements across various verticals. Four Points Capital Partners, LLC a member of FINRA and SIPC. Nate resides in Seattle, Washington. Check the background of this Broker-Dealer and its registered investment professionals on
FINRA's BrokerCheck
.

Latest posts by Nate Nead
(see all)