Blockchain and distributed ledger technology is gaining popularity on the global stage. As a result, investors and entrepreneurs are investing in blockchain technology, security tokens, utility tokens and cryptocurrencies. In recent years, several companies have pivoted to crypto and have experienced stock gains. Companies are using initial coin offerings (ICOs) to raise capital to develop cryptocurrency technologies and new blockchain tools. The article will present a description of blockchain technology, market capitalization of the crypto market as well as current activities in the blockchain industry.
Overview
Blockchain is a permanent database that monitors every bitcoin transaction in the market. This groundbreaking technology allows transactions to be managed in the absence of a central authority such as the government, banks or payment companies, and updates ledgers to record all transactions that occur. Cryptocurrencies are digital assets that utilize cryptography for security.[1]
Market Capitalization
Cryptocurrencies such as bitcoin, have a market capitalization that exceeds $120+ billion, with high trading volumes of $25 billion each day. The market cap continues to increase daily. For example, a market cap of $2 billion was attained for a parody cryptocurrency, Dogecoin, in January 2018. The parody cryptocurrency traded at $0.018773. As of February 2018, a total of 23 cryptocurrencies have a market cap that exceeds $1 billion.[2] According to Forbes, bitcoin appreciated to more than 1200% in 2017, but early 2018 wiped out most of last years gains. The rising interest and market capitalization in the digital currency market has been associated with the buzz and hype about the currency as well as the public's interest to gain more knowledge about the market.[3]
The crypto market has not only peaked in the U.S, globally, the market cap exceeds $300 billion. The rise of cryptocurrencies in the global market is that the use of digital currency has become a significant tool in monetary policy and has gained the attention of global investors and regulators alike. The increase in global market capitalization was also attributed to the purchase of hundreds of millions from bitcoin investments by global individual and institutional investors. Some institutions like Founders Fund, run by Peter Theil of Paypal and Facebook fame, have invested heavily in the space. The Founders Fund purchaseinfluenced cryptotraders in different countries to buy bitcoins. Additionally, the competitive market has also sparked the interest of investors to favor other currencies such as Ripple and Ethereum.[4]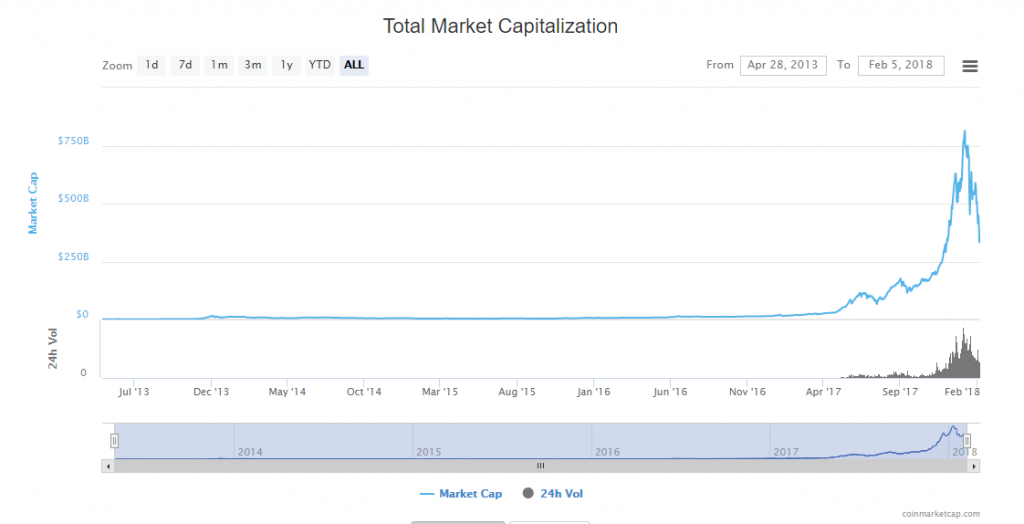 Source: CoinMarketCap[5]
The increase in demand for cryptocurrencies, the rise of initial coin offerings (ICO) and increased integration of blockchain-as-a-service have positively impacted the blockchain market. Additionally, investor interest in investment opportunities for blockchain technology stocks has increased the market cap for the blockchain industry.[6] Blockchain technology industry's global market size is expected to increase at a compound annual growth rate (CAGR) of approximately 51% by 2022.[7]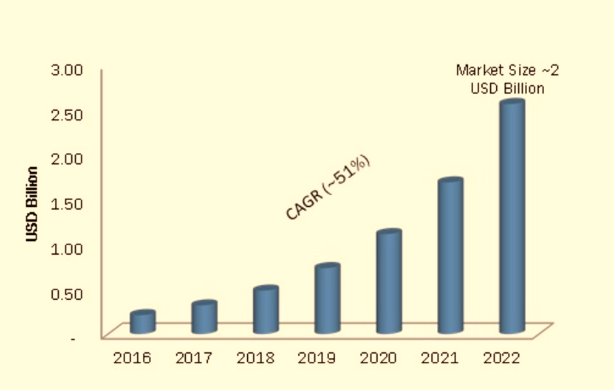 Market Size of the Crypto Market in the US
Source: Market Research Future
Current Activities
ICOs for cryptocurrencies exceeded $1.2 billion during the first half of 2017.[8] In 2017, there was frenzied activity associated with ICOs as investors and entrepreneurs gained more interest to invest in coin currency. Entrepreneurs are flooding the cryptocurrency market to execute ICOs since funding of ICOs does not require venture capitalists or angel investors. For example, an ICO with a value of $100 million was raised by instant messaging app developer, Kik. Furthermore, $35 million was raised by former Mozilla CEO under 30 seconds and $153 million was raised by Banco Protocol under three hours.[9] Additionally, during Q3 and Q4 of 2017, over 400 ICOs worth $2.3 billion were launched. However, the majority of ICOs were related to Ethereum Blockchain.[10] According to Pitchbook, most of the funds (93%) from the primary industry sector raised in the blockchain industry was from the information technology sector. The financial services contributed to 5% of capital raised in the industry. In 2017, a total of 54 deals from merger and acquisition (M&A) transactions were associated with blockchain technology, cryptocurrency, ICOs, blockchain platform, smart contracts, blockchain application and distributed ledger technology.[11]
Capital Invested & Deal Count
Almost half of ICOs have been raised in Europe. Europeans have increased their investments due to unregulated markets that provide access to raise capital. Since 2014, European entities have funded $1.76 billion of ICOs with Switzerland contributing to almost half of Europe's ICO funds. The value of ICOs raised in Switzerland was $828 million in November 2017. According to the Financial Times, Switzerland wants to be known as the 'crypto nation' and has embraced the cryptocurrency culture to entice startups and financial technology companies to trade in digital currency.[12] Additionally, the Swiss government is revising legislation to minimize regulations. The revised legislation will support crowdfunding and small companies to invest in the crypto market. On the contrary, North America has contributed to almost a third (28%) of ICOs at a value of $1.08 billion.[13]
Conclusion
The blockchain industry has grown exponentially in recent years and is creating investment opportunities for investors, entrepreneurs and major companies. With high trading volumes, the market capitalization (as of this writing) for cryptocurrencies exceeds $300 billion in the global market. Investors and entrepreneurs have flooded the crypto market to execute ICOs; however, European entities have raised majority of ICOs.
Sources
[1] Jeffrey Mazer, Demystifying Cryptocurrencies, Blockchain, and ICOs, (2017), https://www.toptal.com/finance/financial-consultants/cryptocurrency-market.
[2] Saheli Roy Choudhury, A Parody Cryptocurrency Just Broke $2 billion for its Market Cap, (January 8, 2018), https://www.cnbc.com/2018/01/08/a-parody-cryptocurrency-just-broke-2-billion-for-its-market-cap.html.
[3] Charles Bovaird, Why The Crypto Market Has Appreciated More Than 1,200% This Year, (Nov 17, 2017), https://www.forbes.com/sites/cbovaird/2017/11/17/why-the-crypto-market-has-appreciated-more-than-1200-this-year/#4faeec6a6eed.
[4] Will Martin, The global cryptocurrency market hit a new record high above $700 billion, (Jan 3, 2018), http://www.businessinsider.com/bitcoin-price-global-cryptocurrency-market-capitalisation-january-3-2018-1.
[5] CoinMarketCap, Cryptocurrency Market Capitalizations, (2018), https://coinmarketcap.com/charts/
[6] Joceyln Aspa, Investing News, (Jan 25, 2018), https://investingnews.com/daily/tech-investing/blockchain-investing/blockchain-technology-stocks/.
[7] Market Research Future, Blockchain Technology Market Research Report – Global Forecast to 2022, (Jan 2018), https://www.marketresearchfuture.com/reports/block-chain-technology-market-1708.
[8] Massachusetts Institute of Technology, Initial Coin Offerings: The Rise of Crypto Capitalism, (Nov 30, 2017), https://calendar.mit.edu/event/initial_coin_offerings_the_rise_of_crypto_capitalism#.Wm47BUxFzIU.
[10] Jack Flanagan, Initial coin offerings: What are they? (Jan 8, 2018), http://www.dw.com/en/initial-coin-offerings-what-are-they/a-42044403.
[11] Pitchbook Data Inc., Companies & Deal Charts, (Jan 25, 2018).
[12] Financial Times, Switzerland embraces cryptocurrency culture, (Jan 25, 2018), https://www.ft.com/content/c2098ef6-ff84-11e7-9650-9c0ad2d7c5b5.
[13] Reuters, Europe Is Pouring a Staggering Amount of Cash into New Cryptocurrencies, (Nov 30, 2017), http://fortune.com/2017/11/30/ico-initial-coin-offering-bitcoin-europe/.
Jenn Abban contributed to this report.

Nate Nead is a licensed investment banker and Principal at Deal Capital Partners, LLC, a middle-marketing M&A and capital advisory firm. Nate works with corporate clients looking to acquire, sell, divest or raise growth capital from qualified buyers and institutional investors. He holds Series 79, 82 & 63 FINRA licenses and has facilitated numerous successful engagements across various verticals. Four Points Capital Partners, LLC a member of FINRA and SIPC. Nate resides in Seattle, Washington. Check the background of this Broker-Dealer and its registered investment professionals on
FINRA's BrokerCheck
.

Latest posts by Nate Nead
(see all)