11 Dec

Secondary Ticket Brokerage: Venture Capital and M&A Valuation Trends and Investments

Mergers and acquisition (M&A), venture capital (VC), leveraged buyout (LBO), private equity (PE) and angel investor transactions have become more apparent in the past several years in the secondary ticket brokerage market. The purpose of the transaction report is to present current M&A, VC, LBO, PE and angel investor transactions including a trend analysis on deals within the past five years. The report will also present the most recent M&A and VC agreements announced in the industry, recent notable deals and a detailed insight into transactions in the international resale market.
Venture Capital Trends
Creating funding deals with ticket pricing firms is a strategy of VCs to help startup brokerage firms become more profitable. U.S. VC transaction value increased from $57 million to $229 million between 2015 and 2016 and declined to $164 million in 2017.[i] In 2016, several startup ticket brokerage firms gained funding to explore more in resale markets. However, VC activity decreased, down by -100%, to 3 deals in 2017 from 6 deals in 2016. In the past two years, VC transaction value has increased by 188% from $57 million to $164 million.
Source: Pitchbook
VC Deals Announced in Q4 2017
In November 2017, Broker Genius, a pricing technology firm for secondary ticket market raised $15 million in funding by Volition Capital, a Boston-based growth equity firm. Broker Genius has supported entertainment and sports ticket resellers to price over $2 billion of ticket inventory.[ii]
M&A Trends
Consolidation is a key trend that is enhancing the ticket brokerage industry. Ticket brokerage companies are aggressively expanding their platforms through acquisitions, partnerships, and consolidations to increase their presence in the resale market. [iii] Recently, M&As have gained strength in the resale market, although, there has been a decline in M&A deals since 2016. M&A transactions peaked to $1.3 billion in 2015, and declined to $12.48 million in 2017. In 2015, M&A activity increased, up 350% from 2014. There were 9 deals in 2015 compared to 2 deals in 2014. However, transaction value decreased, down by -80% to $264.53 from $1.3 billion in 2015. 2
Source: Pitchbook
M&A transaction value from Q4 2014 increased exponentially from $18.84 million to $179.91 million in Q4 2015. In Q1 2015, M&A transaction value had the largest quarterly total amount of $1,338.29 billion. M&A activity also increased in 2015, up 350% from 2014. However, the ticket brokerage industry experienced low M&A activity deals from Q4 of 2016 through Q2 of 2017. Overall, Q3 2017 had a better performance in transactions compared to Q1 and Q2 of 2017.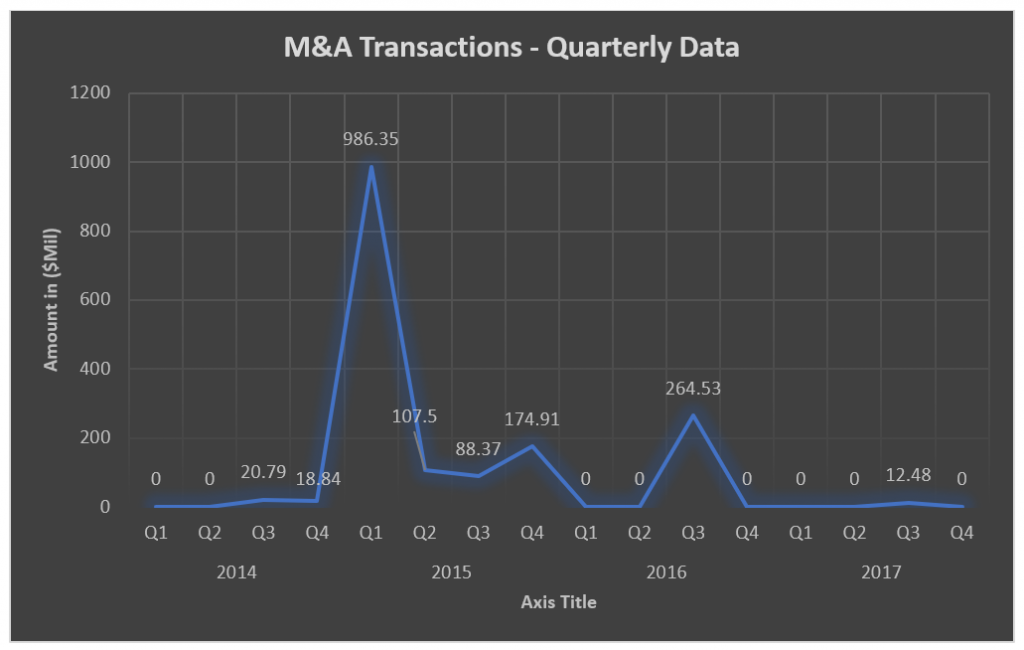 Source: Pitchbook
M&A Deals Announced in Q4 2017
The resale market is regaining M&A activity in the last quarter of 2017. On December 6, 2017, ETix, announced its acquisition of Interactive Ticketing, a Seattle-based software company as well as a string of others, including ExtremeTix and TicketBiscuit . This acquisition will increase customer base and access to advanced technology.[iv]
Private Equity Deals
To gain more market share, private equity (PE) firms are also purchasing secondary ticket brokerage companies. On October 11, 2016, CVC Capital Partners announced its investment in DTI Management, one of the major suppliers of live event ticket inventory.[v]

Both M&A and LBO transactions experienced an uptrend from 2014 to 2016 and peaked in 2015 compared to VC and Seed Round Angel transactions. In 2016, both M&A and VC transactions slowed down significantly. In 2017, LBO transactions increased exponentially with a total of $2.9 billion in financing.2 LBO activity outperformed VC, M&A and Angel activity. The impetus to aggressive LBO transactions was to increase the market share of startup companies and target the monopolization of the resale market by dominant companies. LBOs were the major buyers of ticket brokerage companies from 2016 to 2017.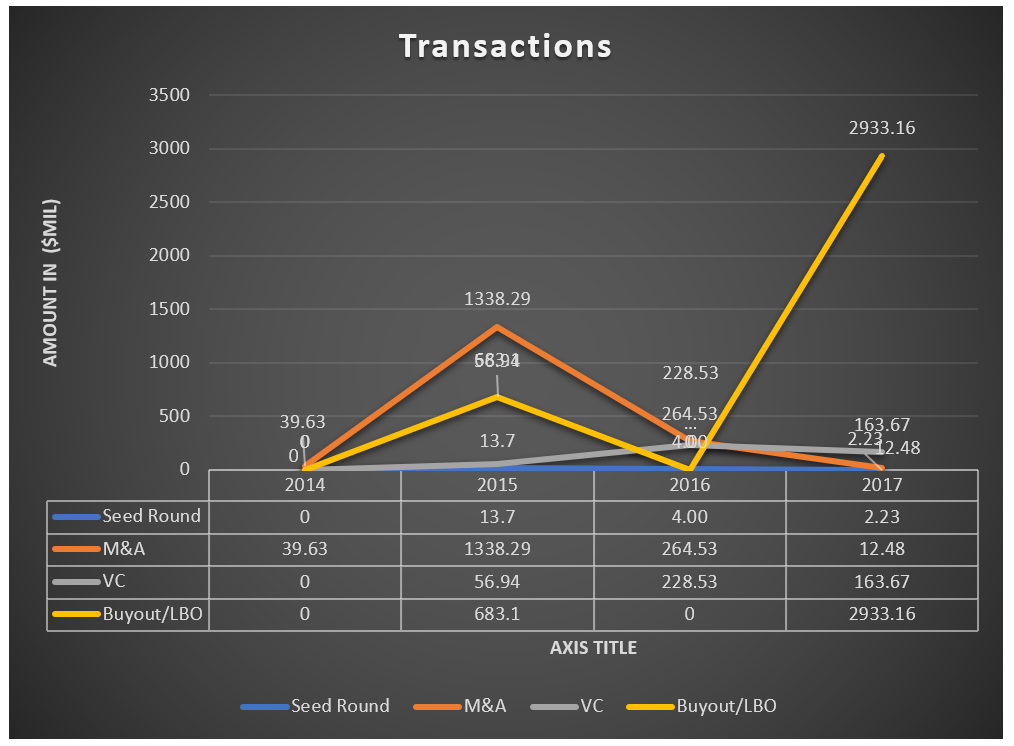 Source: Pitchbook
Angel Investor Trends
Angel investors have gained a relatively small share in the resale market. In 2015, Angel investor transaction values was the highest in 2014, $14 million. However, Angel investor deal activity has remained constant since 2015, with one deal per year. In 2017, Angel investor transaction value significantly decreased, down by -86% to $2 million from $14 million in 2014.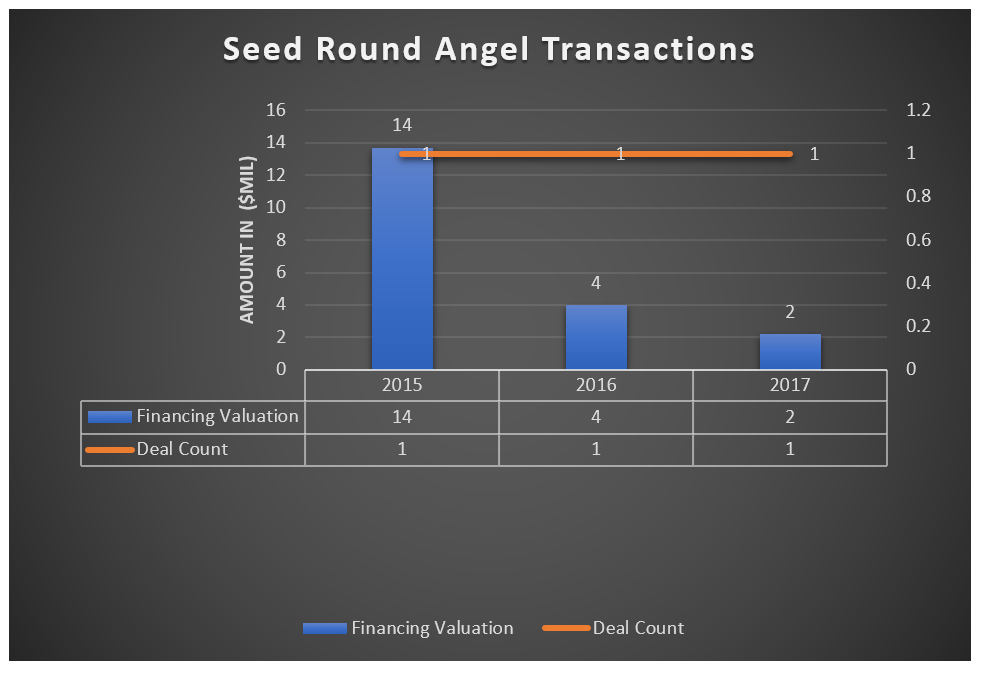 Source: Pitchbook
VC Valuation
The post-valuation median for VC deals was the highest in 2015 with a median of 14.40. From 2012 to 2017, the post-valuation median value for VC deals declined, down by -83%. Although, 2016 had the highest deal count of 56, the post-valuation median was lower than the value for 2015.1
VC Capital Investments
In 2017, capital investment for information technology in the primary industry sector was $112.5 million, the highest value compared to $15.8 million and $0.16 million for B2C and B2B companies respectively. Capital investment for B2B companies declined from $0.99 million in 2013 to $0.16 million in 2017. The total capital investment for all three businesses declined by -23% to $128.5 million in 2017 from $166 million in 2015.1
M&A Valuation
The post-valuation median for M&A capital investments in 2017 increased exponentially from 2012. The year 2012 had the lowest post-valuation median of 2.89 compared to 300.69 in 2017. The post-median value for M&A investments steadily increased from 2015 through 2017.1
M&A Capital Investments
B2B companies reduced their M&A capital investments by -51% from 14.5 million in 2012 to $7.1 million in 2016.[1] Capital investments for information technology increased to $303.1 million in 2017 from $21.7 million in 2012. Overall, B2C companies had the largest capital investments in 2017 in the amount of $2.77 billion.1
Notable Deals
On June 30, 2017, Vivid Seats, the provider of an online ticket marketplace, had to undergo a management buyout from GTCR, a Chicago private equity firm. GTCR bought a majority stake in Vivid Seats to partner with Vista Equity Partners, an existing investor. The private-equity backed transaction is notable since it was valued at $165 million.[vi]
Cross-Border International Deals
Many U.S ticket brokerage companies are expanding organically to Europe, Latin America and Asia Pacific markets. Several cross-border international deals were recently completed. On May 24, 2016, ebay Inc. acquired Ticketbis, the Spain-based ticket marketplace to add to StubHub, an eBay company. The acquisition expanded StubHub across Europe, Latin America and Asia Pacific.[vii] In April 2017, SeatGeek a ticket brokerage startup acquired TopTix's ticket software, referred to as SRO. The $56 million acquisition of TopTix, an Israeli company provides SeatGeek with the opportunity to secure primary ticketing deals with leagues and teams.[viii] On December 4, 2017, Eventbrite and Festicket, a UK-based seller of festival packages entered into an integration partnership to increase Eventbrite's access to festival tickets.[ix]
International Deals
International M&A transactions for ticket brokerage firms have dominated countries such as China, Japan and Spain, while Buyout/LBOs and Angel transactions have dominated the U.K.2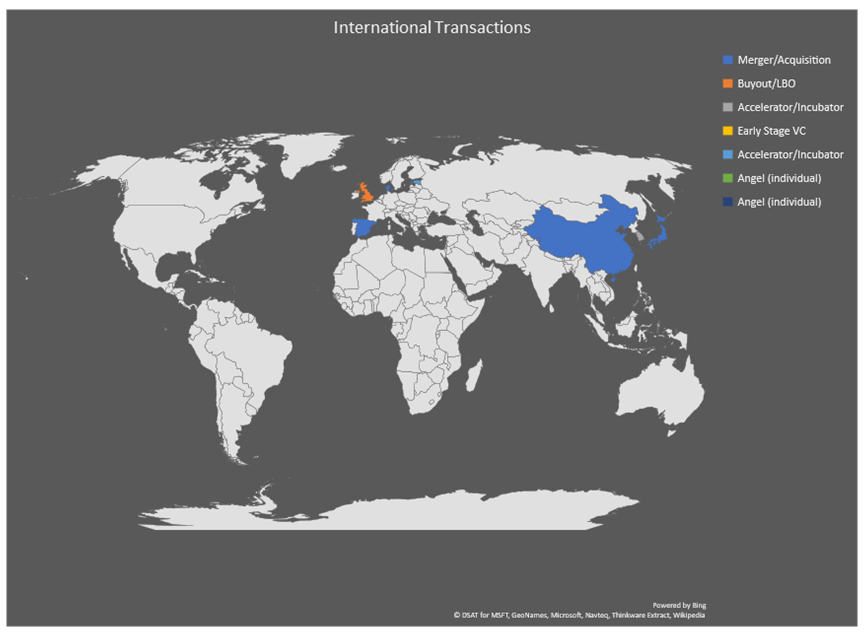 Source: Pitchbook
Within the last four years, the UK has had the largest amount of transactions ($1,519 billion) that has included Buyout/LBOs, Angel and M&A transactions. The UK has a majority (78%) of the international deals. Ticket brokerage companies in China had the second largest volume of transactions ($827 million) that included M&A and VC transactions. The recent PE transaction funding of $165 million to acquire Tickbis, Spain's ticket marketplace increased the value of transactions in Spain to $196 million. Japanese ticket brokerage firms have also increased their market share through M&A transactions and have a total transaction value of $96 for international deals.2

Source: Pitchbook
Sources
[1] 2017 values for capital investment for B2B companies was not included in the M&A activity Pitchbook Data.
[i] Pitchbook Data, Inc. Pitchbook Deal Analytics. (Dec 6, 2017).
[ii] Anthony Noto, Ticket pricing startup Broker Genius scores venture capital, NEW YORK BUSINESS JOURNAL, (Nov 9, 2017), https://www.bizjournals.com/newyork/news/2017/11/09/ticket-pricing-startup-broker-genius-scores.html.
[iii] Nick Petrillo, IBISWorld Industry Report OD5447 Online Event Ticket Sales in the US, IBISWORLD, (2016).
[iv]The TicketBusiness News, ETix Snaps Up Interactive Ticketing, (Dec 6, 2017), http://www.theticketingbusiness.com/2017/12/06/etix-snaps-interactive-ticketing/
[v] CVC Capital Partners, CVC Capital Partners' Growth Fund Invests in DTI Management, (Oct 11, 2016), https://www.prnewswire.com/news-releases/cvc-capital-partners-growth-fund-invests-in-dti-management-300342084.html
[vi] Pitchbook, Ticket Brokerage Transactions, (2017)
[vii] eBay, eBay Completes the Acquisition of Ticketbis, (Aug 4, 2016), https://www.ebayinc.com/stories/news/stubhub-to-expand-its-global-reach-into-47-markets-with-the-acquisition-of-ticketbis/
[viii]A. J. Perez, SeatGeek expands ticketing reach with acquisition of Israeli company TopTix USA TODAY, (April 18, 2017), https://www.usatoday.com/story/tech/news/2017/04/18/seatgeek-expands-ticketing-reach-acquisition-israeli-company-toptix/100593932/
[ix]TheTicketingBusiness News, Festicket and Eventbrite Join Forces, (Dec 4, 2017), www.theticketingbusiness.com/2017/12/04/festicket-eventbrite-join-forces/
Jennifer Abban contributed to this report.