As companies grow, domestic M&A allows them to access new product ranges, customers, and aids market consolidation. Cross-border M&A is a tactic used to quickly enter new markets globally. Companies wanting to pursue this strategy will need to consider the upside benefit and downside risk of these ventures when compared to greenfield investments. This post covers the risks and rewards of cross-border M&A.
Cross-border M&A – on the rise
According to OECD data1, global cross-border M&A transactions were up +20% during 2016, the second year of double-digit growth (figure 11). US data shows slightly more growth, up +22% over 2015, increasing from US$345b to US$419b. Interestingly, the number of deals has remained reasonably flat, with deal size driving the growth. This is positive for sellers looking for an international buyer. In our opinion, this is a translation of companies looking internationally for growth, and willing to pay a premium for it. If these trends will continue, and you have been weighing up an international transaction, procrastination may be costly or beneficial, depending what side of the coin you sit.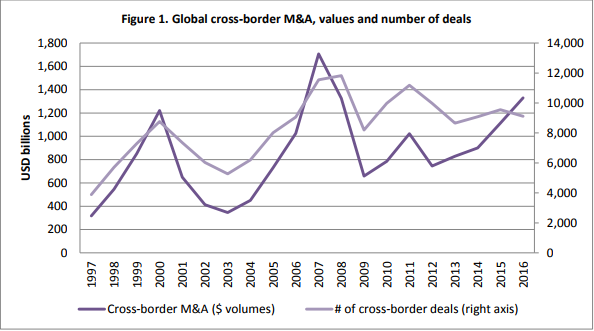 The opportunities of cross-border M&A
Firms consider international deals, despite the extra effort involved, due to the substantial benefit it can afford. Benefits come in many forms, which we have listed below, in order of importance:
Portfolio diversification

– Like a stock portfolio, companies should seek to diversify their revenue streams. This should be in the form of both product and geographic diversification;

Cost synergies

– reaching capacity takes time. Entering a new market through acquisition can aid cost efficiencies if it increases sales;

Scale efficiencies

– as with above, new customers help you scale fast;

Intellectual property

– if competitors have an advantage based on technology that is patented, you can purchase them;

New market

– this is the most obvious benefit. New market = new customers

Access to new talent

– If you are looking for a population of a certain skill set, it is often easier to acquire a company in a population with those skills than training staff;

Distribution

– it's common to have the strongest distribution network in your local market. Although possible to launch into new markets without a transaction, you will struggle to get a network as strong as a domestic player;

Production capacity

– Building production capacity is costly and more importantly timely. Rapid demand increases may result in the inability to fulfill orders, you can quickly reach your desired capacity by acquiring it; and

Tax structuring

– international revenue streams or a relocation of your company's head office can have a substantial tax benefit.  
The risks of cross-border M&A
Like with every strategic decision, the positives must not hide the negatives. Below we outline a few negative factors that must be taken into consideration;
Tax

– Every country has different tax laws. Although at first glance these may seem tedious, getting blindsided by tax regulation can be costly. Due to the complicated nature of international tax, we recommend using a local professional;  

Regulatory landscape

– laws, and regulations may not stay stagnant in an economy. Investigate the most obvious ones within the targets sectors;

Financial information

– the availability, accuracy, and reliability of the target's financial information can be harder to obtain than originally thought. Decisions are often made without the full picture;

Political landscape

– a country's political stability can also blindside you, largely in the form of a change in Government; and

Compliance

– these vary country by country. In the US we suggest you investigate the compliance of the target's home country with the US Foreign Corrupt Practices Act, and similar anti-bribery, and anti-money laundering regulations.
Cross-border M&A – Post-deal blues
Hindsight is 20:20, and this is no different for post cross-border M&A. Due to the uncertainties that come with international transactions, buyers and sellers are often left feeling like they didn't act normally. From our experience, buyers and sellers often feel that:
They should have placed more emphasis on comprehensive pre-and post-deal planning;

They should have been more aggressive in negotiations; and

They should have conducted more research on a target's market potential and company culture

.
Cross-border M&A – A brief buyer's guide
Due to these post-deal blues, we have created a buyer's guide which outlines what you should do when conducting a cross-border transaction.
Contemplate the deal you are proposing. Ensure that the deal theory and deal objectives drive all phases of the M&A lifecycle;

Make sure there are substantial benefits to the deal before you contact the other party;

Define the overall integration scope, approach, and plan for achieving both early, and final stage goals;

Ensure the initial discussions with the target are structured, so the deal has the best chance of meeting your key objectives;

Undergo strict pre-deal due diligence, and try to avoid the

common due diligence pitfalls

;

Organize an integration committee. Make sure the committee has representation from both acquirer and target. This helps work out key work streams and geographical limitations and possible benefits;

Focus efforts on effectively planning pre-close and post-close integration in detail. Make sure the critical path is outlined;

Once the specific deal objectives are disused and agreed on between the buyer and seller, ensure to adapt deal methodologies and playbook to suit; and

As you approach the final hour make sure you integrate your pre-deal due diligence with your pre-close planning activities to prevent post-acquisition hiccups.
Cross-border M&A – the verdict
We have seen an increasing volume of international capital flows. What is more relevant to this blog is that cross-border M&A is playing an increasingly important role in the world economy. The data suggest companies are balancing the scale in favor of the positive outcomes. Direct foreign investment can help you import needed technology, enter markets otherwise too difficult, scale quickly and gain desired organizational and managerial skills.
When looking into an acquisition in an international market, comprehensive planning and the use of experts and external advisors is fundamental. This is particularly important during the due diligence process, which is more comprehensive than with domestic M&A. Remember, you are exploring the murky waters of global economic and political uncertainty. There is an upside, but not all roads lead to Rome.​
1 – Global Forum on International Investment 2017 – OECD, http://www.bing.com/cr?IG=A02CF7B7B8A0434AADE26D47BA073A08&CID=2CAB2B26F139689E3C1A203EF03F69DA&rd=1&h=lL74xpjY74Ypaer-HcmljBWUs_7_JvtAlr-dGkTAWWY&v=1&r=http%3a%2f%2fwww.oecd.org%2finvestment%2fglobalforum%2f2017-GFII-Background-Note-MA-trends.pdf&p=DevEx,5033.1 (last visited Oct 11, 2017).