This article is part of a series, covering the growth, opportunities and risks of commercial real estate investment banking.
The self-storage landscape in the U.S is changing as many households store excess items in storage facilities. A sub-sector of the commercial real estate market, self-storage industry involves renting space or storage units to renters on a month-to-month basis. Over the past 40 years, the self-storage industry has proven to be the one of the sectors with the most rapid growth in the U.S commercial real estate industry. The unprecedented growth of the industry has been attributed to self-storage consumers including renters, homeowners, students, businesses and transitional populations who are constantly demanding rental storage.[1] Self-storage units are growing so fast that in 2016, there were more than 58,000 self-storage facilities in the U.S with a total of 32 million storage units covering over 2.3 billion square feet of storage space. The total square miles of self-storage facilities in the U.S is almost three times the size of Manhattan. [2]
As the U.S population has increased their rental storage by more than 10% within the last 20 years, the self-storage industry has also grossed over $30 billion in revenue.2  A demand study reported that the number of renters who used storage facilities in 2007, almost doubled by 2013, and 2 million out of 17 million renters reported that they would most likely rent in the future.1 According to the IBIS World, self-storage revenue will grow at an annual rate of 2.9% through 2020. The industry revenue is expected to reach $32.6 billion in 2020. Based on IBIS World's forecast, self-storage facilities will have a growth rate of 14% by 2020.[iii]
The largest self-storage operators in the U.S. include public storage, extra space storage, cubesmart, life storage, and U-Haul. Public storages have the largest number of self-storage facilities in the U.S.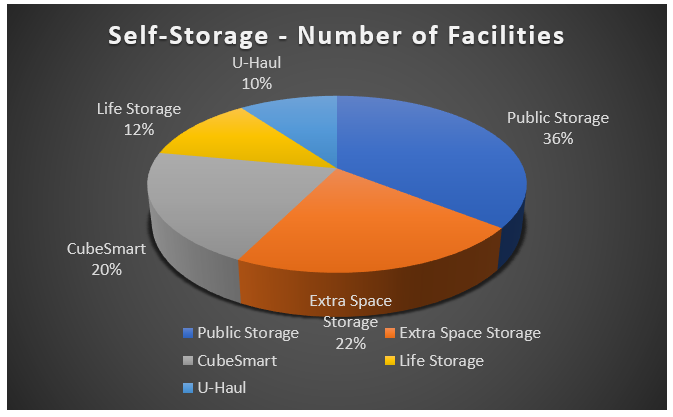 Source: Sparefoot
The publicly traded largest self-storage operators have generated the highest revenue in the industry.

Source: Sparefoot
As of 2017, the UK, France and the Netherlands have 42.2, 10 and 9.1 million square feet of space for self-storage facilities, respectively.[iv] The surge of self-storage facilities in the global market has increased international development of facilities. Between 2015 and 2016, Mainland China increased its facilities by 52% and Brazil is developing 25 to 30 properties per year.[v]. In addition, the real estate investing market has been greatly expanded thanks to equity crowdfunding.


Vertical Organization
Interact with customers, vendors and prospects. Ensure that units are being rented, customers are being maintained, address challenges of the business, and communicate with the owners and directors of the facility.[vi]
Provide services such as management of several facilities.
Hire and train management personnel and employees, manage the day-to-day activities and decision-making and provide custom services[vii]
Real Estate Investment Trusts (REITs)
Own, operate or finance self-storage facilities. The self-storage industry is dominated by REITs.[viii]
Provide a range of products such as security systems, management and construction services, and computer software to facility owners and operators.
People who store their items in storage for a short-term or over a long-term period as well as businesses that store goods associated with their business.[ix]


Main Activities
Lease or rent mini warehouses and self-storage units
Rent coin operated lockers
Rent self-storage warehousing
Provide u-lock storage
Similar Industries
Public Storage and Warehousing – provide third-party storage services and warehousing to wholesale, retail and manufacturing sectors.
Specialized Storage and Warehousing – provide specialized storage for chemicals, lumber, bulk petroleum, whiskey, oil drilling and gas.
Apartment Rental – provide home rental space for individuals and families.
Commercial Leasing – lease properties and buildings that do not include dwellings or residences.
Land Leasing – lease real estate for the purposes of residential development, communities, private properties and commercial sites.[x]

Citations
[1] Go Local Interactive, The Storage Industry Report. Consumer Behavior + Marketing The 2017 Edition, (2017), https://golocalinteractive.com/private/storage-report/2017/Storage-Report-2017-Go-Local-Interactive.pdf.
[2] Eric Carlson, Design-savvy developers and eye-popping construction have helped self-storage become an industry that is trending in the public eye. LIFE STORAGE, (Aug 17, 2016), https://www.lifestorage.com/blog/storage/self-storage-industry-trends/.
[iii] John Egan, Forecast: Self-Storage Revenue to Pass $30B in 2018, (May 27, 2015), https://www.sparefoot.com/self-storage/news/1443-storage-revenue-to-pass-30-billion-in-2018/.
[iv] Statista, Self-storage: estimated unit sizes in Europe in 2017, (2017), https://www.statista.com/statistics/482587/self-storage-size-in-europe/.
[v] David Blum, The Global Self-Storage Industry Surges Ahead: Trends, Awareness and More, (Nov 1, 2017), http://www.insideselfstorage.com/articles/2017/11/the-global-selfstorage-industry-surges-ahead.aspx.
[vi] Grow Your Storage LLC, The Roles in the Business of Self-Storage, (2016), http://www.growyourstorage.com/uncategorized/the-roles-in-the-business-of-self-storage/.
[vii] Self-Storage Association, Self-Storage Introductory Guides, http://www.selfstorage.org/LinkClick.aspx?fileticket=AblNHWcUX9w%3D&portalid=0.
[viii] Christine Giordano, 3 Things to Know About Investing in Self-Storage, (June 20, 2016), Spaceshttps://money.usnews.com/investing/articles/2016-06-20/3-things-to-know-about-investing-in-self-storage-spaces.
[ix] Jones Lang LaSalle IP Inc., The Rise of Self-Storage in Asia Pacific, (2017).
[x] IBIS World, Storage & Warehouse Leasing in the US: Market Research Report, (Nov 2017), https://www.ibisworld.com/industry-trends/market-research-reports/real-estate-rental-leasing/storage-warehouse-leasing.html.
Jennifer Abban contributed to this article.

Nate Nead is a licensed investment banker and Principal at Deal Capital Partners, LLC, a middle-marketing M&A and capital advisory firm. Nate works with corporate clients looking to acquire, sell, divest or raise growth capital from qualified buyers and institutional investors. He holds Series 79, 82 & 63 FINRA licenses and has facilitated numerous successful engagements across various verticals. Four Points Capital Partners, LLC a member of FINRA and SIPC. Nate resides in Seattle, Washington. Check the background of this Broker-Dealer and its registered investment professionals on
FINRA's BrokerCheck
.

Latest posts by Nate Nead
(see all)