The Medical Device Manufacturing Industry will continue to grow, supported by the aging baby-boomer population[1]. The industry is driven by factors such as the number of physician visits, the number of adults aged 65 and older, total expenditure on health, federal funding for Medicare and Medicaid, and trade-weighted index. International demand is dependent on favorable exchange rates and a weaker dollar relative to the currencies of trade partners as well as the presence of similar demand factors in those countries as outlined above.
Industry Performance in Medical Device Manufacturing
There are several factors that impact the industry. Physician visits correlate with hospital use and demand of medical equipment and so a greater number of visits drives demand for medical devices. An aging population increases demand for medical treatment. The 65+ population is used as a benchmark to measure the size of the elderly population and a valuable indicator for how strong demand for medical treatment will be. Increased health expenditure, both public and private, will increase the funding available for replacement of medical equipment and increase industry demand. Funding for Medicare and Medicaid is expected to increase in 2018 which will improve health coverage and stimulate demand. The trade-weighted index or TWI is expected to decrease in 2018 and make it cheaper for international consumers to purchase medical devices[1].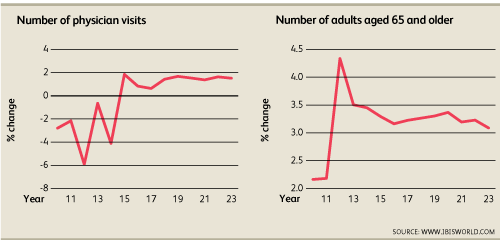 The device manufacturing industry is highly competitive and produces nondiscretionary products at high margins. In 2018, an aging population and technological factors will stimulate a 2.7% growth to a $29.5 billion domestic market. Companies have sought to offset rising costs in the industry by outsourcing manufacturing jobs and acquiring smaller companies with innovative technologies. Though the industry has become consolidated, niche markets continue to increase the number of players in the industry. By 2018, 842 firms are expected to be operating in this space. Reduced barriers to globalization have shifted manufacturing presence overseas. Overseas growth has outpaced domestic growth and while the value of exports has decreased to $11.9 billion, the value of imports has increased 4% annually to $17.3 billion.
The medical device manufacturing industry is expected to grow at an annualized rate of 3% until 2023 when it will be $45.8 billion. The demographic trends in the United States are favorable towards the industry, as is the development of technology necessary to create new product lines[1]. Additionally, margins are expected to increase slightly to 4.8%. Despite a fear of changes to the 510(k) FDA approval process increasing regulatory costs and slowing innovation in 2013, the industry saw dynamic growth in the M&A arena, with activity increasing over 50% in 2017. A bipartisan suspension of the Medical Device tax will stay in effect until 2020 providing relief for medical technology manufacturers from a 2.3% excise tax[2]. Fears over a trade war with China have gripped the medical device lobby as of late. Developing markets in South and East Asia as well as Central and Eastern Europe are expected to continue growing.
The industry is growing. It is projected to grow at a rate slower than the US economy until 2023. Demographic trends and technological development are the primary catalysts for stable growth.
Mohammed Siddiqui contributed to this report.
Sources
[1] Curran, J. (2018). Medical Device Manufacturing in the US (Industry Report 33451b). Retrieved August 2, 2018, from IBISWorld database
[2] Zacks Equity Research. (2018, August 02). Medical Device Industry Outlook – June 2018. Retrieved August 2, 2018, from https://www.zacks.com/commentary/167607/medical-device-industry-outlook—june-2018
Competitive Landscape
Competitive Landscape
It is estimated that the four largest firms in the medical device manufacturing industry account for nearly 76% of total revenue in the industry[1], thus making this a highly concentrated industry. The majority of small firms employing fewer than twenty people specialize in developing technology for a niche area and are routinely acquired by larger players seeking their expertise. Medium sized firms are frequently bought out by larger players. Though the number of participants in the industry has steadily increased in the last five years, so has the concentration. Small firms will face increasing competition as the larger playing acquire greater market-share.
Key Success Factors
There are five critical factors for success in this industry[2]:
1. Access to highly skilled workers is important due to the technical nature of the design and production of medical devices.
2. Access to the latest technology is critical as firms need to develop new products and compete with rivals in this space.
3. As a global industry, export markets are critical to diversify from domestic bases and increase capacity usage.
4. Economic of scale are critical for firms to improve profit margins by decreasing variable costs.
5. Access to distributors and end users in necessary for product flow and sales.
Cost Structure Benchmarks
In the industry, earnings before interest and taxes (EBIT) is roughly 4.6% of revenues for the average firm in this space. Larger players have profit margins in excess of 20%. The majority of smaller firms have low margins and new firms operate at a loss. Constraints such as the Patient Protection and Affordable Care Act (PPACA) have restricted improvements on profit margins over the last few years. High-skilled employees command high wages. Accordingly, 20.6% of revenue in 2018 is expected to go towards wages. Automation has reduced some labor costs though the demand for technical expertise will continue to merit high wages. Purchased materials and intermediate goods account for 35% of industry revenue. Such goods include: fabricated metal products, printed circuit boards, plastic products, wiring devices, computing equipment, and other materials. As the costs of raw materials fluctuate, so too do purchasing costs for medical device manufacturers. Another vital component of industry costs is R&D which accounts for 12% of industry revenue.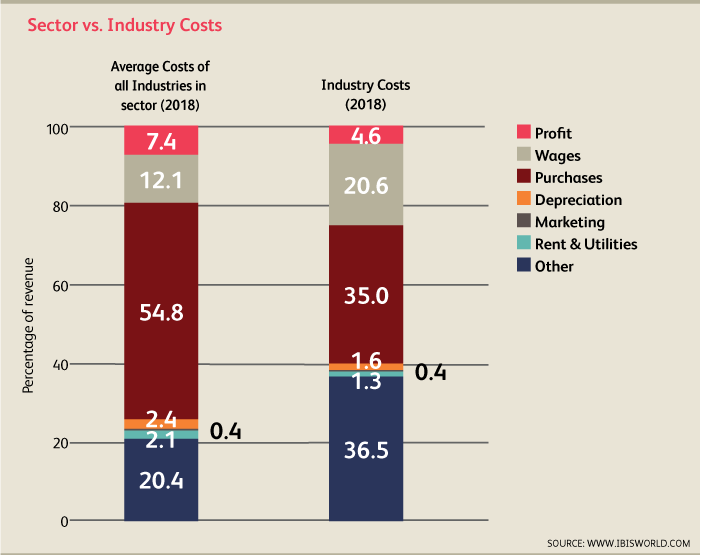 Competition and Barriers to Entry
Device quality and performance are important basis for competition due to the high-tech, highly specialized nature of devices produced in this industry. Intellectual property is tightly guarded, and customers often sign confidentiality agreements. Price competition is limited across the industry. Firms stay up-to-date with research and falling behind competitors results in revenue losses. Companies can avoid direct price competition by selling products in niche markets. Brand loyalty is not a significant factor in this industry though medical device companies are preferred to consumer electronics manufacturers.
Barriers to entry are medium and steady. Heavy regulation, high investment costs, and high level of competition and technological change serve as barriers to entry while the high profit margins appeal to entrants. The medical device manufacturing industry is highly globalized and increasing. Global outreach efforts are particularly strong in China, Japan, and Europe. Many US manufacturers are beginning to locally design and manufacture products in emerging markets such as Brazil, India, China, and Russia. Medtronic and St. Jude Medical generate a significant amount of revenue from international sales. Operators will look to emerging markets for sales as the industry consolidates domestically.
Mohammed Siddiqui contributed to this report.
Sources
[1] Curran, J. (2018). Medical Device Manufacturing in the US (Industry Report 33451b). Retrieved August 2, 2018, from IBISWorld database
[2] Funk, J., Jackson, S., & Pain, L. (n.d.). Key Success Factors for MedTechs and Medical Device Companies: Solving the Services Puzzle [PDF]. L.E.K. Consulting.
Products & Markets
Supply and Demand
The primary demand industries for medical device manufacturing are manufacturing, medical supplies wholesaling, specialist doctors, and hospitals. The primary supply industries include electrical equipment manufacturing and manufacturing[1].

Firms in the manufacturing and electrical equipment manufacturing sectors produce the intermediate and capital goods necessary to create and assemble the medical devices sold by firms in the medical device industry. Certain manufactured medical device components are cycled further through the manufacturing process for other final goods. Medical supplies wholesalers purchase medical devices to resell. Specialist doctors and hospitals demand medical devices to treat patients.
Product & Service Segmentation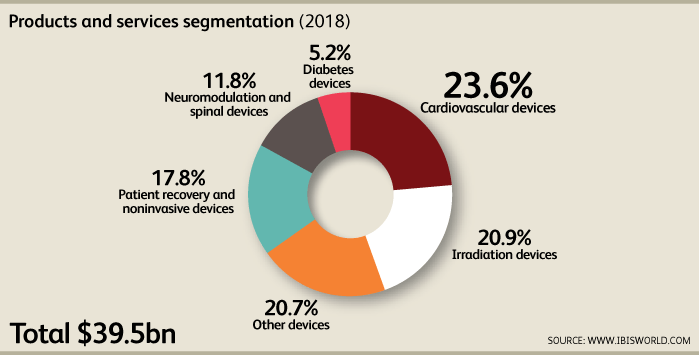 The largest segments within the industry in 2018 are Cardiovascular (CV) devices, irradiation devices and other devices at 23.6%, 20.9%, and 20.7% of market value respectively. The CV device segment is a highly competitive segment that has reached maturation. It is experiencing low growth rates and large firms have grown by purchasing smaller firms and establishing manufacturing facilities overseas, Firms in niche sectors such as atrial fibrillation and ventricular assist devices are expected to produce strong growth through innovation. Products in this segment are extremely similar and the most well-known are pacemakers, defibrillators, and drug eluting stents. Irradiation devices are used for medical diagnoses, therapeutic applications and research. They use X-rays, beta-rays, gamma-rays, and other ionizing radiation. Generators, tubes, lamps, CT/CAT scanners and nuclear irradiation equipment represent significant capital investment for hospitals and clinics. This sector is cyclical and during times of recessions, hospitals tend to get older devices repaired instead of purchasing new products. As the economy continues to grow, so too will demand for irradiation devices.
Nonmodulation devices are meant to treat psychological disorders, movement disorders, gastroenterological disorders, urological disorders, and pain. Spinal devices are used to treat spinal and muscoskeletal problems. Demand for this segment increases in line with demographic trends such as general population age and obesity rates. Other segments such as diabetes are gaining more attention and continuous glucose monitoring (CGM) is becoming a staple in diabetes treatment. This also improves demand for insulin pumps and other devices. Respiratory devices have generated relatively stable revenue and are expected to continue doing so. Dialysis machines, urology devices, specialty surgical devices, medical cleaning devices, and hearing aids are prominent revenue sources.
Demand is determined by government funding for medical programs, demographic factors such as health and age, regulatory framework and currency fluctuations. The rise of heart disease, cancer, AIDS, and hepatitis has increased demand for specialized equipment. Capital expenditure on healthcare equipment is another driver of demand. The average lifespan of equipment is between three to five years. Technological changes and patent considerations drive innovation in the industry.
Major Market Segmentation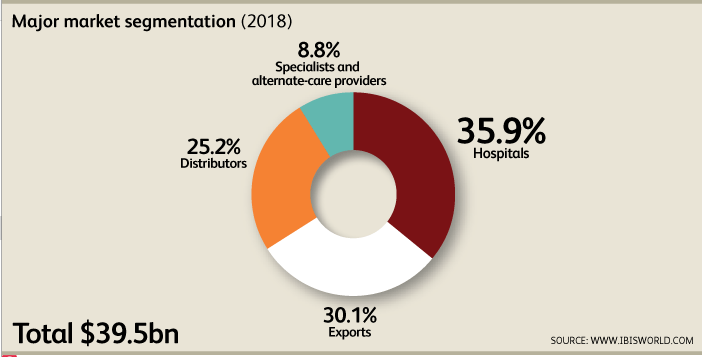 The primary markets for manufacturers are hospitals, clinics, specialists and alternate care providers. Due to size, hospitals can purchase larger, more advanced equipment than other consumers. The number of physician visits has increased steadily and fuels demand for products. Distributors also account for a significant market though healthcare providers have increasingly sought to purchase their medical devices directly from firms bypassing the wholesalers. The alternative care provider market by contrast is expected to increase. As the dollar has strengthened, exports to key markets such as Japan, Germany, the Netherlands, and China have shrunk. Though exports are high and steady, imports and high and increasing and expected to rise 10.1% in 2018.
The overwhelming majority (89.4%) of business locations are in California, followed by Massachusetts at 3.6%, Florida at 2.8%, and Illinois at 2%. The concentration in California can be explained due to the presence of microelectronics and biotechnology firms in the area as well as the location of customers, suppliers, complementary industries, and high-skilled labor. Medical device manufacturers close to Silicon Valley have strong ties to export markets. Ohio is an emerging player in the Industry as the University of Ohio is ranked number two in the nation in biotech industry-sponsored research. This cements the West, Southeast, and the Great Lakes region as key geographic bases for the medical device manufacturing industry.
Mohammed Siddiqui contributed to this report.
Sources
[1] Curran, J. (2018). Medical Device Manufacturing in the US (Industry Report 33451b). Retrieved August 2, 2018, from IBISWorld database
Buy-Side Strategies in the Medical Device Industry
The medical device manufacturing industry has been supported by an aging American population, rapid advancement in medical technology driven by artificial intelligence and big data breakthroughs, and a strong business investment. The United States is currently the largest medical device market (at roughly $180 billion in revenue) which generates significant demand from manufacturing expected to continue growing during periods of economic growth and maintain itself during economic decline due to the necessity of the products produced[1].
Buy Side M&A
When analyzing buy-side merger & acquisition activity in the medical device manufacturing space we can see that median deal sizes in the U.S. have been on the rise since hitting a low point in 2016.
Recent developments including the abolition of the MedTech Tax, a strong uptrend in M&A, a consolidation of PBM and Health Insurers, continued digitization and improvement in Medical technology, and a trade 'war' between the two largest economies on the planet will have varying impacts on the industry.
There has been a two-year suspension on the 2.3% Medical Device tax which was imposed on MedTech manufacturers. The U.S. Healthcare space has been driven by M&A activity lately. Median deal sizes surged in 2017. Major activities in this space include Becton, Dickinson and Company's acquisition of C.R. Bard and Johnson & Johnson's purchase of Actelion. Health insurers have sought to streamline the drug supply chain by collaborating with pharmacy benefit managers. CVS and Cigna have recently announced their intent to buyout Aetna and Express Scripts, respectively. Advancements in technology including big data analytics, bio printing, 3D printing, real time alerting and revenue cycle management are gaining greater prevalence in the medical technology industry. AI implementation has drastically reduced company cots and improved patient care. The Healthcare sector, however, is under crossfire in the trade war between the United States and China. The United States and China export $4.7 billion and $5 billion worth of MedTech goods to each other annually. Tariffs could jeopardize that.
Notable Buy-Side Deals
There have been many notable deals in 2018[2]. Baxter International Inc. acquired two hemostat and sealant products from Mallinckrodt plc. for $153 million. Private Equity firm Platinum Equity purchased J&J's LifeScan blood glucose monitoring unit for $2.1 billion. This deal resulted from Johnson & Johnson distancing itself from its diabetes business. Johnson & Johnson purchased surgery technology developer Orthotaxy to improve surgical robotics capabilities. Regatta Medical made an investment in Resonetrics in February. Industrial firm NN Inc. purchased Bridgemedica LLC. Spectrum Plastics Group acquired Apex Resource Technologies. UFP Technologies Inc. purchased Dielectrics Inc.
The primary reasons firms are investing in the medical device manufacturing space are its stable business base, strong margins, need for consolidation to improve product and supply chains as well as a strong, regulated environment. Players outside of the industry, such as private equity firms, have also acquired businesses in this space and have invested heavily. Medical device manufacturers are expected to continue consolidating even as valuations remain high. Firms are pursuing smaller companies to acquire or invest in and are seeking more affordable targets in the EU or Asia.
Buyers are seeking to improve their economies of scale[3]. Between 230 and 270 transactions are expected to occur globally in 2018. The majority of these will promote vertical integration as companies in the healthcare industry seek to capture value across the entire chain[4]. The acquisition of Bridgemedica LLC by NN Inc is one such example. CEO Richard Holder believes the acquisition will expand NN Inc's product design and development capabilities[5]. Other large firms are moving outside of their traditional OEM roles and supporting concept development and supply chain management[6]. The trend of acquiring smaller firms within the same space through backwards integration has been common—particularly in oversees acquisitions— since 2012[3]. This doesn't rule out massive horizontal mergers. Nordson in 2017 paid $705 million to acquire the Advanced Technology Business of Vention to add to its product offerings as well as enhance balloon manufacturing, design and development[7]. Royal Philips just acquired Xhale Assurance Inc. to broaden its portfolio of oxygen saturation monitoring solutions[8]. Acquisitions are expected to remain the prime driving force behind industry growth despite high valuations. Consolidation within the medical OEM space is expected to continue through the rest of 2018.
Mohammed Siddiqui contributed to this report.
Sources
[1] Zacks Equity Research. (2018, September 12). Medical Device Industry Outlook – June 2018. Retrieved September 12, 2018, from https://www.zacks.com/commentary/167607/medical-device-industry-outlook
[2] Bonifacio, M. (2018, May 3). Medtech M&A Off to a Strong Start in 2018. Retrieved September 12, 2018, from https://www.mpo-mag.com/issues/2018-05-03/view_columns/medtech-ma-off-to-a-strong-start-in-2018
[3] Bussey, I., Szendroi, G., Williams, E., Stern, M., & Schofield, B. (2017). Medical Devices IMAP M&A Sector Report (pp. 1-20, Rep.). IMAP.
[4] Garthwaite, C., Busse, M., Starc, A., & McCareins, M. (2018, January 5). What's Behind the Current Wave of Vertical Integration? Retrieved September 12, 2018, from https://insight.kellogg.northwestern.edu/article/whats-behind-the-current-wave-of-vertical-integration
[5] NN, Inc. (2018, February 22). Press Release. Retrieved September 12, 2018, from http://investors.nninc.com/phoenix.zhtml?c=110673&p=irol-newsArticle&ID=2334050
[6] Hartford Technologies. (2018, April 26). 5 Medical Device Manufacturing Trends for 2018. Retrieved September 12, 2018, from http://resources.hartfordtechnologies.com/blog/5-medical-device-manufacturing-trends-for-2018
[7] MPO Mag. (2017, February 21). Vention Medical Split and Sold to Nordson, MedPlast. Retrieved September 12, 2018, from https://www.mpo-mag.com/contents/view_breaking-news/2017-02-21/vention-medical-split-and-sold-to-nordon-medplast
[8] Royal Philips. (2018, August 29). Philips expands its Monitoring & Analytics business with the acquisition of Xhale Assurance Inc. Retrieved September 12, 2018, from https://www.philips.com/a-w/about/news/archive/standard/news/press/2018/20180829-philips-expands-its-monitoring-and-analytics-business-with-the-acquisition-of-xhale-assurance-inc.html
[8] PitchBook data gathered using the following search terms: "medical device manufacturing" OR "medical device manufacturer" OR "medical device development" OR "medical device design" OR "medical device industry" OR "medical device provider" AND "M&A/Control Transaction" AND "United States" retrieved September 12, 2018.

Nate Nead is a licensed investment banker and Principal at Deal Capital Partners, LLC, a middle-marketing M&A and capital advisory firm. Nate works with corporate clients looking to acquire, sell, divest or raise growth capital from qualified buyers and institutional investors. He holds Series 79, 82 & 63 FINRA licenses and has facilitated numerous successful engagements across various verticals. Four Points Capital Partners, LLC a member of FINRA and SIPC. Nate resides in Seattle, Washington. Check the background of this Broker-Dealer and its registered investment professionals on
FINRA's BrokerCheck
.

Latest posts by Nate Nead
(see all)