26 Aug

Medical Device Manufacturing: Products & Markets

This is the fourth in a multi-part series that will focus on the products and markets in the medical device manufacturing industry, a member of the manufacturing sector.
Supply and Demand
The primary demand industries for medical device manufacturing are manufacturing, medical supplies wholesaling, specialist doctors, and hospitals. The primary supply industries include electrical equipment manufacturing and manufacturing[1].
Firms in the manufacturing and electrical equipment manufacturing sectors produce the intermediate and capital goods necessary to create and assemble the medical devices sold by firms in the medical device industry. Certain manufactured medical device components are cycled further through the manufacturing process for other final goods. Medical supplies wholesalers purchase medical devices to resell. Specialist doctors and hospitals demand medical devices to treat patients.
Product & Service Segmentation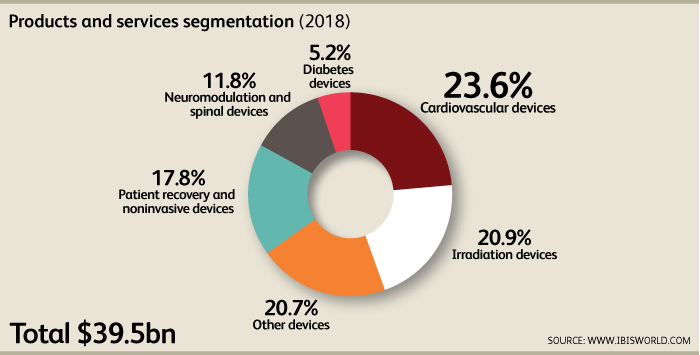 [1]
The largest segments within the industry in 2018 are Cardiovascular (CV) devices, irradiation devices and other devices at 23.6%, 20.9%, and 20.7% of market value respectively. The CV device segment is a highly competitive segment that has reached maturation. It is experiencing low growth rates and large firms have grown by purchasing smaller firms and establishing manufacturing facilities overseas, Firms in niche sectors such as atrial fibrillation and ventricular assist devices are expected to produce strong growth through innovation. Products in this segment are extremely similar and the most well-known are pacemakers, defibrillators, and drug eluting stents. Irradiation devices are used for medical diagnoses, therapeutic applications and research. They use X-rays, beta-rays, gamma-rays, and other ionizing radiation. Generators, tubes, lamps, CT/CAT scanners and nuclear irradiation equipment represent significant capital investment for hospitals and clinics. This sector is cyclical and during times of recessions, hospitals tend to get older devices repaired instead of purchasing new products. As the economy continues to grow, so too will demand for irradiation devices.
Nonmodulation devices are meant to treat psychological disorders, movement disorders, gastroenterological disorders, urological disorders, and pain. Spinal devices are used to treat spinal and muscoskeletal problems. Demand for this segment increases in line with demographic trends such as general population age and obesity rates. Other segments such as diabetes are gaining more attention and continuous glucose monitoring (CGM) is becoming a staple in diabetes treatment. This also improves demand for insulin pumps and other devices. Respiratory devices have generated relatively stable revenue and are expected to continue doing so. Dialysis machines, urology devices, specialty surgical devices, medical cleaning devices, and hearing aids are prominent revenue sources.
Demand is determined by government funding for medical programs, demographic factors such as health and age, regulatory framework and currency fluctuations. The rise of heart disease, cancer, AIDS, and hepatitis has increased demand for specialized equipment. Capital expenditure on healthcare equipment is another driver of demand. The average lifespan of equipment is between three to five years. Technological changes and patent considerations drive innovation in the industry.
Major Market Segmentation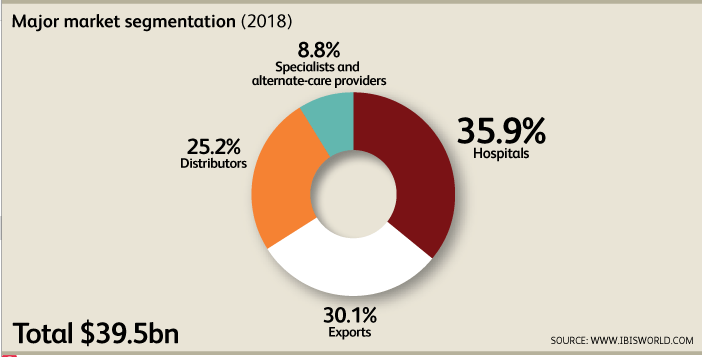 [1]
The primary markets for manufacturers are hospitals, clinics, specialists and alternate care providers. Due to size, hospitals can purchase larger, more advanced equipment than other consumers. The number of physician visits has increased steadily and fuels demand for products. Distributors also account for a significant market though healthcare providers have increasingly sought to purchase their medical devices directly from firms bypassing the wholesalers. The alternative care provider market by contrast is expected to increase. As the dollar has strengthened, exports to key markets such as Japan, Germany, the Netherlands, and China have shrunk. Though exports are high and steady, imports and high and increasing and expected to rise 10.1% in 2018.
The overwhelming majority (89.4%) of business locations are in California, followed by Massachusetts at 3.6%, Florida at 2.8%, and Illinois at 2%. The concentration in California can be explained due to the presence of microelectronics and biotechnology firms in the area as well as the location of customers, suppliers, complementary industries, and high-skilled labor. Medical device manufacturers close to Silicon Valley have strong ties to export markets. Ohio is an emerging player in the Industry as the University of Ohio is ranked number two in the nation in biotech industry-sponsored research. This cements the West, Southeast, and the Great Lakes region as key geographic bases for the medical device manufacturing industry.
Mohammed Siddiqui contributed to this report.
Sources
[1] Curran, J. (2018). Medical Device Manufacturing in the US (Industry Report 33451b). Retrieved August 2, 2018, from IBISWorld database