16 Aug

Medical Device Manufacturing: Industry Performance

This is the third in a multi-part series that will focus on the medical device manufacturing industry performance, a member of the manufacturing sector.
Industry Performance
The Medical Device Manufacturing Industry will continue to grow, supported by the aging baby-boomer population[1]. The industry is driven by factors such as the number of physician visits, the number of adults aged 65 and older, total expenditure on health, federal funding for Medicare and Medicaid, and trade-weighted index. International demand is dependent on favorable exchange rates and a weaker dollar relative to the currencies of trade partners as well as the presence of similar demand factors in those countries as outlined above.
There are several factors that impact the industry. Physician visits correlate with hospital use and demand of medical equipment and so a greater number of visits drives demand for medical devices. An aging population increases demand for medical treatment. The 65+ population is used as a benchmark to measure the size of the elderly population and a valuable indicator for how strong demand for medical treatment will be. Increased health expenditure, both public and private, will increase the funding available for replacement of medical equipment and increase industry demand. Funding for Medicare and Medicaid is expected to increase in 2018 which will improve health coverage and stimulate demand. The trade-weighted index or TWI is expected to decrease in 2018 and make it cheaper for international consumers to purchase medical devices[1].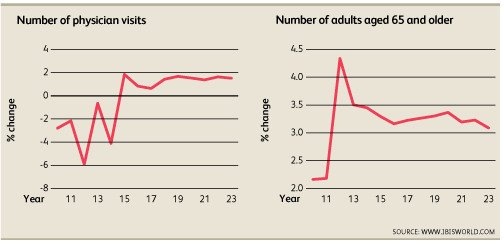 The device manufacturing industry is highly competitive and produces nondiscretionary products at high margins. In 2018, an aging population and technological factors will stimulate a 2.7% growth to a $29.5 billion domestic market. Companies have sought to offset rising costs in the industry by outsourcing manufacturing jobs and acquiring smaller companies with innovative technologies. Though the industry has become consolidated, niche markets continue to increase the number of players in the industry. By 2018, 842 firms are expected to be operating in this space. Reduced barriers to globalization have shifted manufacturing presence overseas. Overseas growth has outpaced domestic growth and while the value of exports has decreased to $11.9 billion, the value of imports has increased 4% annually to $17.3 billion.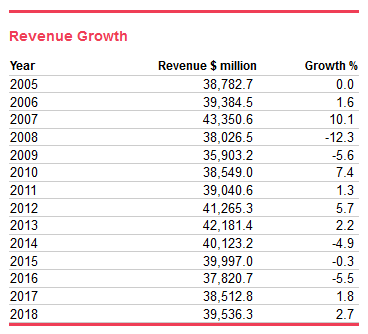 The medical device manufacturing industry is expected to grow at an annualized rate of 3% until 2023 when it will be $45.8 billion. The demographic trends in the United States are favorable towards the industry, as is the development of technology necessary to create new product lines[1]. Additionally, margins are expected to increase slightly to 4.8%. Despite a fear of changes to the 510(k) FDA approval process increasing regulatory costs and slowing innovation in 2013, the industry saw dynamic growth in the M&A arena, with activity increasing over 50% in 2017. A bipartisan suspension of the Medical Device tax will stay in effect until 2020 providing relief for medical technology manufacturers from a 2.3% excise tax[2]. Fears over a trade war with China have gripped the medical device lobby as of late. Developing markets in South and East Asia as well as Central and Eastern Europe are expected to continue growing.
The industry is growing. It is projected to grow at a rate slower than the US economy until 2023. Demographic trends and technological development are the primary catalysts for stable growth.
Mohammed Siddiqui contributed to this report.
Sources
[1] Curran, J. (2018). Medical Device Manufacturing in the US (Industry Report 33451b). Retrieved August 2, 2018, from IBISWorld database
[2] Zacks Equity Research. (2018, August 02). Medical Device Industry Outlook – June 2018. Retrieved August 2, 2018, from https://www.zacks.com/commentary/167607/medical-device-industry-outlook—june-2018