This is the first in a multi-part series that will focus on the growth, investment, and M&A trends in the industrial real estate industry, a member of the commercial real estate sector.
Industry Overview
The industrial real estate industry covers properties used by companies in the course of operating a business. Examples of such properties include offices, warehouses, garages, and distribution centers. Industrial properties may include docking bays where trucks can load and unload goods. Over the past seven years, this industry has been growing and vacancy rates have declined to an all-time low, having been cut in half since the year 2010.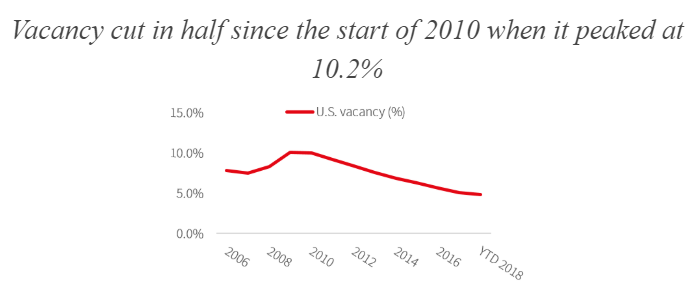 [1]
Industrial real estate has enjoyed sustainable growth in rent per square foot ($5.53 per square foot) with a 5.3% growth over last year[1]. Top logistics markets are operating at an even lower sub 3.0% vacancy rate, showing that this industry is steadily growing. Nearly 81% of the U.S. development in industrial real estate is dominated by smaller to midsize buildings (50,000- 500,000 sq. feet)[2]. This is due to an increase in demand for leasing of the smaller to mid-size spaces and lack of land for huge warehouses.
While perceived as less glamorous than high-rise office space, industrial real estate has provided investors with excellent investment opportunities over the past few years. Companies need warehouses, office space, and distribution centers to aid in their growth. This demand, in part driven by the success of e-commerce, led to the industrial industry being the only member of the commercial real estate sector to experience an increase in transaction activity from January thru November of 2017[3].
Driving these trends is the need for companies to be located closer to the end consumer and large population centers. With competition fierce to solve the "last mile" obstacle and reduce delivery times to the consumer, companies are looking for smaller to mid-size distribution centers. By focusing on smaller and mid-sized buildings, companies are trying to achieve the goal of making sure the final delivery of the goods is efficient.
Thus far in 2018, general trends have been keeping on track with 5-year averages, albeit with some variance for weather related issues slowing construction or other similar delays. Growth is expected to continue throughout the year due to:
Continued growth of e-commerce and its influence on where distribution centers are located and how many are built
Renewed investor interest in industrial real estate portfolios (investment sales were up 35% in 2017)
Advances in automation and robots used in warehouses
Major Property Types
1. Warehouse & Distribution Centers
These buildings are characterized by high ceilings (40+ feet) and are typically very large, ranging from 50,000 square feet to hundreds of thousands. Multiple loading docks and ample space to accommodate semi-trucks are standard.
2. Manufacturing Buildings
Heavy manufacturing buildings are designed to produce goods or materials and typically have large, specialized equipment. Light manufacturing buildings typically don't require the same equipment and can be done in a smaller setting.
3. Cold Storage Buildings
Typically used as a distribution center for food products, cold storage buildings have space to hold a large quantity of frozen goods.
4. Telecom & Data Hosting Centers
These are specialized buildings that require a large quantity of electricity to power computer systems and telecom switching equipment.
5. R&D Buildings
R&D facilities may be used by companies in the electronics or biotechnology industries. These spaces typically have office areas as well as laboratories and testing facilities.
6. Showrooms
Part warehouse and part sales floor, showrooms have retail space that can be up to 50% of the building.
Similar Industries
Real Estate Sales & Brokerage Services
Operators in this industry primarily act as intermediaries during various real estate transactions including buying, selling and renting real estate. Brokers may specialize and focus on one industry. Each broker is required to complete certification exams and register in the state(s) in which they do business.
Office Real Estate
From single-tenant properties to small office buildings and large downtown skyscrapers this category focuses on the renting, leasing, and buying of property where people work.
Retail Real Estate
Retail real estate consists of establishments that build and develop shopping and entertainment properties.
Residential Real Estate
While not all residential properties may fall directly under the commercial real estate umbrella they are certainly a member of the real estate sector. Apartments and multifamily buildings could be considered commercial, while single family homes would most likely be categorized as residential real estate.
REITs
Real Estate Investment Trusts (REITs) invest in and manage various types of property including offices, apartment buildings, warehouses, retail centers, self-storage units, medical facilities, data centers, cell towers, infrastructure and hotels.
Baxter Gosch contributed to this report.
Sources
[1]Jones Lang LaSalle. (2018, May 29). Industrial real estate market trends and outlook. Retrieved June 1, 2018, from http://www.us.jll.com/united-states/en-us/research/property/industrial-and-logistics/outlook
[2]Prologis Research. (2018, June 06). 2017: A Year of Accelerated Rent Growth. Retrieved June 10, 2018, from https://www.prologis.com/logistics-industry-research/2017-year-accelerated-rent-growth
[3]Diduch, M. (2018, January 12). Four Predictions for the Industrial Market in 2018. Retrieved June 1, 2018, from http://www.nreionline.com/industrial/four-predictions-industrial-market-2018

Nate Nead is a licensed investment banker and Principal at Deal Capital Partners, LLC, a middle-marketing M&A and capital advisory firm. Nate works with corporate clients looking to acquire, sell, divest or raise growth capital from qualified buyers and institutional investors. He holds Series 79, 82 & 63 FINRA licenses and has facilitated numerous successful engagements across various verticals. Four Points Capital Partners, LLC a member of FINRA and SIPC. Nate resides in Seattle, Washington. Check the background of this Broker-Dealer and its registered investment professionals on
FINRA's BrokerCheck
.

Latest posts by Nate Nead
(see all)