This article is one in a series covering the self-storage industry, a sub-sector of the commercial real estate investment banking market. The article will present a list of the top ten companies in the industry, including the size and major activities of these market leaders over the last twelve months. Included in the article is a discussion on the impact of consolidation, acquisitions and competitive pressure in the industry.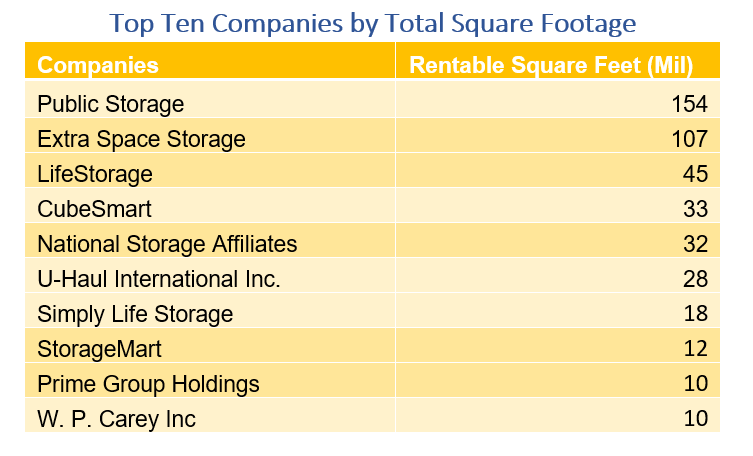 Source: Inside Self-Storage, IBIS World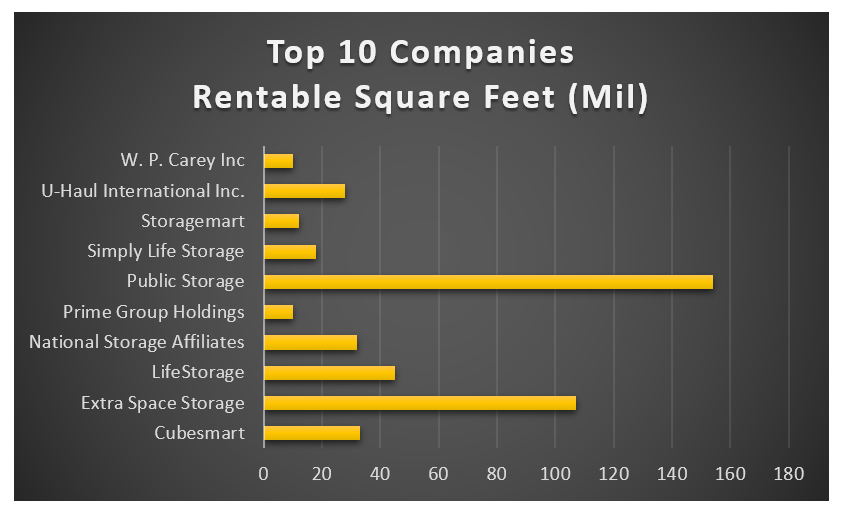 Source: Inside Self-Storage, IBIS World
Public Storage, the largest self-storage in the U.S, is a real estate investment trust (REIT) that operates 2,300 self-storage properties in 38 states and over 200 facilities in Western Europe. In 2017, Public Storage's revenue was forecasted to increase to $2.7 billion at an annualized rate of 8%. Extra Space Storage, Inc., also a REIT, is the second largest self-storage company in the United States. The company—which was founded in 1977 and went public in 2004–has 796 facilities across 38 states.. Extra Space storage is expected to reach a revenue of $1.1 billion in 2017. CubeSmart, the third largest self-storage company owns 475 self-storage facilities in 23 states and is estimated to have a revenue of $577.6 million.[1]
Source: Inside Self-Storage, IBISWorld
Market Share
Public Storage has 7.2% of the market share, the largest market share in the industry. Extra Space Storage, Inc and CubeSmart have captured 3% and 1.5% of the market share, respectively.1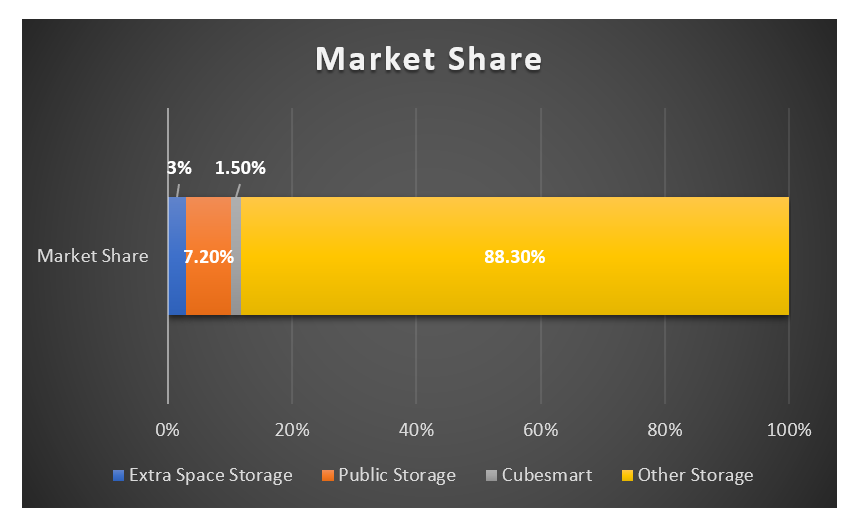 Source: IBISWorld
Recent Acquisitions and Development Activities
In the past 12 months, Public Storage has developed and acquired several properties. A total of seven self-storage facilities in Florida, North Carolina, Kentucky and South Carolina were acquired for a total purchase price of $47.3 million. Fourteen self-storage facilities were acquired for $67.8 million and nine newly developed facilities were completed at a cost of $144.5 million.[2]
Extra Space Storage has also been aggressively engaging in development and acquisition activities. In 2017, Extra Space Storage acquired four occupancy stores with joint venture companies valued at $40.9 million as well as six operating stores with two certificate of occupancy stores for a total price of $75.7 million. The company increased rental rates and improved occupancy by 140 basis points following a $2.1 million building damage from hurricanes.
Although, CubeSmart did not have any acquisition activity during the third quarter in 2017, the company acquired five properties for $49.9 million subsequent to September 30, 2017. The company has seven joint ventures under development valued at $280.3 million in New York, New Jersey and Massachusetts.[4]
LifeStorage increased acquisitions in 2017. Since January 1, 2017, Life Storage Inc. has added 28 properties to its portfolio with an aggregate cost of approximately $531 million through joint ventures. Life Storage currently has 14 facilities under contract to manage at the end of 2017 and in 2018.[5]
National Storage Affiliate's (NSA) acquisition strategy has increased the company's market share. In Q3 2017, NSA acquired 19 self-storage properties valued at $123.8 million in 9 states that encompasses over 1.3 million rentable square feet. Prior to September 2017, NSA purchased 28 properties, 1.8 million rentable square feet, for a total investment of $174.5 million. A total of $9.3 million was also invested in unconsolidated real estate venture.[6]
Simply Self Storage experienced significant growth in 2016 through the acquisition of 85 facilities valued at $600 million. However, in 2017, the company did not pursue any acquisitions.[7] StorageMart acquired 15 properties in Southeastern England in 2016.[8]
Prime Storage has increased equity interest an exposure through strategic acquisitions as well. On October 31, 2017, Prime Storage Group acquired a storage facility in Brooklyn, NY from Madison Development LLC for $53 million.[9] Prime Group also acquired a few self-storage portfolios in Boston, Chicago and Atlanta with 678,000, 58,000 and 468,000 rentable square feet, respectively.[10]
W.P. Carey Inc recently invested in several properties to increase revenue. In Q2 2017, W. P. Carey Inc., structured new investments valued at $506 million.[11] During Q3 2017, W. P. Carey Inc. started to develop four expansion projects for a total investment valued at $83 million and disposed of five properties for total gross proceeds of $59.6 million.[12]

Consolidation

Consolidation in the industry is an ongoing trend. Companies in the self-storage industry have grown inorganically through acquisition, with larger companies utilizing aggressive growth strategies to increase their market share. In the past five years, the consolidation trend has continued unabated as larger companies seek to acquire smaller firms in highly sought-after areas. Operators have benefited from consolidation through greater economies of scale and geographic advantages. Despite the advantages associated with consolidation, the high levels of consolidation are barriers to entry for new operators to compete in the industry.1

Pressure

Self-storage companies that have traditional business models are experiencing pressure to reduce their prices to compete with valet-storage start-ups. Valet-storage startups that offer app-based, on-demand platforms are influencing the behavior of consumers. Millennials who are used to accessing apps to purchase goods and services are being influenced to access more storage space via apps, and are demanding less services from traditional self-storage companies.[13] Another pressure that self-storage companies are facing is the competitive nature of the industry. According to IBISWorld, self-storage companies are pressured to increase their market share, sustain high-quality properties and increase their profit margin.1 The pressure for industry participants to perform has been at least one driver toward further consolidation.

Summary

Companies such as Public Storage, Extra Space Storage and CubeSmart are ranked as the top three companies based on revenue and size in the self-storage industry. In 2017, most of the top ten companies acquired multiple properties through acquisition and joint ventures and currently have additional developments under contract. The ongoing trend for consolidation has enabled the larger self-storage companies to increase their market share. Currently, self-storage companies are facing pressure to thrive in the competitive industry. However, further consolidation is likely given the dispersed and fragmented nature of the industry.

Sources

[1] The revenue for Simply Storage is not reported.

[2] The revenue for Prime Storage Group Holdings is not reported.

[1] Marisa Lifschutz, Storing up: Low rental vacancies have paved the way for high demand for storage units, IBISWorld, (Nov 2017).

[2] Public Storage, Public Storage Reports Results for the Three and Nine Months Ended September 30, 2017, (Oct 25, 2017), https://investors.publicstorage.com/news-and-events/press-releases/press-release-details/2017/Public-Storage-Reports-Results-for-the-Three-and-Nine-Months-Ended-September-30-2017/default.aspx.

[3] Markets Insider, Extra Space Storage Inc. Reports 2017 Third Quarter Results, (Nov 1, 2017), http://markets.businessinsider.com/news/stocks/Extra-Space-Storage-Inc-Reports-2017-Third-Quarter-Results-1001817583.

[4] CubeSmart, Third Quarter 2017 Supplemental Information, (Sept 30, 2017), http://investors.cubesmart.com/Cache/1001228816.PDF?O=PDF&T=&Y=&D=&FID=1001228816&iid=4095755

[5] Nasdaq, Life Storage, Inc. Reports Third Quarter 2017 Results, (Nov 1, 2017), http://www.nasdaq.com/press-release/life-storage-inc-reports-third-quarter-2017-results-20171101-01720.

[6]National Storage Affiliates, National Storage Affiliates Trust Reports Third Quarter 2017 Results, (Nov 6, 2017), https://content.equisolve.net/nationalstorageaffiliates/news/2017-11.

[7]Inside Self-Storage, 10 Self-Storage Companies to Watch in 2017, (Jan 26, 2017), http://www.insideselfstorage.com/articles/2017/01/10-selfstorage-companies-to-watch-in-2017.aspx

[8] Linkedin, StorageMart, (2017), https://www.linkedin.com/company/storagemart/.

[9] Inside Self Storage, Prime Group Holdings Acquires Brooklyn, NY, Self-Storage Facility for $53M, (Oct 31, 2017), http://www.insideselfstorage.com/news/2017/10/prime-group-holdings-acquires-brooklyn-ny-self-storage-facility-for-53m.aspx.

[10] Prime Group Holdings, Recent Transactions, (2017), http://goprimegroup.com/recent-transactions

[11]PR Newswire, W. P. Carey Inc. Announces Second Quarter 2017 Financial Results, (Aug 4, 2017), https://www.prnewswire.com/news-releases/w-p-carey-inc-announces-second-quarter-2017-financial-results-300499675.html.

[12]PR Newswire, W. P. Carey Inc. Announces Third Quarter 2017 Financial Results (Nov 3, 2017), https://www.prnewswire.com/news-releases/w-p-carey-inc-announces-third-quarter-2017-financial-results-300549077.html.

[13] Hunter Thompson, 3 Trends That Will Reshape Self-Storage in 2018, (2017),
http://www.insideselfstorage.com/blogs/iss-blog/2017/12/3-trends-that-will-reshape-self-storage-in-2018.aspx.

Jenn Abban contributed to this report.

Nate Nead is a licensed investment banker and Principal at Deal Capital Partners, LLC, a middle-marketing M&A and capital advisory firm. Nate works with corporate clients looking to acquire, sell, divest or raise growth capital from qualified buyers and institutional investors. He holds Series 79, 82 & 63 FINRA licenses and has facilitated numerous successful engagements across various verticals. Four Points Capital Partners, LLC a member of FINRA and SIPC. Nate resides in Seattle, Washington. Check the background of this Broker-Dealer and its registered investment professionals on

FINRA's BrokerCheck

.

Latest posts by Nate Nead

(see all)