18 Jul

Hospitality and Entertainment: Industry Introduction

This is the first in a multi-part series that will focus on the growth, investment, and M&A trends in the hospitality and entertainment industry.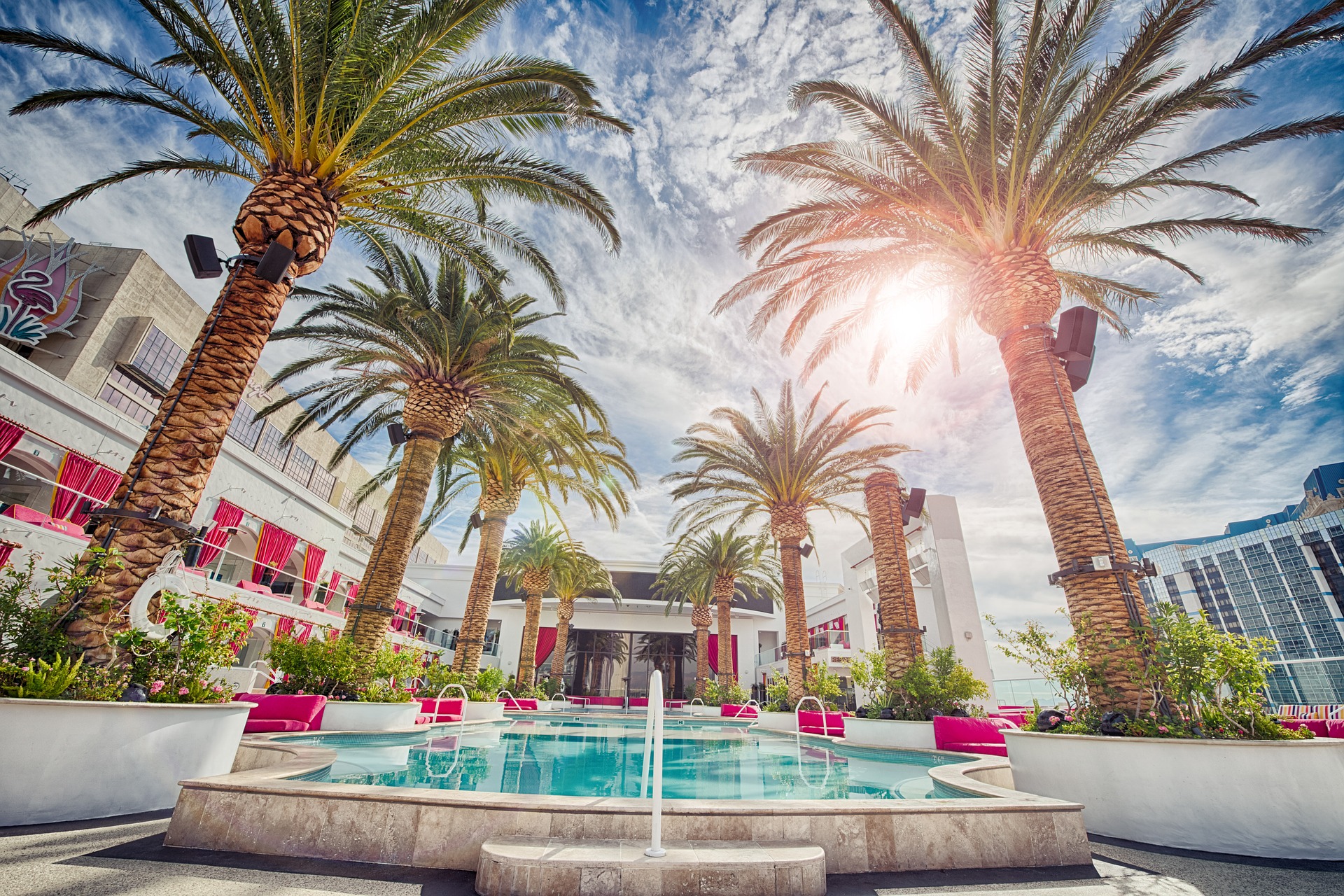 Industry Overview
The hospitality and entertainment industry is a service-based super sector that provides recreational activities and offers accommodations to a large volume of patrons[1]. The activities within the industry are segmented into the "arts, entertainment, and recreation" and "accommodations and food services" industries.

Similar Industries
Industries that are similar to hospitality and entertainment are associated by being service providing super sectors. These industries are information, financial activities, professional and business services, and education and health services.[2]
Arts, Entertainment, and Recreation
The arts, entertainment, and recreation sector consists of establishments that aim to entertain the varied interests of their patrons. In 2017 the sector generated $22.8 billion in profits from $308.7 billion in revenues. Annual growth from 2018-2023 is expected to be 1.8%[3].
This sector exists to satisfy the cultural, entertainment and recreational needs of its clientele. The result of these pursuits include creating and watching public exhibitions, establishments that offer displays meant for educational purposes, and establishments that allow their benefactors to pursue recreational activities with the intentions of entertainment[4]. The arts, entertainment, and recreation sector may be further divided into three sub-sectors[5]:
Performing arts, spectator sports, and related industries
Museums, historical sites, and similar institutions
Amusement, gambling, and recreation industries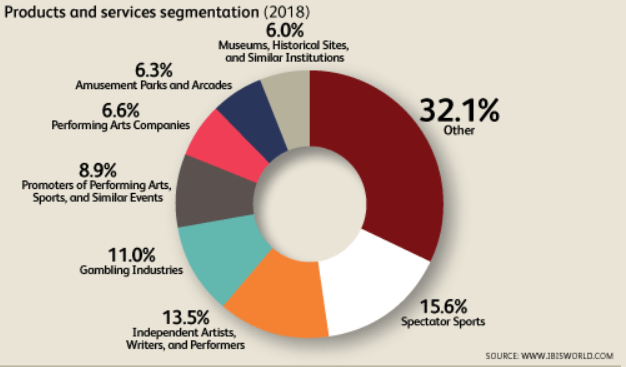 [3]
Major Activities
The major activities of the arts, entertainment, and recreation sector can be described as follows[4]:
Performing Arts: The performing arts offer live engagements with performing artists such as singers and dancers.
Spectator Sports: Spectator sports may involve sport teams engaging in live events in front of patrons, competitions on racetracks, and sports trainers who provide their services to competitors in these events.
Museums: These establishments focus on preserving artifacts that have significant educational value.
Historical Sites: Historical sites concern the maintenance and development of localities that contain valuable historical context.
Amusement Parks & arcades: These establishments offer attractions such as rides, games, refreshment stands, and coin-based arcade games.
Gambling: Gambling involves operating activities such as the lottery, bingo, and video game-based machines.
Accommodation and Food Services
Accommodation and food services involve establishments that provide lodging or preparing food for customers to consume once served. These two services are often offered at the same establishment. This sector consists of two sub-sectors[6]:
1. Accommodation
2. Food services and drinking places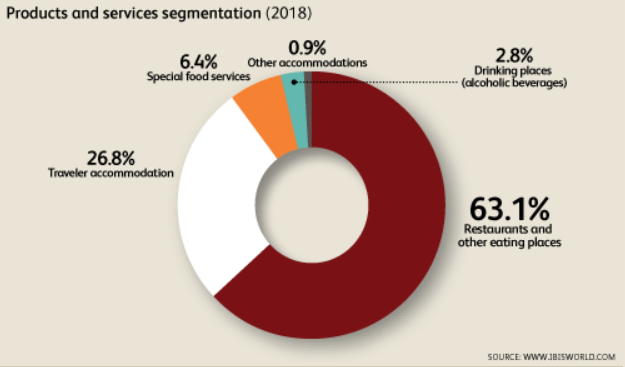 [7]
This industry has experienced growth over the past few years as Americans and foreign travelers have increased the number of trips they are taking. Revenues have grown at 3.5% from 2013 – 2018 and are expected to grow at an annual rate of 2.4% through 2023[7].
Major Activities
The major activities of the accommodation and food services sector can be described as follows:
Accommodation: Accommodation aims to offer lodging for customers who are traveling or on vacation. Businesses operating in this area include hotels and motels. The array of services that establishments may offer vary widely. For instance, some businesses may offer lodging alone. Some establishments in accommodation may extend their offering to laundry service, meals, and other activities related to living accommodations.

[8]
Food Services and Drinking Places: The establishments engaged in this sub-sector provide meals and beverages meant to be consumed immediately. While some businesses offer just food service and drinks, others offer entertainment, seating, and service from waiting staff. Establishments that provide food service as a secondary product, such as theaters, are not included. These businesses would be classified in the arts, entertainment, and recreation sector described previously.
Adrian Lee contributed to this report.
Sources
[1] U.S. Bureau of Labor Statistics. (n.d.). About the Leisure and Hospitality supersector. Retrieved July 10, 2018, from https://www.bls.gov/iag/tgs/iag70.htm#about
[2] U.S. Bureau of Labor Statistics. (n.d.). About the Service-Providing Industries supersector group. Retrieved July 10, 2018, from https://www.bls.gov/iag/tgs/iag07.htm
[3] Cohen, A. (2018). Arts, Entertainment and Recreation in the US (Sector Report 71). Retrieved July 11, 2018, from IBISWorld database
[4] North American Industry Classification System, United States, 2017, (2017).
[5] U.S. Bureau of Labor Statistics. (n.d.). About the Arts, Entertainment, and Recreation sector. Retrieved July 10, 2018, from https://www.bls.gov/iag/tgs/iag71.htm
[6] U.S. Bureau of Labor Statistics. (n.d.). About the Accommodation and Food Services sector. Retrieved July 10, 2018, from https://www.bls.gov/iag/tgs/iag72.htm
[7] Hyland, R. (2018). Accommodation and Food Service in the US (Sector Report 72). Retrieved July 11, 2018, from IBISWorld database
[8] Statista. (n.d.). Revenue of the U.S. hotel industry 2016 | Statistic. Retrieved July 15, 2018, from https://www.statista.com/statistics/245841/total-revenue-of-the-us-hotel-industry/