This is the first in a multi-part series that will focus on the growth, investment, and M&A trends in the hospice and palliative care industry, a member of the healthcare sector.
Introduction
Hospice care is end-of-life care. Hospices offer support and care for patients during their last phase of life. It focuses on critically ill patient's pain and symptoms, and attending to their spiritual and emotional needs, with an approach to improve the life of patients and their families associated with life-threatening illness.
A family member usually serves as the primary caregiver and, when appropriate, helps make decisions for the terminally ill individual. The hospice staff makes regular visits to assess the patient and provide additional care or other services. Hospice staff is on-call 24 hours a day, seven days a week.
Together with the patient's family the team develops a care plan that meets each patient's individual needs for pain management and symptom control. This team usually consists of the patient's personal physician, hospice physician or medical director, nurses, hospice aides, social workers, bereavement counselors, clergy or other spiritual counselors, trained volunteers, and speech, physical, and occupational therapists, if needed[1].
Services Provided
The hospice team:
1. Manages the patient's pain and other symptom.
2. Assists the patient and family members with the emotional, psychosocial, and spiritual aspects of dying.
3. Provides medications and medical equipment.
4. Instructs the family on how to care for the patient.
5. Provides grief support and counseling.
6. Makes short-term inpatient care available when pain or symptoms become too difficult to manage at home, or the caregiver needs respite time.
7. Delivers special services like speech and physical therapy when needed.
8. Provides grief support and counseling to surviving family and friends.
Location of Care
Hospice care is divided into five segments on the basis of location.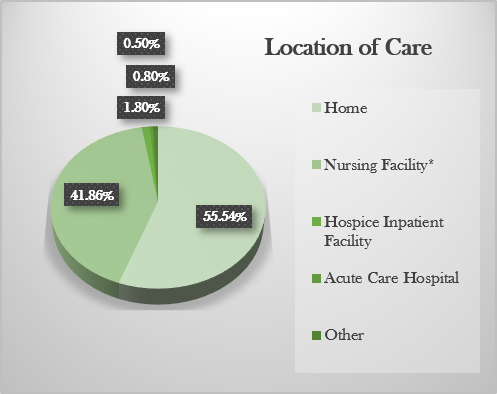 [2]
Levels of Care
Hospice provides patients with four levels of care to meet their clinical needs:
1. Routine Hospice Care (RHC) is the most common level of hospice care. With this type of care, an individual has elected to receive hospice care at their residence.
2. General Inpatient Care (GIP) is provided for pain control or other acute symptom management that cannot feasibly be provided in any other setting. GIP begins when other efforts to manage symptoms are not sufficient. GIP can be provided in a Medicare certified hospital, hospice inpatient facility, or nursing facility that has a registered nurse available 24 hours a day to provide direct patient care.
3. Continuous Home Care (CHC) is care provided for between 8 and 24 hours a day to manage pain and other acute medical symptoms. CHC services must be predominately nursing care, supplemented with caregiver and hospice aide services and are intended to maintain the terminally ill patient at home during a pain or symptom crisis.
4. Inpatient Respite Care (IRC) is available to provide temporary relief to the patient's primary caregiver. Respite care can be provided in a hospital, hospice facility, or a long term care facility that has sufficient 24 hour nursing personnel present.
Other Services
Volunteer Services
Hospice is unique in that it is the only provider with Medicare Conditions of Participation (CoPs) requiring volunteers to provide at least 5% of total patient care hours. Hospice volunteers provide service in three general areas:
Spending time with patients and families ("direct support")
Providing clerical and other services that support patient care and clinical services ("clinical support")
Engaging in a variety of activities such as fundraising, outreach and education, and serving on a board of directors ("general support")
Bereavement Services
Counseling or grief support for the patient and loved ones is an essential part of hospice care. After the patient's death, bereavement support is offered to families for at least one year. These services can take a variety of forms, including telephone calls, visits, written materials about grieving, and support groups. Individual counseling may be offered by the hospice or the hospice may make a referral to a community resource. Some hospices also provide bereavement services to the community at large.
Industry Projections
The Global Long Term Care (LTC) market is projected to Reach $1,255.9 Billion by 2024[3]. The market for long term care services is majorly driven by the increasing aging population, awareness about the advantages of home healthcare services, and government support.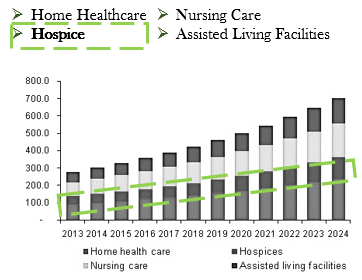 [4]
Hospice care is the fastest growing market at 7.6% among the four categories owing to the increasing incidence rates of Alzheimer's and dementia and an increase in post-hospital care.
Hospice care revenue is expected to rise, despite the uncertainty surrounding reimbursement rates. Many people have started using hospice as hospital stays and nursing homes become more expensive. Industry demand will likely escalate alongside the elderly proportion of the population.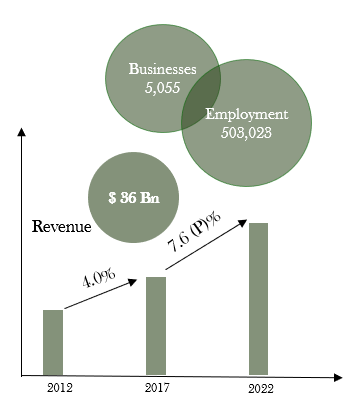 Geographical Division of Hospice Market
North America dominated the market in 2015. Around 13% of the people in the U.S. are 65 years or above. By 2050, it is expected that one in five Americans will be at least 65 years of age.
Asia Pacific is the fastest growing market owing to the increasing rates of chronic diseases, the increasing disposable incomes, and decreasing working population. For instance, in China, the one-child policy has decreased the working population as compared to the older population.
In India, Portea is one of the market leaders in the home healthcare industry and raised USD $37.5 million in 2015 for investing in better home healthcare facilities.
In May 2016, MyCareLine raised USD $526,000 for its alliance with Hoffman World. The Spanish Company provides Hoffman methodology of rehabilitation. The method is commercial in Latin America and Europe.
Globally, the number of adults needing end-of-life care is greater than 19 million, and up to 78%[5] of these patients are living in low- and middle-income countries.
Non-communicable diseases, such as cancer, have become a global pandemic with disproportionately higher rates in low- and middle-income countries (LMICs). Aging populations, paired with a concomitant transition from infectious diseases to non-communicable diseases, has had a tremendous impact on mortality risks, and LMICs have struggled to adapt to this changing epidemiological landscape. By 2020, it is estimated that more than 100 million people older than 60 years of age will be living in Latin America (LA) and the Caribbean and that more than half of this population will live beyond 80 years.
Hospice and palliative care centers are now recognized as a medical sub-specialty by the American Board of Medical Specialties, as well as in Australia, Canada, England, New Zealand, and Ireland. Many European countries are also in the process of developing certification for palliative care. Hospice care expenses in U.S. are mostly paid by the Medicare and Medicaid services and the Department of Veterans Affairs.
Most private health insurance companies include hospice care as a benefit. Some hospices are able to provide services without charge if a patient has limited or no financial resources. Most of the private insurance plans, health maintenance organizations (HMOs) and other managed care organizations in the US also provide the expenses for hospice care in their plans and policies which further propel the demand for hospice and palliative care. Such hospice and palliative centers are also being established in emerging nations such as India, Brazil, Indonesia, and China where there are affordability issues, and inadequate healthcare accessibility. The hospice and palliative services market is therefore establishing in these markets and will be in great demand with increasing awareness.
Kanak Sharma contributed to this report.
Sources
[1]Coherent Market Insights. (2018, June). Hospice & Palliative Care Centers Market – Industry Insights, Trends, and Opportunity Analysis, 2016-2024. Retrieved June 29, 2018, from https://www.coherentmarketinsights.com/ongoing-insight/hospice-palliative-care-centers-market-34
[2]Curran, J. (2017). Hospices & Palliative Care Centers in the US. IBISWorld Industry Report OD4952. Retrieved June 29, 2018, from IBISWorld database.
[3]Grand View Research. (2016, July). Long Term Care Market Size To Reach $1,255.9 Billion By 2024. Retrieved June 29, 2018, from https://www.grandviewresearch.com/press-release/global-long-term-care-market
[4]Grand View Research. (2016, July). Long Term Care Market Size, Share | Industry Report, 2024. Retrieved June 29, 2018, from https://www.grandviewresearch.com/industry-analysis/long-term-care-services-market
[5]Soto-Perez-de-Celis, E., Chavarri-Guerra, Y., Pastrana, T., Ruiz-Mendoza, R., Bukowski, A., & Goss, P. E. (2016, August 24). End-of-Life Care in Latin America. Retrieved June 29, 2018, from https://www.ncbi.nlm.nih.gov/pmc/articles/PMC5493222/

Nate Nead is a licensed investment banker and Principal at Deal Capital Partners, LLC, a middle-marketing M&A and capital advisory firm. Nate works with corporate clients looking to acquire, sell, divest or raise growth capital from qualified buyers and institutional investors. He holds Series 79, 82 & 63 FINRA licenses and has facilitated numerous successful engagements across various verticals. Four Points Capital Partners, LLC a member of FINRA and SIPC. Nate resides in Seattle, Washington. Check the background of this Broker-Dealer and its registered investment professionals on
FINRA's BrokerCheck
.

Latest posts by Nate Nead
(see all)