M&A Beat – US Health Services
Q2 2020
M&A Beat is a quarterly update for CEO's, CFO's, Owner, Founders of lower middle-market ($10M-$100M Rev) companies, offering relevant details on mergers and acquisitions deal value, volume, valuation multiples and trends in their respective industry and vertical.
The Healthcare Services newsletter covers all subsectors (Behavioral Care, Rehabilitation, Managed Care, Labs/MRI, Home Health, Hospitals, Physician Groups, Long-Term Care, Other Services) of the industry with the latest transaction statistics and pertinent industry trends, to keep you informed.
US Health Services Deals Decline but Still Show Promise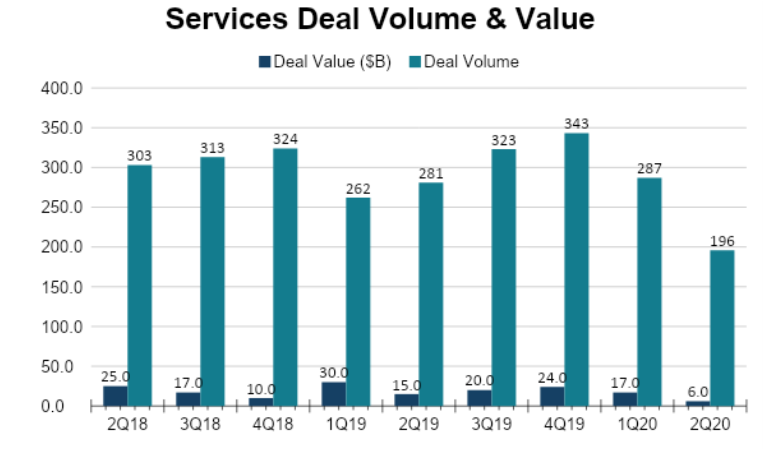 Source: (PwC, Donkar; Chesnut)
The COVID-19 pandemic has brought unprecedented challenges to the Health Services Sector. Q2 2020 deal volume took a big hit, dropping below 200 deals for the first time in 12 quarters. H1 2020 deal value was significantly lower year over year, but excluding mega deal values, Q2 2020 deal value increased by approximately 8%.
TTM Industry-wide deal multiples (EV/EBITDA) saw a slight increase of 0.6x due to large 7.7x increase in the Home Health and Hospice sector. Q2 2020 marked the thirteenth quarter in a row where multiples were greater than 13.0x1.
Q2 2020 deal value had a 64.7% decrease from Q1 due to a large $11.5 billion deal that took place in Q1. Excluding the Q1 megadeal (transactions exceeding $5 billion), deal value actually increased 20% from Q1. Deal volume decreased from Q1 by 31.7%. When compared to 2019 amounts, Q2 2020 saw a 60% decrease YoY in value and 42.4% decrease in volume YoY. The largest megadeal in Q2 was $1.2 billion: TPG Capital – LifeStance Health, Inc. acquisition.
Deal Volume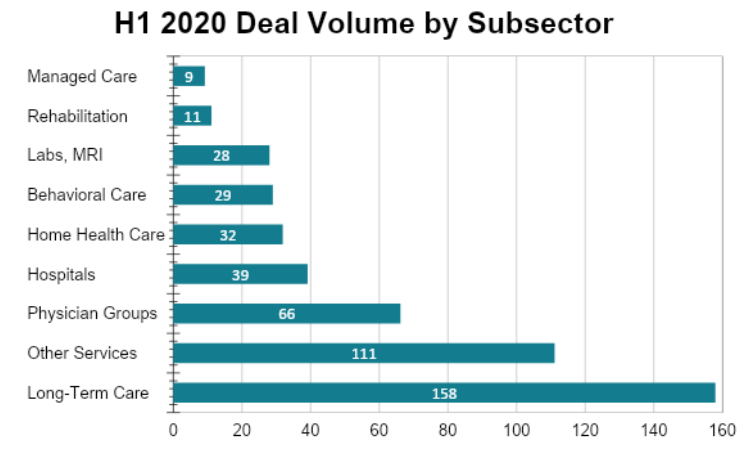 Source: (PwC, Donkar; Chesnut, PHP, Aprill; Goodson, ILA, Phillips)
US Health Services deal volume in H1 2020 saw a total of 483 transactions. When compared to H1 2019 the deal mix is very similar. Total deal volume was led by Long-Term Care that made up 33% of deals, followed by; Other Services (23%), and Physician Groups (14%).
Of the nine different sub sectors, six of those sub sectors saw a decrease in deal volume while Hospitals, Managed Care, and Other Services stayed relatively at the same level. Total deal volume declined by 42.3% YoY and dropped below the 2014-2018 quarterly average of 252 deals.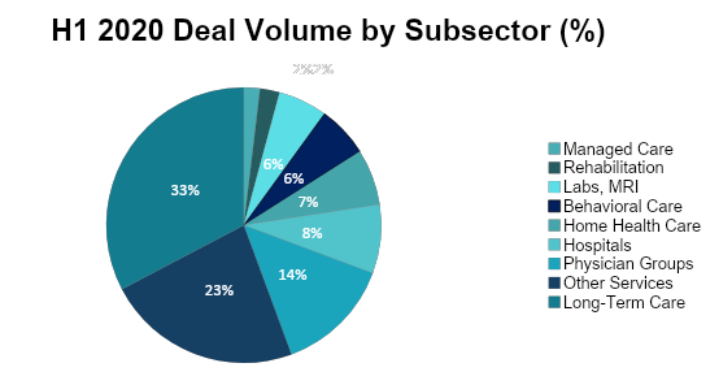 Source: (PwC, Donkar; Chesnut, PHP, Aprill; Goodson, ILA, Phillips)
Deal Value
US Health Services deal value in Q2 2020 totaled $6 billion in transactions. Although this was significantly low quarter compared to Q2 2019, two sub-sectors had increases in deal value. Both these increases were the result of a large deal. Managed Care saw a 516% increase after the Molina Healthcare Inc.-Magellan Complete Care transaction, and the Invitae Corporation – ArcherDX deal increased Labs, MRI & Dialysis deal value by 58%1.
Following Q1 2020 there were three Health Services sectors that had increases in deal value. Physician Medical Groups saw an increase of 6%, Hospitals increased by 11%, and Behavioral Care had a substantial 900% increase in deal value due to the $1.2 billion LifeStance Health Inc. acquisition.
Valuation Multiples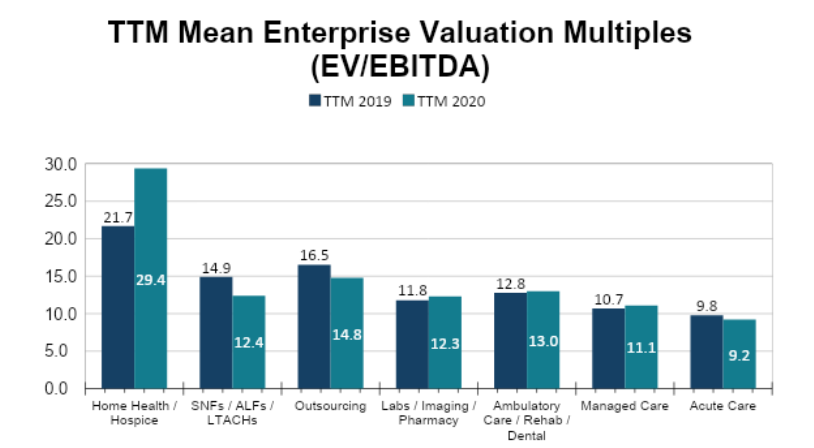 Source: (PwC, Donkar; Chesnut, PHP, Aprill; Goodson, ILA, Phillips)
Industry-wide, Health Services H1 2020 average enterprise valuation multiples (EV/EBITDA) saw a slight increase for the second quarter in a row of 0.6x to reach 14.6x on a TTM basis. The Health Services industry has seen these multiples exceed 13.0x for thirteen consecutive quarters.
One sub-sector that saw a substantial increase was Home Health and Hospice which had a 29.4x Q2 2020 multiple1. SNFs/ALFs/ LTACHs were hit the hardest with their multiples declining more than all of the other sectors.
Four of the remaining five sectors (Labs/ Imaging/ Pharmacy, Ambulatory Care/ Rehab/ Dental, Managed Care, and Acute Care had very little fluctuation in their multiples.
Outlook
Investment Trends:
Due to all the volatility and uncertainty in the market today, there were fewer deals going through but that does not mean that overall interest in deals is tanking. Both Q1 and Q2 of 2020 had a deal larger than $1 billion. The COVID pandemic has brought down sector-wide average deal size, but not to an unprecedented extent. H1 2020 average deal size was $145 million, which is still higher than the $141 million average deal size of H1 2016.
Industry Trends:
"Health Services companies, long accustomed to a complex operating environment, now face particularly challenging circumstances"1. There are a lot of unknowns going forward as the economy fights to come back from shut-downs and the world awaits the COVID-19 vaccine. Companies will continue to make hard decisions between enacting cost containment measures and taking advantage of opportunities to grow.
Even after a successful vaccine is made available to the general public, the health services landscape may never return back to what it was. Due to shutdowns and a push for social distancing, tele-health or virtual health became the chosen method of receiving care. Health services companies will likely push to acquire those assets that will allow them meet that demand.
Jonas Kurihara contributed to this report.
Sources
PricewaterhouseCoopers, Donkar, N., & Chesnut, K. (2019, July 24). US Health Services deals insights: Q2 2020. Retrieved from https://www.pwc.com/us/en/industries/health-industries/library/health-services-quarterly-deals-insights.html.
Aprill, R., Grassa, S., & Provident Healthcare Partners. (n.d.). Q2-2020 Behavioral Health Update. Retrieved from https://www.providenthp.com/q2-2020-behavioral-health-update/.
Goodson, E., Shekar, A. J., & Bolding, B. (n.d.). Q2-2020 Laboratory Services Update. Retrieved from https://www.providenthp.com/q2-2020-laboratory-services-update/.

Nate Nead is a licensed investment banker and Principal at Deal Capital Partners, LLC, a middle-marketing M&A and capital advisory firm. Nate works with corporate clients looking to acquire, sell, divest or raise growth capital from qualified buyers and institutional investors. He holds Series 79, 82 & 63 FINRA licenses and has facilitated numerous successful engagements across various verticals. Four Points Capital Partners, LLC a member of FINRA and SIPC. Nate resides in Seattle, Washington. Check the background of this Broker-Dealer and its registered investment professionals on
FINRA's BrokerCheck
.

Latest posts by Nate Nead
(see all)