The e-commerce industry has received significant hype in the news lately. Analysts speak of the "Amazon effect" and the "death of retail" all the time. The reality is that e-commerce involves much more than just selling on Amazon, and plenty of major retailers are already taking advantage of it.
The e-commerce industry can be broken down into two major segments: online stores and e-commerce platforms.
Online Stores
Online stores are websites that sell products online and are one of the most visible segments of e-commerce. This space includes Amazon, but it also includes major retailers such as Walmart, Costco, and Nordstrom, all of which have significant online presences. One feature of online stores is that they allow smaller companies to build a large audience with less investment than a typical brick-and-mortar store. Because of this, small startups have gained significant traction online even before they had a physical footprint. Examples of these digital-first brands are ModCloth and Bonobos1.
These examples, however, just barely scratch the surface when it comes to understanding online shopping. The reality is that there are many different shapes and sizes of online stores. To better understand these different types, it is helpful to break them down into different categories based on how they are set up. The following are the major types of online shopping:
Business-to-Consumer (B2C) – The business-to-consumer model of e-commerce represents any business that sells products designed for ordinary consumers on its website2. All the previously mentioned stores predominantly fall under this category. Amazon sells books, Walmart sells household products, and Bonobos sells clothing for men. These are all designed for everyday consumers.
Business-to-Business (B2B) – The business-to-business model of e-commerce represents businesses that sell products to other businesses online. Good examples of this are wholesalers, suppliers, and companies selling office products3.
Consumer-to-Consumer (C2C) – The consumer-to-consumer e-commerce model consists of online stores that serve as intermediaries between consumers. This frequently occurs in the form of auctions or online listings. One prime example of this is eBay, but others include Craigslist, or Facebook's Marketplace4.
Other – A few types of e-commerce stores do not fall under the previously mentioned categories. These tend to be smaller and can include online healthcare exchanges or e-commerce involving the government5.
E-commerce Platforms
The e-commerce platform space covers businesses that offer products and software that support online stores. These companies help store owners run and manage their online businesses. Companies in this space may sell predesigned shop templates, assist with inventory management, track customer data, and integrate with social media. This space has many facets and is constantly changing with customer preferences.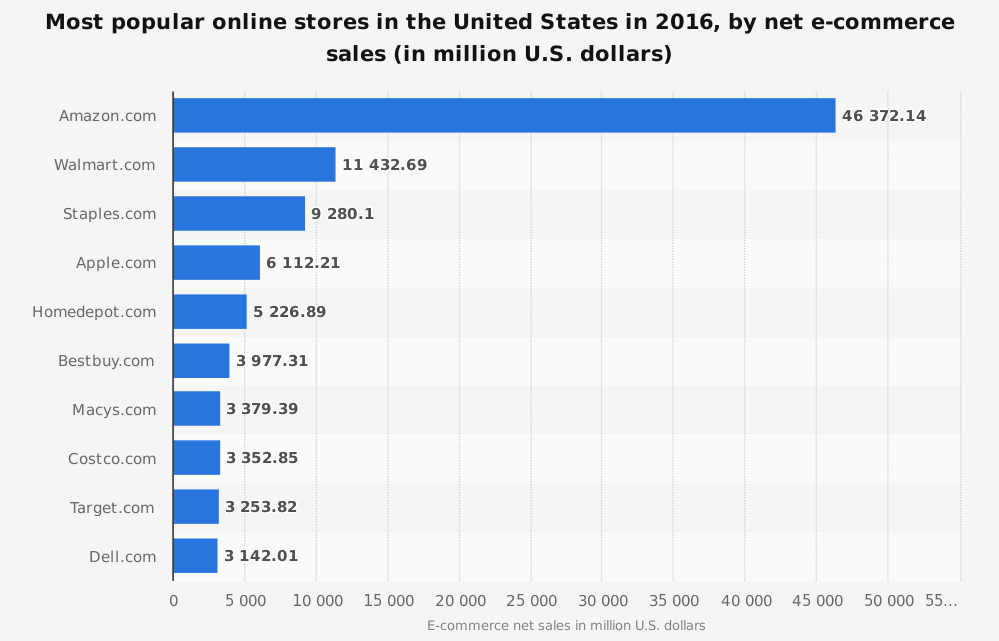 Shopify is a well-known example of an e-commerce platform that caters to small- and medium-sized businesses. Magento and WooCommerce also fall under this category. At the enterprise level, Oracle, SAP, and Salesforce are among the growing number of companies that offer e-commerce platforms. Many of these larger companies have made acquisitions in recent years to improve their platforms6.
Related Industries
E-commerce often goes hand in hand with other technology industries such as the following:
Digital payments
Web development
Online advertising
Social media
Fintech
Though these other industries are closely related to e-commerce, they are typically classified as being separate from it. As consumer sentiment and demand continues to shift purchasing habits from brick-and-mortar to web-based platforms, it is likely to simultaneously shift development, innovation and investment in the same direction.
This is the first in a several part series intended to cover E-commerce. Our next post will cover more detail in E-commerce investment banking, including mergers and acquisitions. Thank you for your interest and we welcome your feedback and comments below.
Citations:
Veronika Sonsev, How Online Brands Are Winning In The Offline World, Forbes (2017), https://www.forbes.com/sites/veronikasonsev/2017/10/12/how-online-brands-are-winning-in-the-offline-world/#5afd1703395a (last visited Nov 28, 2017).
E-Commerce, Statista, https://www.statista.com/markets/413/e-commerce/ (last visited Nov 28, 2017).
Darren DeMatas, 5 Types of Ecommerce Business Models That Work Right Now, Selfstartr (2017), https://selfstartr.com/types-of-ecommerce-business-models/ (last visited Nov 28, 2017).
Kathleen Chaykowski, Facebook Invests In E-Commerce With 'Marketplace' Expansion Forbes (2017), https://www.forbes.com/sites/kathleenchaykowski/2017/08/14/facebook-invests-in-e-commerce-with-marketplace-expansion/#77a517ea1328 (last visited Nov 30, 2017).
PitchBook, https://my.pitchbook.com/page/search_15305338 (last visited Nov 7, 2017).
Chris Kanaracus, SAP buys e-commerce vendor Hybris in strike back at Oracle, Salesforce.com Computerworld (2013), https://www.computerworld.com/article/2497458/cloud-computing/sap-buys-e-commerce-vendor-hybris-in-strike-back-at-oracle–salesforce-com.html (last visited Nov 30, 2017).

Trevor Armstrong contributed to this article.

Nate Nead is a licensed investment banker and Principal at Deal Capital Partners, LLC, a middle-marketing M&A and capital advisory firm. Nate works with corporate clients looking to acquire, sell, divest or raise growth capital from qualified buyers and institutional investors. He holds Series 79, 82 & 63 FINRA licenses and has facilitated numerous successful engagements across various verticals. Four Points Capital Partners, LLC a member of FINRA and SIPC. Nate resides in Seattle, Washington. Check the background of this Broker-Dealer and its registered investment professionals on
FINRA's BrokerCheck
.

Latest posts by Nate Nead
(see all)