The Shipping and Logistics industry is in the mature phase of its life cycle, and will continue growing in the coming years as the economy continues to expand. According to IBISWorld, the industry is expected to increase at an annualized rate of 2.6% until 2022. As a whole, the industry has displayed a concerted effort to improve operating efficiencies- to flexibly and quickly deliver goods and services to customers; growth, therefore, is the result of larger firms acquiring and consolidating smaller players.
In recent years, the trend of consolidation has increased due in large part to increasing external competition. Customer expectations are on the rise. As businesses and individuals grow accustomed to today's on-demand culture, shipping and logistics companies face ever growing pressure to deliver goods and better service at lower costs. While the industry currently faces increased competition from new market entrants using similar business models, the sector has and will experience even greater pressure from the very firms that supply its demand: the manufacturing, wholesale, retail, and warehousing segments.
Increasingly, many customers are asking suppliers and manufacturers to deliver products only when needed-reducing inventory on hand and freeing up capital to invest elsewhere. For both 3PL and vertically integrated operations, technology has played a crucial role in developing competitive business strategies. Surges e-commerce sales has caused an increase in demand for items that must be warehoused, packed, and delivered efficiently. As such, larger firms within the industry have sought to acquire tech start-ups to increase their technological advantage in the marketplace. Suppliers and manufacturers must create or implement logistics software tools to optimize daily activities and handle the routing and storage of inventory to meet each customer's delivery requirements.
Risks
According to major shipping and logistics firms, the main industry-specific risks are: general economic conditions, changing commodity prices, the capital-intensive nature of existing business models, increasing competition, changes in relationships with customers, and changes in technology.
General Economic Conditions & Changing Commodity Prices
The industry is particularly susceptible to changes in macro-economic market conditions. Demand for logistics services arises from the confidence and strength of clients' businesses. Because of this, shipping and logistics demand may begin to wane before market contractions, and will experience downward pressure for a short time after the market recovers. Fuel prices are a major cost driver for the industry; the slightest changes in commodity prices would adversely affect each firm's profitability. Those firms relying heavily on debt will be adversely affected by the Trump Administration's proposed tax plan. If implemented, a businesses' ability to deduct interest from their taxes would be capped at 30% of earnings before interest, taxes, depreciation and amortization. Strong consumption levels and trade growth will help increase freight demand; President Trump's nationalist stance on trade, backing out of NAFTA, and other political moves will affect the industry.
Capital-Intensive Business Models, Increasing Competition & Changing Customer Relationships
Many firms within the industry make significant investments into trailers, rental trucks, etc.; These investments are typically made based off of near term forecasted customer demand. As other retailers and other firms have sought to vertically integrate logistics functions into their firms, traditional logistics firms who rely on a small number of customers might be forced to write down those investments.
Changes in Technology
Tesla, Toyota, U.S. Xpress, and Ryder have all made investments in alternative-energy trucking solutions. However, some competitors are thinking outside the box to increase profit margins. As such, existing players will need to acquire or develop similar technologies to stay competitive. Belgian Post Office is currently testing the delivery of shipments by private individuals. Its new app 'bringr' utilize s a crowdsource model to connect manufacturers with self-employed couriers. In the U.S., tech companies like Dolly and UberRUSH offer express services by connecting registered drivers directly with clients.
Opportunities
The main beneficiaries of these digitization and customer-centric trends are the firms who are likely to gain market share through the purchase of smaller businesses, and increase efficiency through the development or acquisition of tech start-ups. New entrants to the industry are developing new business models to create value for their companies, without the asset-heavy balance sheets and capital-intensive nature currently burdening logistics companies.
The transition of companies toward providing vertically integrated logistics services has placed pressure on large industry players to compete; These firms must increasingly expand their logistics offerings, meaning that major providers in the U.S., such as FedEx, U.S Xpress, Ryder, and others will continue to expand via acquisition.
Retailers and manufacturers looking to bring logistics in-house will need to acquire both the infrastructure and the technology to run processes efficiently. Both 3PL and in-house providers who intelligent use of technology to reduce costs via the automation of processes will succeed in tomorrow's marketplace. These firms need access to technological innovation to maintain a competitive edge. Sustaining innovations in technology could help firms manage their daily activities more efficiently, plan routes more effectively, and decrease costs.
As computing becomes more ubiquitous, companies will be able to realize economies of scale resulting from the direct increase in computing power. Big data within the supply chain will create various opportunities; the gathering of data, analyzing existing information to solve problems, sensing customer demand and respond quickly, developing proprietary IP, etc. In 2017, market players increasingly turned toward the utilization of blockchain to create such efficiencies. At its core, blockchain is a ledger technology that enables efficient and transparent exchange of data. The early implementers of blockchain will be large companies with vertically integrated logistics operations that have a complex ecosystem comprising various interactions between people and things. A transparent ledger such as blockchain would improve an organizations ability to track and trace shipments, and serialize products.
The trends and risks within the shipping and logistics industry will foster a healthy M&A environment moving forward. In addition to traditional bolt-on acquisitions, 3PL and in-house providers need software companies that offer scalable platforms for crowd-sharing, technology routing, and smart warehousing solutions. Investment banks that position themselves to provide advisory services catered to meet the industry's need for consolidation and innovation are sure to do well.
Select Transactions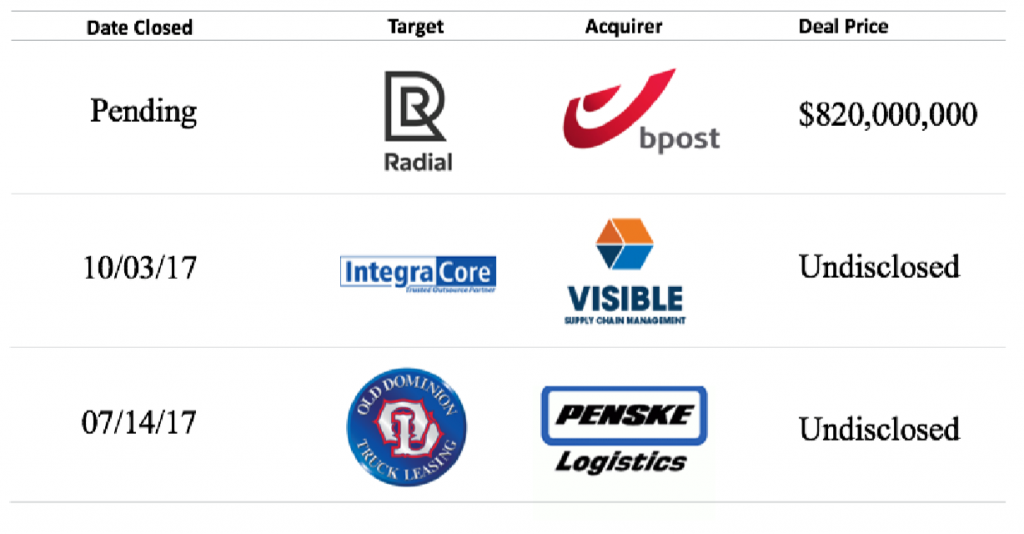 Sources
PricewaterhouseCoopers, Transportation & Logistics PwC, https://www.pwc.com/gx/en/industries/transportation-logistics.html (last visited Nov 9, 2017).
IBISWorld, Freight Packing & Logistics Services in the US, http://clients1.ibisworld.com/reports/us/industry/default.aspx?entid=1211 (last visited Nov 9, 2017).
Duff & Phelps, Freight & Logistics Industry: M&A Landscape, https://www.duffandphelps.com/assets/pdfs/publications/mergers-and-acquisitions/industry-insights/industrials/freight-and-logistics-industry-ma-landscape-june-2017.pdf (last visited Nov 9, 2017).
Forbes, "Planes, Trains, Trucks and Ships", https://www.forbes.com/sites/robinlewis/2016/04/01/planes-trains-trucks-and-ships/#73dd4b226d39 (last visited Nov 9, 2017).
The Wall Street Journal, "Private Equity firms have a beef with tax bill but things could be worse", https://www.wsj.com/articles/private-equity-firms-have-a-beef-with-tax-billbut-things-could-be-worse-1509701403 (last visited Nov 9, 2017).
SEC, UPS 10k, https://www.sec.gov/Archives/edgar/data/1090727/000109072717000011/ups-12312016x10k.htm (last visited Nov 9, 2017).
SEC, Ryder 10K, https://www.sec.gov/Archives/edgar/data/1166003/000162828017001912/xpo201610-k.htm#sBA91B005231052C28ECB886E809ED00E (last visited Nov 9, 2017).
Bloomberg, "Amazon is Building Global Delivery Business to Take on Alibaba", https://www.bloomberg.com/news/articles/2016-02-09/amazon-is-building-global-delivery-business-to-take-on-alibaba-ikfhpyes (last visited Nov 9, 2017).

Nate Nead is a licensed investment banker and Principal at Deal Capital Partners, LLC, a middle-marketing M&A and capital advisory firm. Nate works with corporate clients looking to acquire, sell, divest or raise growth capital from qualified buyers and institutional investors. He holds Series 79, 82 & 63 FINRA licenses and has facilitated numerous successful engagements across various verticals. Four Points Capital Partners, LLC a member of FINRA and SIPC. Nate resides in Seattle, Washington. Check the background of this Broker-Dealer and its registered investment professionals on
FINRA's BrokerCheck
.

Latest posts by Nate Nead (see all)