This is the sixth in a multi-part series that will focus on the major companies and activity in the medical device manufacturing industry, a member of the manufacturing sector.
Major Companies
[1]
Medtronic PLC
Medtronic develops and manufactures medical devices for chronic diseases and commands 40.2% of the market share. It sells its products in over 140 countries worldwide. Foreign sales account for 40% of the company's total revenue. It employs about 45,000 people. It's four largest segments are cardiac and vascular (46.2%), restorative therapies (33.3%), minimally invasive technologies (11.8%), and diabetes management products (8.7%). Medtronic has focused on acquisition to broaden the scope of products it offers and expand international presence. The company recently acquired medical supplies giant Covidien for $42.9 billion and is shifting its headquarters to Dublin to save in US taxes.
The company is able to maintain low revenue volatility due to its diversified product mix.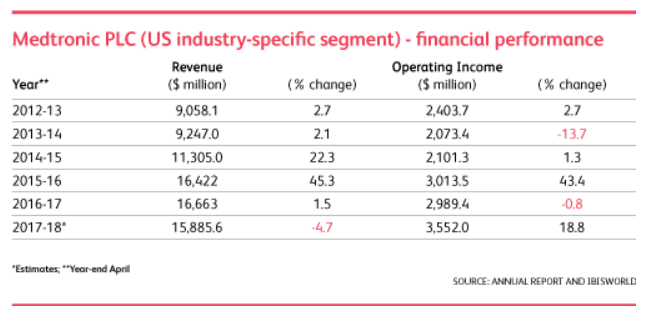 [1]
General Electric
General Electric has roughly 20% market-share and employs more than 300,000 people across the globe. Its medical device manufacturing division represents roughly 16% of its total revenue. In recent years it has acquired API Healthcare and some of Thermo Fisher Scientific. The majority of GE's business is outside the United States and it has continued expanding its presence in emerging markets.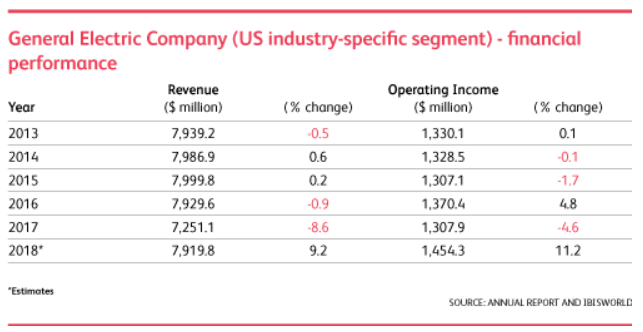 [1]
Abbott Laboratories
Abbott Laboratories is the third largest presence in this space with 9.8% market share. It manufactures about 31% of its products in the United States. Its acquisition of St. Jude Medical Inc. in 2017 transformed it into a dominant industry player. Its profit is expected to grow 52% in 2018 in large part to its acquisition of St. Jude Medical Inc.
[1]
Johnson & Johnson
Johnson & Johnson is a family name and leading healthcare company globally. They currently hold 5.5% market share and estimate 2018 industry-specific revenue will total $2.2 billion. It operates primarily in the United States and Europe though is rapidly expanding in Asia. It attributes demand for cardiovascular products for growing sales.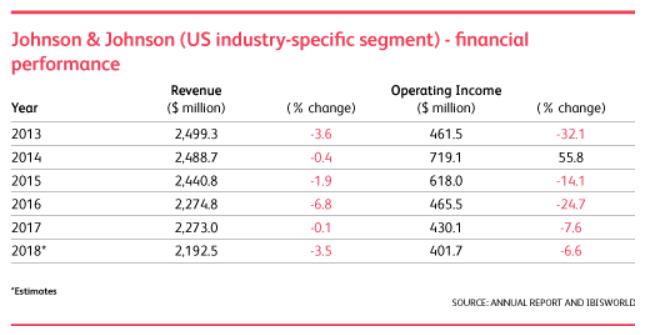 [1]
Other notable firms are Boston Scientific Corporation (4-5% market share), Danaher Corporation (4-5% market share), and Varian Medical Systems Inc (1-2% market share).
Primary Activity
The medical device manufacturing industry (U.S. only) experienced its largest year in deals, by count, in 2016. When it comes to the type of deal, Buyout and Leveraged Buyouts (LBOs) are the most common.
Recent large deals include:
1. Medtronic's acquisition of Covidien completed in January 2015 for $42.9 billion. Important deal multiples are as follows: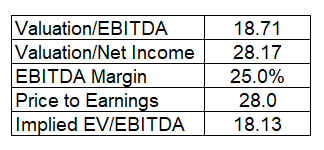 [2]
2. Johnson & Johnson's acquisition of Abbott Medical Optics completed in February 2017 for $4.3 billion. This strategic acquisition will help Johnson & Johnson expand their eye care portfolio.
3. In December 2017 Becton, Dickinson and Company announced the completion of their acquisition of C.R. Bard. The acquisition is expected to create a company with approximately $16 billion in annualized revenue. C.R. Bard shareholders received $222.93 in cash and 0.5077 of a share of Becton Dickinson common stock for each outstanding share[3].
Mohammed Siddiqui contributed to this report.
Sources
[1] Medical Device Manufacturing in the US (Industry Report 33451b). Retrieved August 2, 2018, from IBISWorld database
[2] PitchBook data found searching the following keywords: "medical device manufacturer"
[3] Becton, Dickinson and Company. (2017, December 29). BD Completes Bard Acquisition, Creating New Global Health Care Leader. Retrieved August 9, 2018, from http://www.bd.com/en-us/company/news-and-media/press-releases/dec-29-2017-bd-completes-bard-acquisition-creating-new-global-health-care-leader

Nate Nead is a licensed investment banker and Principal at Deal Capital Partners, LLC, a middle-marketing M&A and capital advisory firm. Nate works with corporate clients looking to acquire, sell, divest or raise growth capital from qualified buyers and institutional investors. He holds Series 79, 82 & 63 FINRA licenses and has facilitated numerous successful engagements across various verticals. Four Points Capital Partners, LLC a member of FINRA and SIPC. Nate resides in Seattle, Washington. Check the background of this Broker-Dealer and its registered investment professionals on
FINRA's BrokerCheck
.

Latest posts by Nate Nead
(see all)