Senior debt, also known as 'leveraged loans' have experienced tremendous growth, and relatively steady returns over the last few years. Investors have incorporated senior debt in their capital structure and have used senior to diversify their portfolio. The article will present the current trends and outlook related to senior debt as well as recent senior debt transactions in the U.S. and global markets.
Current Trends
The market share of senior debt has reduced over the past twelve months in Europe. In Europe there has been a slight shift from structuring senior debtor to favor stretched senior and mezzanine financing. In 2017, 20% investors preferred stretched senior loans to 10% in 2016. The rationale for the change is that investor borrowers have a desire to increase their loan to value (LTV) ratio.[1]
Weak documentation of senior debt has increased in recent years. The weak documentation can potentially result in lower recoveries in the event of default in Europe.[2] Not only has Europe experienced weaker documentation issues with structuring senior debt, the US market is currently changing as protection for senior debt is growing weaker from structural changes. There has been an increase in covenant-lite loans in the U.S. market. Currently, covenant-lite loans make up more than half (72.9%) of the U.S. market compared to 24% in 2012. [3] Borrowers are using flexible and cheap senior debt loans to reduce interest payments. However, such weak documentation and less restrictions on covenants increase the risk of double default in the long-term and can cause lower recoveries during the next default cycle.[4]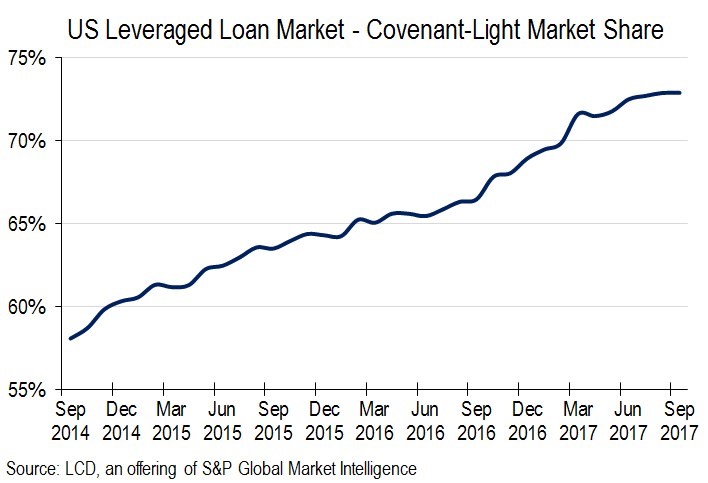 Source: Leveragedloan.com
Outlook
The outlook for senior debt continues to be strong. The characteristics of senior debt will continue to help senior debt outperform in a rising interest rate environment. The floating rate coupon reduces duration risk as rates change and potentially act as a cushion against rising rates.[5] For example, in 2016, the senior debt asset class, demonstrated a strong performance by offering investors with favorable absolute and volatility-adjusted returns. Senior debt continued to perform well in 2017.[6]
The Government Accountability Office's recent decision to reduce the Leveraged Lending Guidelines will also increase competition for private debt fund raising since there will be a renewed interest in backs to engage in the leveraged loan market. According to Pitchbook, a total of $118.7 billion was raised by private debt funds in 2017 demonstrating investor interest in raising capital for private equity transactions. [7]
Leveraged loan sales far outperformed high-yield bonds in 2017. The reason for the increase in sales in 2017 was due to weak covenants that allowed companies to prefer borrowing senior loans.[8] Companies had less restrictions on covenant agreements with banks.
US Marketed High-Yield Bonds and Leveraged Loans ($bn)


Source: Financial Times
Senior Debt Transactions
According to S&P Global's Leveraged Commentary & Data, the U.S leveraged loan market was the busiest in 2017, although Q4 2017 was slow. The increase in leveraged loans was due to collateralized loan obligations (CLOs) pipelines. More than half (65%) of institutional loans in the primary market were packaged as CLOs. CLO investor demands increased the structuring of senior secured first-lien term loans.[9]
In September 2017, the year-to-date new issue volume for senior loans was $732.3bn. Senior loan spreads over three-month LIBOR decreased by one basis point (bp) to LIBOR plus 416 bp. LIBOR is expected to move higher in 2018. The current default rate for senior loans is 1.53% and may remain low given the overall condition of the US economy.[10] The low default rate, floating rate coupon, attractive income as well as the secured position in the capital structure for senior loans makes the loan stable for 2018.[11]
Leveraged loan lending increased to 60% to $1.4 trillion in 2017.  The volume of leveraged loan was 40% more than that in 2013, in the amount of $1.1 trillion. The increase in loan transactions was influenced by structuring $919bn of institutional loans as well as investor demand for yield. Furthermore, the total volume of institutional loans was reported to be a third of leveraged loans in 2017. The increase in volume set a new record in 2017. Not only was a new record established in 2017, but the transaction in 2017 was $503bn more than the volume in 2016.[12]
Leveraged loans for M&A transactions remained steady in Q3 2017, although private equity activity increased. Institutional M&A volume was $65.6 billion in Q2 2017.3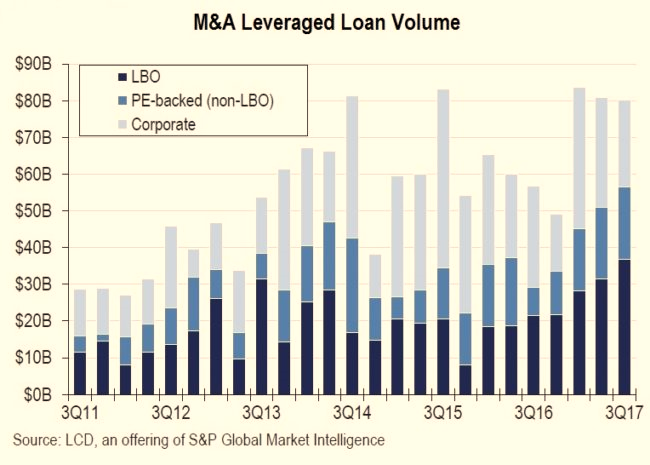 Source: Leveragedloan.com
In Europe, the total volume of leveraged loans was €120.4 billion. This volume has been the highest since 2007. The volume of loans increased by 73% from 2016. The increase in loans was attributed investor appetite to refinance existing debt and credits to support private equity.[13]
Conclusion
Investor interest in senior loans has increased in recent years, although in Europe the market share of senior debt has slightly declined. Senior debt lenders have weakened documentation for senior debt by reducing the limitations on covenants. Weak documentation has the potential to increase default rates and reduce recoveries during default cycles. Despite the rising interest rate environment, senior debt loans performed well 2017. Leveraged loans increased in 2017 due to the demand for CLOs and the volume of institutional loans was a third of that of leveraged loans. Senior loans outlook remains strong.
Sources
[1] Cushman & Wakefield, European Lending Trends, (2017).
[2] FitchRatings, European Leveraged Credit Risk Tempered by Lessons from 2005-2007, (Sept 21, 2017).
[3] LeveragedLoan.com, M&A Leveraged Loan Activity Holds Steady, While Share of LBO Deals Rises, (Oct 6, 2017), http://www.leveragedloan.com/category/lbo/.
[4] Max Bower, LPC-Benign Loan Default Statistics Mask Future Trouble, (October 13, 2017), https://www.reuters.com/article/leveraged-loans-global/lpc-benign-loan-default-statistics-mask-future-trouble-idUSL8N1MO43Y
[5] Cohen & Steers, Senior Loan February 2017 Review and Outlook, (March 16, 2017), https://www.aamlive.com/blog/201703/senior-loan-february-2017-review-and-outlook.
[6] Invesco, US Senior secured loan market: 2016 review and 2017 outlook, (2017), https://apinstitutional.invesco.com/ap-public/dam/jcr:16b5aa49-ea31-4ef8-80f1-97cb8c53e355/US%20Senior%20Secured%20Loan%20Market%20-%202016%20Review%20and%202017%20Outlook.pdf.
[7] PitchBook, Welcome to the private debt show. Analysis of the growth in private debt fundraising, (2018).
[8] The Financial Times Limited, Companies bask in leveraged loan advantages, (2018), https://www.ft.com/content/2e1ff08a-c506-11e7-a1d2-6786f39ef675.
[9] A Boom Year For U.S. Leveraged Loan Issuance, (Jan 10, 2018), https://www.capitaliq.com/CIQDotNet/CreditResearch/RenderArticle.aspx?articleId=1979493&SctArtId=446468&from=CM&nsl_code=LIME&sourceObjectId=10396081&sourceRevId=2&fee_ind=N&exp_date=20280111-20:49:46.
[11] William Housey, Senior Loan & High Yield Review – 3rd Quarter 2017, (Sept, 2017), https://www.ftportfolios.com/Commentary/Insights/2017/10/10/senior-loan–high-yield-review—3rd-quarter-2017
[12] Hugo Pereira, Leveraged Loan Monthly: Year-end 2017, (Jan 10, 2018), (http://lipperalpha.financial.thomsonreuters.com/reports/2018/01/leveraged-loan-monthly-year-end-2017/
[13] Leveragedloan.com, European Leveraged Loan Issuance Hits Post-Crisis High, (Jan 6, 2018), http://www.leveragedloan.com/news/
Jenn Abban contributed to this article.

Nate Nead is a licensed investment banker and Principal at Deal Capital Partners, LLC, a middle-marketing M&A and capital advisory firm. Nate works with corporate clients looking to acquire, sell, divest or raise growth capital from qualified buyers and institutional investors. He holds Series 79, 82 & 63 FINRA licenses and has facilitated numerous successful engagements across various verticals. Four Points Capital Partners, LLC a member of FINRA and SIPC. Nate resides in Seattle, Washington. Check the background of this Broker-Dealer and its registered investment professionals on
FINRA's BrokerCheck
.

Latest posts by Nate Nead
(see all)