Someone, somewhere got the order mixed up. Somewhere we starting thinking the end goal was going public–not creating long-lasting value for shareholders by providing meaningful products and services to customers. Somewhere, someone got things backwards. The reality is that real value is created in building great companies, not just a public liquidity event built on false pretenses of some future potential or–worse still–false or falsified information. Nothing could be worse. Michael Carney rightly takes issue with an article written by Dan Primack stating that more tech companies don't necessarily need to go public. Primack admonishes them to do so, not just for their own good, but for the ultimate good of the country. It's apparently more patriotic and helps the mom and pop retail investors. Mr. Carney delves into most of the reasons why this is bad. He's spot on in a few of them and I might take issue with others, but his main point is the most valid: build a great company, then go public. Don't just go public for going public's sake.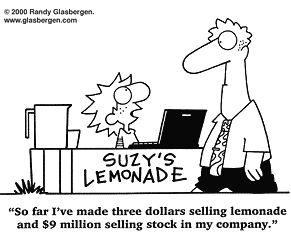 Having said that, there are some caveats to what I might call the definition of "building a great company." With the right, experienced operators in place, a large addressable market, perhaps the right product and some competitive advantage a great company can be built from the outset–even when revenue has yet to materialize. It may rightly resemble mere shadow of what it could be, but it's ultimate destiny may actually be unquestioned with a bit of 20/20 hindsight. It's unfortunate that none of us have a crystal ball for finding such opportunities. Some of the venture capital firms often get to see some of the best deals, but as the data reflects, even they're unable to pick out the winners from the losers, especially early on.
Yes, the risks of going public that many outline can be onerous. It's even worse if you lack the right contacts or professionals. Issues that are typically raised include regulatory and reporting costs, financial & auditing costs and litigation and liability risk. But what if some of these private companies could find ways around some of the risks? Would it make the risk or burden of being public light enough to incentivize them to take the next step into public status? Does the company need the prestige of NASDAQ or the strong market support of a full investment bank when the stock begins trading? These are important questions. For some qualified companies, going public is the solution. I would argue, the number is much lower than many would claim.
How many times do we need to remind people of the graveyard of public companies from the dotcom era. Yes, there were some successes, those in the rightly positioned "great company" category, but they were unfortunately the exception, not the rule. The same holds true of today. So, what are the key components of a "great company" that may outlast the market fray? Business schools around the world are constantly touting such traits and characteristics. Culture and
Certainly, going public is not the solution or even a good option for all companies, particular those who're in the startup phase. If you're not concerned with courting prestige with your accounting firm (e.g. PWC or Deloitte) or listing in an alternative way or in an alternative country, then there are ways the going public process can be done very cheaply and efficiently. It depends on the ultimate motivation of the company. I hate to paint each deal with blanket strokes, as the reasons for going public can vary greatly. Regardless of the motivation of being publicly-traded is must be completely subordinate to the desire and goal of creating a well-oiled and expertly operated public company which intends on sticking around for a very long time. In short, the goal should more frequently include a public listing event, but where that falls in the company history should be weighed case-by-case.

Nate Nead is a licensed investment banker and Principal at Deal Capital Partners, LLC, a middle-marketing M&A and capital advisory firm. Nate works with corporate clients looking to acquire, sell, divest or raise growth capital from qualified buyers and institutional investors. He holds Series 79, 82 & 63 FINRA licenses and has facilitated numerous successful engagements across various verticals. Four Points Capital Partners, LLC a member of FINRA and SIPC. Nate resides in Seattle, Washington. Check the background of this Broker-Dealer and its registered investment professionals on
FINRA's BrokerCheck
.

Latest posts by Nate Nead
(see all)