AgTech (agriculture technology) relates to technology-focused businesses and improvements within Agribusiness.  The Agribusiness sector includes businesses that directly engage in agricultural activities, and is substantial in both size and importance. Within the United States alone Agribusiness brings in US$3.0 trillion annually in revenue, of which roughly US$150 billion flows to the bottom line in way of profit. Businesses in this industry may produce agricultural commodities, purchase agricultural produce, or supply goods and services to farms. The industry, which is made up ofmammoth 2.9m businesses, focuses on the food-supply chain up to, but not including, the point of retail sale. The industry has seen a negative growth rate in recent years, with average growth at -1.9% per annum since 2012. Of total revenues, only 6.0% are exported. 1
Although Agribusiness is often considered traditional, it is well on its way turning into a high-tech industry as advancements in machinery, number of start-ups and VC investment shows.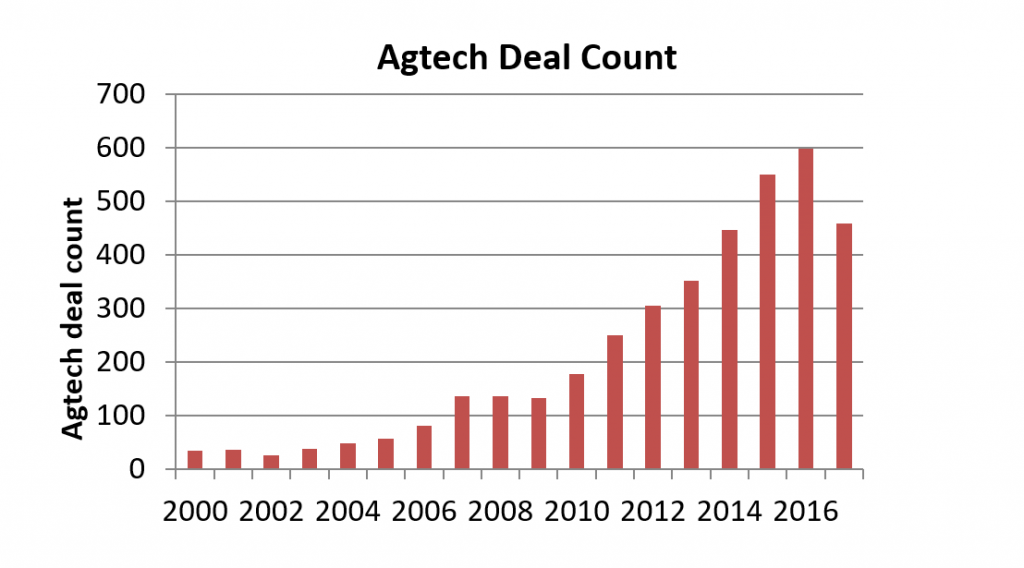 A surge in activity
Until recently, Agtech advancements haven't often made the tech headlines, with the majority of focus on EV's, AI, the Peer-to-Peer economy and Cryptocurrencies. Although not as 'sexy' as other industries, Agtech has started to gain the attention of entrepreneurs due to the sheer size of the prize and its overall importance to the US economy. Agtech has started to cement its place as an industry of interest for the tech VC community with investment in Agtech breaking records from 2012-2015 and remaining strong during 2016 with total investment reaching US$3.2 billion in 20152.
This heightened level of investment has snowballed increased interest from VC's and entrepreneurs alike. In what used to only be a handful of funds servicing the market, with most of the focus on biotech, has grown to a well-respected and sought-after industry for innovation. More so, with tech entrepreneurs historically focused elsewhere, Agribusiness is one of least digitized industry in the world and is a dinosaur waiting for disruption.
A plethora of tech advancements
Agribusiness is a complex and diverse market with many subsectors. Agtech, therefore, has significant scope for stakeholders and investors to navigate. Entrepreneurs innovating across agricultural disciplines have numerous sectors and sub-sectors, all substantial in size, to choose from. This includes, but not limited to beef, dairy, row crop, permanent crop, aquaculture, forestry, and fisheries. Each area has a specific set of needs that technology can improve.
Tech focus includes, but is not limited to:
Smart Farming – lies in making farms and fields more efficient. Emerging technologies in this field, no pun intended, include software solutions, optimization devices, and process automation tools.
Precision Farming – is based on observing, measuring and responding to inter and intra-field variability in crops.
Farming Systems & Machinery – slightly straighter forward and aimed to increase sustainability and create a stronger confidence about risk hedging.
Vertical Farming – The idea here is to replicate the entire farming environment through water irrigation systems, lighting supplement, oxygen and other gases available. Technologies include roof farming, farming in shipping containers, skyscrapers farming and mixed-used buildings.
Crop Efficiency – dedicated to the origin of farming aka crops. Seed and chemical companies advance seeds so that they can perform in more variable conditions and adapt to new environments.
Big Data – farmers are switching to a data-driven approach, from measuring every centimetre of land to calculating the number of seeds used to define the number of chemicals and fertilizers applied.
Drones & Satellites – in order to measure & monitor fields, create terrain maps, control the quality of tillage and sowing works.
Internet of Things (IoT) – aimed to increase the cost efficiency of fields by instantly providing farmers with up-to-date information regarding irrigation equipment, soil moisture, crop growth, and fertilizers consumption among others.
Citations
Agribusiness in the US: Market Research Report, Agribusiness in the US Market Research | IBISWorld, https://www.ibisworld.com/industry-trends/market-research-reports/agriculture-forestry-fishing-hunting/animal-production/agribusiness.html (last visited Dec 4, 2017).
AgFunder, https://agfunder.com/research/agtech-investing-report-2016 (last visited Dec 4, 2017).
Contributors to this article:
Sam Grice

Nate Nead is a licensed investment banker and Principal at Deal Capital Partners, LLC, a middle-marketing M&A and capital advisory firm. Nate works with corporate clients looking to acquire, sell, divest or raise growth capital from qualified buyers and institutional investors. He holds Series 79, 82 & 63 FINRA licenses and has facilitated numerous successful engagements across various verticals. Four Points Capital Partners, LLC a member of FINRA and SIPC. Nate resides in Seattle, Washington. Check the background of this Broker-Dealer and its registered investment professionals on
FINRA's BrokerCheck
.

Latest posts by Nate Nead
(see all)