The Aerospace & Defense Industry consists of civil and military aerospace and defense procurements. The US aerospace & defense market is expected to generate total revenues of $345.7bn in 2016, representing a compound annual growth rate (CAGR) of 5.7% between 2012 and 2016. 1 It can be broken down into two markets: Aerospace, involving the production, sale, and service of commercial aircraft. And Defense, which is dependent on the nation's need for military weapons and systems designed to operate on land, sea, and in the air. The production of general aircraft, space vehicles and satellites for both military and commercial use are also included in the industry. 2
Trends
US Defense Spending
Growth in the Defense sub-sector is heavily reliant on government spending and budget trends. In 2016, Lockheed Martin, the largest defense contractor in the world, had the U.S government to thank for 70% of their revenues. 3 Although the defense budget declined from FY2010 to FY2015, upticks were seen in FY2016 and FY2017. Subject to approval, the FY2018 budget request proposes a budget increase of $33 billion over FY2017 spending. Among other things, this is expected to cover the purchase of over 218 aircraft, whose contracts are currently being filled by top Department of Defense contractors. 4
Airfare and Traffic
Market trends continue to favor air travel growth. Adjusted for inflation, domestic ticket prices have decreased almost every year for the last twenty-two years, as the volume of airline passengers continues to increase YoY. 5 The Federal Aviation Administration predicts the current trends will continue into the coming years. 6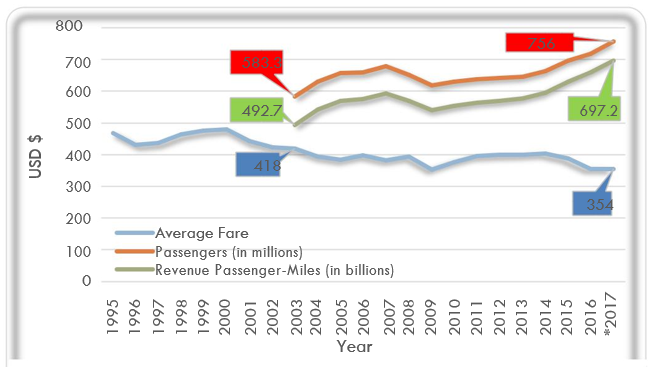 Source: compiled from Bureau of Transportation Statistics data. www.bts.gov
*:used 6 month figures to project year
Public Equities
Investor sentiment seems to support industry growth. Stocks in the Zachs Aerospace sector rallied close to 33% in the last year, outperforming the S&P 500 index's 20% gain by a wide margin. 7 A&D juggernauts Lockheed Martin and Boeing have seen their stock price jump 25% and 68% YTD.
Source: compiled from data on www.ysheets.com
Transactions
Airbus & Bombardier (October 2017)
Airbus agrees to acquire a 50.01% stake in Bombardier's C-Series Jet platform. Market share for the mid-sized C-Series aircraft is expected to see tremendous growth in the coming years. Bombardier was the subject of a recent tariff spike, resulting in the inability to profitably do business with US airlines. Airbus plans to shift production of the C-Series Jet to their Alabama manufacturing plant, in an effort to avoid the 300% import tariff slapped on by the Trump administration in recent weeks. 8
Boeing & Emirates (November 2017)
Emirates purchased 40 American-made Boeing 787 Dreamliners, a deal worth $15.1 billion. The deal comes as a blow to Airbus, who had hoped to win the continued business of Emirates with their aircraft, the A350. Emirates is currently the largest operator of the Airbus 380 and Boeing 777. This order will put the total number of Boeing wide-body aircraft at 204, with the units being worth over $90 billion. 9
Boeing/Airbus & China Aviation Supplies Holding Co. (July/November 2017)
Boeing signed an agreement on November 9th 2017 to sell 300 planes to China Aviation Supplies Holding Company worth $37 billion. It is unclear how much of this deal is new business, and how much has already been agreed upon in recent deals. In July of 2017, Airbus struck a deal with China Aviation Supply Holding Co, and plans to deliver 140 aircraft at list prices. The deal is valued at $23 billion. 10
SpaceX Series H (July 2017)
SpaceX raised more than $351 million, valuing the company at $21.2 billion. The funding round-designated Series H, brings the total amount raised to $1.58 billion and nearly doubles the company's previous valuation of $12 billion it received after a $1 billion investment led by Google and Fidelity in 2015. 11
For more detailed information on recent transactions, click here.
Opportunities
Space Travel
As we progress through the R&D phases of developing rockets for commercial space flight, additional applications to the rocket technology will be uncovered. One such application was recently announced by Elon Musk at a space industry conference. Musk hopes to utilize the rocket technology his company SpaceX has been developing to transport passengers across the earth at a fraction of the time it currently takes by way of commercial airline, while keeping the cost competitive with current fare rates.12
Foreign Military Sales
Historically, US foreign military sales have increased every year. They nearly doubled to $46.6 billion between 2010 and 2015. 13FY2017 is expected to be another record year, driven by sales to the Middle East that have already been cleared by the State department. According to the Defense Security Cooperation Agency, the latest oversea sale approvals put total foreign military sales at $41.8 billion for FY2017. Increased defense spending by India, the Middle East, Europe, and Japan will all likely contribute to strong foreign military sales figures in the coming years. 1415
Risks
Legislation
Uncertainty surrounds legislation and policy in both the UK and US. An inconsistent Trump presidency has already had an effect on the industry, as Trump imposed a 300% tariff on Bombardier. Brexit could lead to industry-stifling policy in UK.
Currency Volatility
A higher inflation expectation and increasing yields have pushed the US dollar upward, a trend that is expected to continue as the US Federal Reserve tightens monetary policy. This could affect the United States' export competitiveness, as costlier exports and increased competition price it out of the market.
Summary
The Aerospace and Defense industry is positioned to realize continued growth in the coming years. Increasing global conflict will bolster worldwide defense spending, while aerospace innovations prepare to revolutionize air travel. China is ramping up to become the largest commercial air travel market in the world, a trend that US companies like Boeing are already reaping the benefits of. In the United States, air travel is as popular as ever. Fare prices continue to drop year after year, as passenger volume steadily increases. The increased application of machine learning and data analytics in the manufacturing and operation of aircraft is helping to increase efficiency, reducing errors and increasing firm margins across the sector.
Sources
Marketline Advantage, advantage.marketline.com (2017), advantage.marketline.com (last visited Nov 11, 2017)
Value Line Publishing, Industry Overview: Aerospace and Defense Value Line – The Most Trusted Name in Investment Research, http://www.valueline.com/Stocks/Industries/Industry_Overview__Aerospace_and_Defense.aspx#.WgorBWhSw2 w (last visited Nov 13, 2017).
Mike Stone & Rachit Vats, Lockheed Martin tops estimates on F-35 sales, raises outlook Reuters (2017), https://www.reuters.com/article/us-lockheed-results/lockheed-martin-tops-estimates-on-f-35-sales-raises-outlook-idUSKBN1A3152 (last visited Nov 13, 2017).
Secretary of Defense, DOD Budget Request DOD Budget Request, http://comptroller.defense.gov/Budget-Materials (last visited Nov 13, 2017).
FAA aerospace forecasts, FAA aerospace forecasts 1–89,
faa.gov/data_research/aviation/aerospace_forecasts/media/FY2017-37_FAA_Aerospace_Forecast.pdf (last visited Nov 13, 2017).
Zacks Investment Research, Aerospace Zacks Investment Research (2017), https://www.zacks.com/stocks/industry-rank/sector/Aerospace-11 (last visited Nov 13, 2017).
Frederic Tomesco, Josh Wingrove & Rick Clough, Airbus Snaps Up Bombardier Jet in New Challenge to Boeing Bloomberg.com (2017), https://www.bloomberg.com/news/articles/2017-10-16/airbus-to-buy-majority-stake-in-bombardier-c-series-jet-program (last visited Nov 13, 2017).
Dubai Air Show Opens With Emirates and Boeing Reaching $15.1B Deal, Fortune, http://fortune.com/2017/11/12/dubai-air-show-emirates-boeing/ (last visited Nov 13, 2017).
Brenda Goh et al., CORRECTED-UPDATE 1-Boeing signs deal to sell 300 planes worth $37 bln to China Reuters (2017), https://www.reuters.com/article/trump-asia-china-deals-boeing/corrected-update-1-boeing-signs-deal-to-sell-300-planes-worth-37-bln-to-china-idUSL3N1NF2VA (last visited Nov 13, 2017).
New funding round values SpaceX at $21.2 billion, SpaceNews.com (2017), http://spacenews.com/new-funding-round-values-spacex-at-21-2-billion/ (last visited Nov 13, 2017).
Sean Kane, Elon Musk proposes city-to-city travel by rocket, right here on Earth The Verge (2017), https://www.theverge.com/2017/9/29/16383048/elon-musk-spacex-rocket-transport-earth-travel (last visited Nov 13, 2017).
Defense Security Cooperation Agency, "Fiscal Year 2016 Sales Total $33.6B", 8 November 2016 http://www.dsca.mil/news-media/news-archive/ fiscal-year-2016-sales-total-336b (last visited Nov 13, 2017).
James Kanter, E.U Plans Big Increase in Military Spending, , https://www.nytimes.com/2016/11/30/world/europe/eu-plans-big-increase-in-military-spending.html (last visited Nov 13, 2017).
Japan's defense budget for FY 2017 likely to hit record Y5.1 T, Japan Today, December 2, 2016, https://www.japantoday.com/category/politics/view/japansdefense-budget-for-fy-2017-likely-to-hit-record-y5-1-tril (last visited Nov 13, 2017).
Devin Horning contributed to this report.

Nate Nead is a licensed investment banker and Principal at Deal Capital Partners, LLC, a middle-marketing M&A and capital advisory firm. Nate works with corporate clients looking to acquire, sell, divest or raise growth capital from qualified buyers and institutional investors. He holds Series 79, 82 & 63 FINRA licenses and has facilitated numerous successful engagements across various verticals. Four Points Capital Partners, LLC a member of FINRA and SIPC. Nate resides in Seattle, Washington. Check the background of this Broker-Dealer and its registered investment professionals on
FINRA's BrokerCheck
.

Latest posts by Nate Nead
(see all)