The rough graph below will likely tell the story much more quickly and succinctly than a lengthy, descriptive paragraph.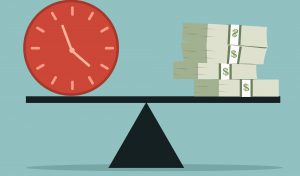 As one might imagine, the money flows track well against my make-shift graph above. In 2014 private equity and general M&A absolutely dwarfed the investment dollars committed by venture capital groups during the same period. Compare $13T+ for PE/M&A deals with roughly $40B for venture capital. I'll be the first to admit that the comparison is somewhat unfair, given the fact that VCs are often focused on nascent startup and earlier stage deals (with very low basis), while M&A is much more broad and includes corporate (private & public) buyers and hoards of private equity groups with boatloads of committed capital. But if cash is king and money talks, should we be wasting our time on startups?
Feel free to ignore the ignorant rhetoric, but company financiers often have to sift through thousands of business plans and pitches before they find something that rings well. Luckly sites like Gust and Angel List (and even some of the newer equity crowdfunding portals) are helping to streamline this sifting process, allowing financiers to filter the chaff before the chaff comes calling.
Unfortunately, hearing a pitch from startup entrepreneurs with new ideas takes a lot more of our allotted time than any other potential investment opportunity. As a percentage, they also tend to waste a lot more time as well. There are at least several reasons for this:
It's a simple bell-curve distribution with a major right tail. There are many more people hoping to raise money than those who actually produce it. Hence, the lion's share of deal volume is going to be in the very bottom quartile.
Supply/demand economics tilt the balance against startups. In the M&A/capital advisory circle there are more advisors hoping to provide services to a seller than sellers looking to find representation. The opposite is true in sourcing capital. There are more people looking for this limited resource than there are those providing access to capital.
It makes pitchers feel good. Someone who may be looking for real capital advisory will likely ask a few questions and spend a lot more time listening. Someone looking to source capital is searching under every bush and is spending a great deal of time selling folks on his/her product or service. It makes them feel like their moving the needle when, in many cases, their simply wasting everyone's time. That's why its often good to have people on our team that don't fear providing input that is sometimes brutally honest.
Frog-kissing is one thing, but spending 30 minutes on a call with someone who I would have written-off immediately at the executive summary level is annoying. One might argue that you never know where a contact or introduction will eventually lead, it's been my experience that we must decide whether or not a particular budding relationship will be relevant down the road in the first five minutes.
Fact is, most startups ideas are garbage. The teams often mirror the quality of the business plans we see. As is fairly common, an "A team" with a "C idea" is always better than a "C team" with an "A idea."
I don't appreciate it when people waste my time. I don't want to waste your time either. Was this post relevant to you? How can we improve? I want to ensure the content being sent matches the audience.

Nate Nead is a licensed investment banker and Principal at Deal Capital Partners, LLC, a middle-marketing M&A and capital advisory firm. Nate works with corporate clients looking to acquire, sell, divest or raise growth capital from qualified buyers and institutional investors. He holds Series 79, 82 & 63 FINRA licenses and has facilitated numerous successful engagements across various verticals. Four Points Capital Partners, LLC a member of FINRA and SIPC. Nate resides in Seattle, Washington. Check the background of this Broker-Dealer and its registered investment professionals on
FINRA's BrokerCheck
.

Latest posts by Nate Nead
(see all)