14 Mar

Strategic vs. Financial Buyers: Which Are You and What Are The Differences

As you prepare for a growth via acquisition strategy you have likely created a business case for the transaction(s), thought through various strategies and prepared a plan for how to recognize synergies. One consideration you may not have thought of is what type of buyer category you fall into. Are you approaching the transaction from the perspective of a strategic or financial buyer?

Not all buyers are created equal. Throughout this segment of our Buy-Side-as-a-Service series we will explore the primary types of buyers (strategic and financial) and how the position of your company may impact how potential sellers respond.
Strategic vs. Financial Buyers
Buyers generally fall into two buckets: strategic and financial. Where your company falls will depend on how you are approaching the transaction.
The Strategic Buyer
Strategic buyers seek to purchase a company in their industry that has a process, know-how, patent(s), workforce, or other appealing asset(s) that can help the buyer's business prosper. This could result from the acquisition of new technology or the expansion of a product or service line. You can review our quick guides on vertical acquisitions and horizontal acquisitions to get a better understanding of how and why a buyer may pursue a specific acquisition strategy.
As a strategic buyer you should be aware of the ability to eliminate redundancies that arise post-transaction. These redundancies are generally found in accounting or HR, but can be identified throughout the organization. While this shouldn't form the base of the business case for the acquisition it is certainly an area that should be explored.
A seller will more often than not view the strategic buyer, as opposed to the financial buyer, as the party willing to pay a premium for the business. This can be for a few reasons.
First, the strategic buyer is interested in a buy and hold strategy and has identified synergies between the existing business and target company. The better the "fit" between the buyer and seller the greater premium a buyer is generally willing to pay. A financial buyer is more of the mind to "buy low and sell high". They want to purchase a business, drive efficiencies and scale the entity, and eventually exit. The financial buyer generally won't be too concerned with synergies unless the acquisition is an add-on for an existing portfolio company.
Second, a large strategic buyer may have access to larger funds. A larger strategic buyer also has the benefit of being able to issue stock as part of the consideration in a transaction. This ability to offer various forms of payment for the business gives the strategic acquirer an ability to be flexible when discussing deal structure that a financial buyer does not have. A financial buyer is normally limited to the funds raised from investors. In addition to funding limitations the financial buyer is also concerned with generating an acceptable return for investors. This focus on returns means that they must be very careful to not overpay for a company.
A third consideration is that financial buyers tend to use debt to finance an acquisition. The use of debt forces them to ensure the target company has sufficient assets, such as property, plant & equipment (PP&E), to service the debt. This is again motivation for the financial buyer to ensure they are not overpaying and taking on more debt than they can handle.
The Financial Buyer
The financial buyer is not one specific type of buyer. Rather, the category encompasses a wide variety of mostly institutional buyers. Some of the most common include:
Venture Capital (VC) firms
Private Equity (PE) firms
Family Offices
Holding Companies

While each of the above groups are different both in structure and how they operate, they share a commonality in the type of seller they attract. Whereas the strategic buyer is looking to purchase a company and take over operations, the financial buyer is more comfortable with a partial ownership stake or acting as a short to mid-term financial sponsor. For this reason the financial buyer is more likely to attract sellers who are seeking only a partial exit or who want to exit the business from an ownership perspective, but remain on in some capacity following the transaction.
The buyer's approach with existing personnel may be a key consideration for some sellers. Business owners who are concerned about the future of their employees may be hesitant to work with a strategic buyer. This is especially true in businesses where the existing owner is also the founder and many on the staff have been with the company for an extended period of time. As previously mentioned, a strategic buyer may be able to generate some early synergies by removing redundancies. A financial buyer, however, is likely to leave most, if not all, of the personnel in place. They may take an advisory role and leave the day-to-day operations to the current team.
Financial buyers tend to vary in their investment time horizon. Where a PE firm might want to make an investment and exit in 5-7 years a family office may have an indefinite holding period. This is of course a consideration for each firm and no one approach is superior to another. How your firm is structured and the ultimate investment mandate will make clear holding requirements. A strategic buyer, on the other hand, is generally interested in purchasing a company, integrating it into the existing business, and holding for the long term.
A third category of buyer that we have yet to mention is the operational buyer. This type of buyer is interested in purchasing a business where they will be directly involved in the day-to-day operations. These buyers generally focus on smaller companies and may even be from within the target company.
Some examples of operational buyers include:
Employee Stock Option Plans (ESOPs)
Management Buyout (MBO)

While the various buyer groups described above will impact how you are perceived by the seller, the M&A process remains the same. A letter of intent ("LOI") is signed, due diligence is conducted, and a purchase agreement is executed. The primary difference in the deal process will be seen during negotiations. Strategic and financial buyers will have different considerations. As such, they will approach negotiations in a different manner and will be more or less receptive to different deal structures based on their position.
The below graphic nicely sums up what we have discussed regarding strategic and financial buyers. Note that the pros and cons are from the seller's perspective. As is the case in many business transactions, having insight as to how the person across the table is thinking can help you formulate a winning strategy.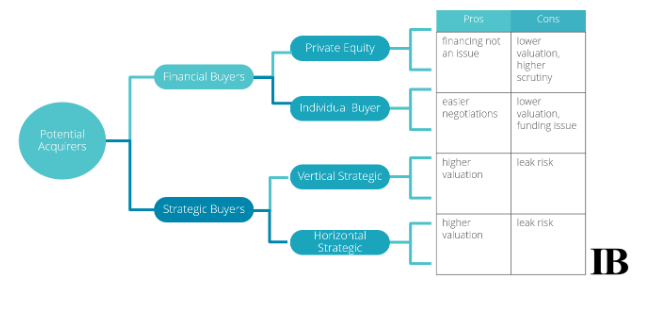 Strategic vs. Financial: What Type of Buyer are You?
If you've reached this point and are still on the fence about how you are likely to be perceived as a buyer then the following Q&A should help.
Hopefully after reviewing the above you are more confident in how a seller will perceive you as a buyer. There is no right or wrong answer to the strategic vs. financial buyer question. Knowing how you will be perceived enables you to structure your approach and the deal making process in a strategic manner.
If you still have questions, or want to discuss how a Buy-Side-as-a-Service ("BSaaS") strategy can help your firm, please get in touch. Our licensed investment bankers are ready to learn more about your business and drive value in your acquisition plans.