06 Mar

Oil-Plunge Impact on Mergers & Acquisitions

I attended a Bernstein breakfast event this week with guest speaker J. Gerard Paul, Bernstein's Chief Investment Officer. It was well attended and the presentation given by Paul was fantastic. Bernstein is heavily involved in securities research and analysis and a good part of Mr. Paul's presentation swirled around how oil is impacting the overall market. Namely, oil currently accounts for almost all of the bear market sentiment we are currently experiencing. Excising oil & gas as the outlier, the economy is still in expansion mode–for now.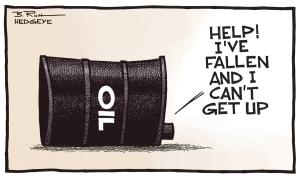 One of Paul's main points was that in the long-term there is an expectation that prices will rise, but it is anyone's guess how long that will take. Short term volatility and price pressure due to supply/demand shifts could keep prices low for a long time. When prices begin to rise again is anyone's guess.
But what is in store for investment banking and M&A in the oil & gas sector? 
Here are some recent observations.
We are seeing shifts in investor preferences. Two separate would-be clients in the real estate investment sector reached out to us within the last week looking to raise capital for their commercial real estate projects. Their reasoning, "our typical go-to investors are currently shifting all resources into oil & gas and away from real estate."
We are seeing asset reallocation and capital requisition on the public company side that reflects the same sentiment mentioned in #2 above. Here's the most notable example.
The precipitous fall in the price of oil has made the companies that produce it, depressed in value. For value hunters, there is certainly opportunity, but lemons abound in such a depressed market.
It may seem like a buyer's market in oil, but the risks inherent for both private and public buyers of oil and gas assets remain high. As Mr. Paul right states, "Oil price sensitivity is embedded in equity portfolios in many ways. Today, in an especially tricky environment, we think it's too simplistic to avoid the sector completely and quite risky to try to time a recovery."
That is not stopping the bottom-feeding, bargain hunters from searching the oil patch for distressed oil & gas assets that can be snatch-up on the cheap. It's a strategy akin to the 2008 financial crisis, particularly in residential real estate where private equity investors threw large sums of money at some of the most distressed and hard-hit markets after the crash, including Las Vegas and Phoenix. It is certainly too early to tell whether we are 1) at the absolute bottom of the market, 2) how long the price of oil will remain at or below $30/barrel and 3) when the price of oil will begin to rise again.
Note: None of this is meant to be investment, legal or accounting advise. Please consult knowledgeable professionals when making investment and business decisions.