04 May

Retail Real Estate: Industry Performance

This is the second post in a multi-part series that will focus on the growth, investment, and M&A trends in the retail real estate industry, as part of our expanding research in real estate investment banking. 

The second part of this series will focus on the performance of the retail real estate industry. Key external drivers, current performance and an industry outlook, and an overview of the life cycle will be reviewed.
Key External Drivers
Demographics
The Millennial generation continues to catch up to the Baby Boomers, with analysts predicting that Millennials will surpass the Boomers by 2019. Many of the decisions that are made regarding real estate and consumer spending are increasingly being made by people under the age of forty. The Millennials also appear to be influencing how Baby Boomers approach retirement and spend their free time. Many Millennials enjoy travel and entertainment and the Baby Boomer generation is adopting this mentality. In certain markets across the US, Boomers are selling their homes and leaving the suburbs in favor of city living. Those involved in the retail real estate industry must be aware of the changing demographics for both generations.
Wages and Rising Debt
Recent debates regarding wages for hourly employees and overtime pay will certainly impact the retail industry. How much retailers pay out in wages has a direct impact on their business and profitability. Another driving force that could impact business is the level of debt held by potential shoppers. If we look at the Millennials we see a trend of growing student loan debt. The average debt upon graduation for the Class of 2016 was $37,172[1]. As new graduates enter the workforce and are required to begin repaying debt they will have less income available for discretionary spending.
However, all is not doom and gloom in the retail industry. Real disposable personal income per capita in the United States is on a steady rise since a slight drop in the first quarter of 2013.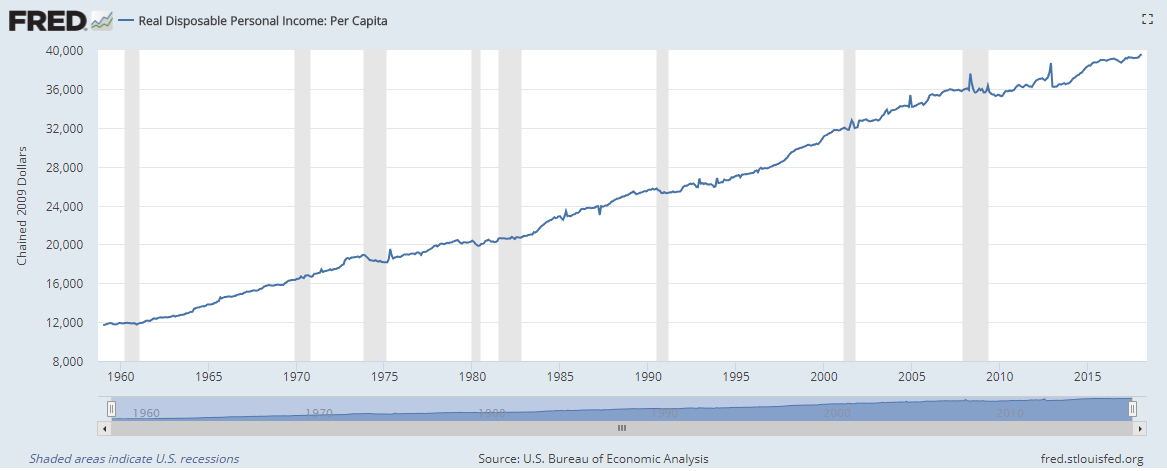 [2]
To compete in today's economic environment retail stores will need to offer a combination of both quality service and a fair price. Low-cost retailers and second-hand stores have been gaining market share because of the rising popularity of budget-conscious consumers. Consumer spending directly influences businesses that rely on consumers for revenues and indirectly affects other businesses in the retail ecosystem. The retail real estate industry benefits from higher consumer spending which raises demand for a variety of businesses that require building space.
E-Commerce
E-commerce is having a large impact on brick-and-mortar retail locations. Vacancy rates for regional malls and strip malls increased from 7.9% to 8.1% and 9.9% to 10.0% from Q1 to Q2 2017, respectively[3]. The U.S. has been over-retailed for decades and retailers that have been unable to adopt the new multi-faceted format have been forced to shutter physical stores, such as Macy's. Other retailers are moving into the virtual space while some are being forced to discontinue operations altogether.
Tax Reform
Investors in retail real estate will benefit from the tax reform as investors grow their business while preserving their existing assets. Real estate will be able to take advantage of pass through entities, the 1031 exchanges and capital gains expense deductions. The corporations tax rate will be reduced from a top rate of 35% to 21% and depreciation of non-residential real property, residential real property, and leasehold improvements retain the 39-year, 27.5 year, and 15-year recovery period.
Rental Vacancy
The rental vacancy rate measures the degree to which a building space goes unused in the United States. When the rate is high more office space is empty. This indicates an oversupply of building space, a recent decline in the number of businesses, or an overall contraction in the business sector. High rental vacancy rates discourage new building construction while low rates reflect strong demand for construction operators in this industry.
Yield on 10-year Treasury Note
The high costs of purchasing property and constructing new buildings forces buyers to purchase on credit and builders to seek financing for new projects. Interest rates, reflected by the yield on the 10-year Treasury note, help determine the cost of borrowing money for these activities. When interest rates are low, financing becomes more affordable; conversely, higher interest rates make debt more expensive. Rates are currently rising and are about 2.83% at the time of writing.
Corporate Governance
Retail real estate ventures are generally actively and professionally managed entities. They adhere to the same corporate governance principles that apply to all major public companies. They have a senior management team that is led by a chief executive officer (CEO) who actively manages the overall strategic vision of the enterprise. The board of directors appoints the CEO, which in turn is elected by and accountable to the shareholders of the REIT.
Current Performance & Industry Outlook
Retail real estate is an indispensable part of the US economy because it encompasses businesses that build, manage, lease, mortgage, buy and sell properties across the entire retail real estate space.
Owners of retail space are diverting from offering the standard products and services to providing experiences. Landlords are looking to shift from the traditional retail space to more entertainment-based venues. Such developments include restaurants, theaters, supermarkets, fitness and recreation centers (including amusement parks, ice rinks, water parks, etc.), office space, hotels, and restaurant/entertainment hybrids such as Dave and Buster's. These mix-use developments that offer a "live, work, and play" environment are going to continue to be in demand as landlords continue to change their outlook.
Due to changes in the industry lease terms are being challenged. Tenants are pushing for a three-year lease as opposed to the more traditional 5 or 10-year lease. Providing a degree of leverage for tenants is the increase of retail space available for lease. Availability rates have been on a steady climb since 2017, rising to 6.6% in Q4 2017[4].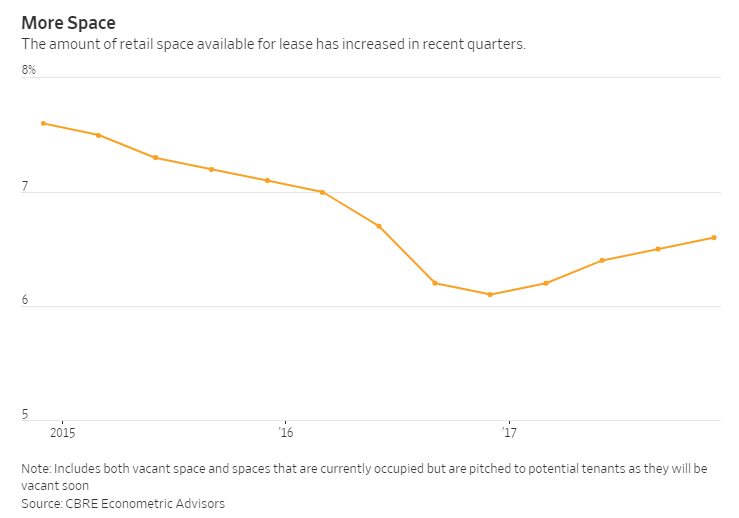 In 2017, there were just under 9,000 store closures and 36 major retailer bankruptcies, which is just one shy of the 37 that happened in 2009. The projections for 2018 show there is the potential for another 25 to file for bankruptcy and up to 11,000 stores being strategically shuttered.
It is expected that the weakest periods for demand should begin in 2018 as closures continue and retailers attempt to revitalize their business. The average asking rent in 2017 rose by 2.9% and it is projects to rise by 2.4% in 2018. Below shows the forecast of Net Absorption, Deliveries, Vacancy Rates, and Asking Rent.
[5]
The GDP growth for 2018 is projected to be between 2.2% and 2.5%. This should help to support the growth of the retail real estate industry. Supply conditions are also favorable as construction has slowed down slightly in 2017, which has reduced the concerns of an oversupply in new inventory.
Some threats that need to be kept in mind are GDP, inflation and interest rates. Although GDP is expected to continue to help the growth of the real estate industry it is important to keep in mind the possibility of overbuilding, overheating, and over-leveraging which could lead to a recession.
The inflation rate is currently at 2.4% as of March 2018. It is important that inflation remain in check as a rising rate will reduce consumer's purchasing power which could impact retailers and those in the retail real estate industry. In the short run retailers may experience an increase in consumer purchases, but over the long run this will erode.
Lastly, interest rates have ranged between 2.00% and 2.50% in 2017 and it is expected that interest rates could rise to the 2.50%-3.00% range. An increase in interest rates will have an impact on new construction of retail space and make the cost of borrowing for new businesses more expensive.
Industry Life Cycle
The retail real estate industry is usually on cycle with the movements of the economy. Movements in GDP, interest rates, property prices, and inflation all influence the economy and therefore the industry. As mentioned above, the GDP is expected to continue to grow at a slow and steady pace which means that the retail real estate industry should be in a slow growth phase. Over the next 12 months, the probability of an economic downturn has fallen to a low probability of 0-10%.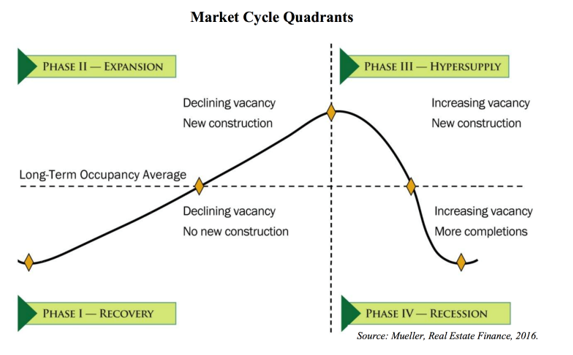 [6]
Carlos (Charlie) Izaguirre contributed to this report.
[1]U.S. Student Loan Debt Statistics for 2018, Student Loan Hero, https://studentloanhero.com/student-loan-debt-statistics/ (last visited Apr 12, 2018).
[2]Real Disposable Personal Income: Per Capita, FRED (2018), https://fred.stlouisfed.org/series/A229RX0 (last visited Apr 12, 2018).
[3]Scott Humphrey, CRE News and Resources Reis: Mall Vacancy Rate increased in Q2 2017, https://www.reis.com/cre-news-and-resources/mall-vacancy-rate-increased-in-q2-2017 (last visited Apr 12, 2018).
[4]Esther Fung, Retail Rents Decline in Big U.S. Cities as Landlords Succumb to the Retail Storm The Wall Street Journal (2018), https://www.wsj.com/articles/retail-rents-decline-in-big-u-s-cities-as-landlords-succumb-to-the-retail-storm-1517317200 (last visited Apr 12, 2018).
[5]U.S. Macro Forecast – February 2018, Cushman & Wakefield (2018), http://www.cushmanwakefield.com/en/research-and-insight/2018/us-macro-forecast/ (last visited Apr 11, 2018).
[6]Ian Formigle, The Four Phases of the Real Estate Cycle CrowdStreet (2017), https://www.crowdstreet.com/education/article/four-phases-real-estate-cycle/ (last visited Apr 11, 2018).