The Private Equity, Hedge Funds and Investment Vehicles industry consists of funds that raise capital to be strategically managed by an investment manager who exploits inefficient businesses, markets, and security prices to generate excessive returns while taking on as little risk as possible[1]. This industry is composed of private equity funds, hedge funds, closed-end funds, unit investment trusts and other financial vehicles. Entities in this industry manage securities or other assets on behalf of shareholders, unit holders or other beneficiaries to achieve high returns on targeted investments.
Industry assets have become increasingly integral to institutional investors' portfolios and the larger asset-management market. Institutional investors are high net worth individuals or organizations that trade securities in such substantial volumes that they qualify for lower commissions and fewer protective regulations since they are assumed to be knowledgeable enough to protect themselves. Increasing demand from institutional investors has contributed to a surge in the industry's assets under management (AUM) and revenue over the past five years.
The following graph depicts fundraising by PE funds since 2012. During this period, buyout funds raised the most capital and grew in size with a slight dip in 2015 and a larger decline in 2018.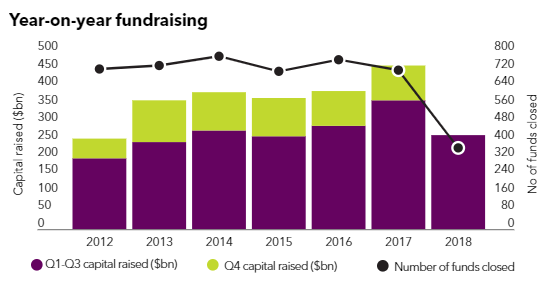 [4]
To a lesser extent, high-profile initial public offerings of leading alternative asset-management companies, as well as small investors' greater access to the market, have contributed to industry growth[2].
Over the five years to 2018, industry revenue is expected to grow an annualized 7.2% to $228.7 billion as institutional investors increase demand for alternative assets to achieve higher returns and reduce risk by diversifying their portfolios. New capital inflows and higher returns as financial markets rallied have benefited the industry. There are 13,634 businesses providing similar products and services in the industry, but there are no major/dominant players in the industry due to individual sector and asset class focused funds[2].
The following are the Top 5 private equity firms in the United States based on the funds raised in the prior 5 year.
| PE Fund | HQ Location |
| --- | --- |
| The Carlyle Group | Washington, D.C. |
| The Blackstone Group | New York |
| Kohlberg Kravis Roberts (KKR) | New York |
| Apollo Global Management | New York |
| Warburg Pincus | New York |
Over the course of 2018, the following industries emerged as the most active for PE firms who made acquisitions[5].
1) Manufacturing – PE firms understand that advances in technology can automate processes used in manufacturing companies.
2) Software – A good industry for add-on acquisitions, software is used across a wide range of sectors.
3) Technology – PE firms like technology focused companies as the tech can typically be used across other portfolio companies and possibly for the firm itself.
4) Healthcare – A fragmented industry and a growth sector as the population ages makes healthcare appealing for investors.
5) Data – Similar to technology in that data can help improve other portfolio companies as well as the fund itself.
Main Activities
The primary activities in this industry involves pooling money from investors and allocating that money to the fund managers depending on the investors required rate of return and risk tolerance. This industry offers a variety of funds that use sophisticated strategies to maximize returns while assuming as little risk as possible. Additional activities in this industry are Unit Investment trust funds, special purpose vehicles investing in collateralized mortgage obligations, and mortgage real estate investment trusts.
The major products and services in this industry are:
Private equity funds: A general partner (GP) and limited partner (LP) investment partnership where the GP is responsible for executing and operating the investment. The LPs provide the capital which can be used to fund new technology, make acquisitions and expand working capital. PE funds typically require a long holding period in order to facilitate liquidity events, such as an IPO.
Hedge funds: A general partner (GP) and limited partner (LP) investment partnership where the GP is the fund manager and invests assets for the LP according to the fund's strategy. Hedge funds are generally considered to be more risky and aggressive than other fund models. Key characteristics include, (i) only open to accredited investors; (ii) wider investment universe; (iii) frequent use of leverage; (iv) "2 and 20" fee structure.
Closed-end funds: Similar to a mutual fund, a closed-end fund is a pooled investment fund with a manager that oversees the portfolio. Closed-end funds typically raise capital via an IPO then trade on an exchange, similar to a stock. Closed-end funds typically focus on a specific industry, geographic market, or sector.
Unit Investment Trusts ("UIT"): An investment company that offers a fixed portfolio, typically of stocks and bonds, that are offered as redeemable units to investors. A UIT is designed to provide capital appreciation and/or dividend income to its investors. UITs employ a buy and hold strategy, while mutual funds may utilize a more active approach to outperform a particular benchmark.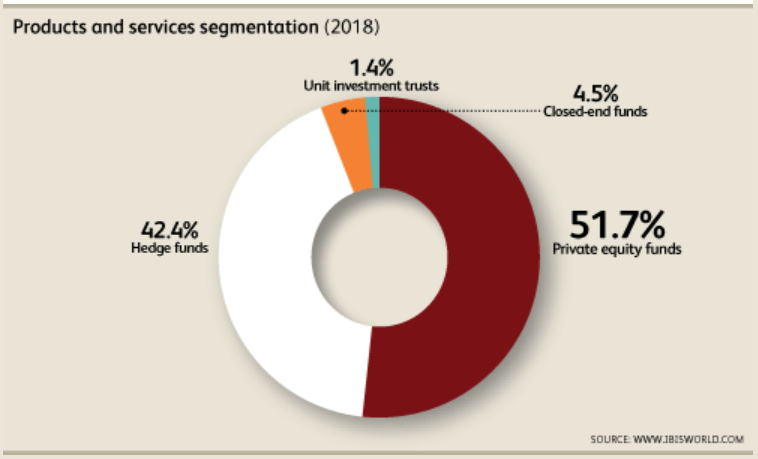 [3]
Similar Industries
The pooling of funds is a general practice to efficiently manage and utilize the funds for its intended purpose. Industries that use similar practices include Health & Welfare Funds, Open-End Investment Funds, Trust & Estates, and Real Estate Investment Trust. All aim to maximize the value/returns for its beneficiaries.
Conclusion
To conclude, the Private Equity, Hedge Fund and Investment Vehicles in the US are a medium to produce excessive returns on assets under management (AUM). This industry typically only accepts qualified investors such as high-net-worth individuals and institutional investors, though this may vary depending on the investment vehicle in question. Private Equity Funds, Hedge Funds, Closed-End Funds, and Unit Investment Funds are currently in a growth cycle and over the past five years the AUM has grown 7.2% annualized to $228.7 billion. This industry creates value for its investors and U.S. businesses by efficiently managing its assets and providing liquidity in the markets.
Dharm Patel contributed to this report.
Sources
[1] Mcneil, Bruce J. "Hedge Funds and Private Equity Funds As Investment Vehicles." Journal of Pension Planning & Compliance, vol. 38, no. 1, Spring 2012, pp. 38–63. EBSCOhost, login.proxy.libraries.rutgers.edu/login?url=http://search.ebscohost.com/login.aspx?direct=true&db=buh&AN=71158974&site=ehost-live.
[2] Gambardella, Anthony. "Private Equity, Hedge Funds & Investment Vehicles In The US. Industry Market Research Reports, Trends, Statistics, Data, Forecasts". Ibisworld.Com, 2018, https://www.ibisworld.com/industry-trends/market-research-reports/finance-insurance/funds-trusts-other-financial-vehicles/private-equity-hedge-funds-investment-vehicles.html. Accessed 2 Dec 2018.
[3] Gambardella, A. (2018). Private Equity, Hedge Funds & Investment Vehicles in the US. IBISWorld Industry Report 52599. Accessed 2 Dec 2018.
[4] Mitchenall, Toby, et al. "PEI's Q3 2018 Fundraising Report." Private Equity International, 17 Oct. 2018, www.privateequityinternational.com/download-peis-q3-fundraising-report-2/.
[5] International, Benchmark. "TOP 10 INDUSTRIES FOR PRIVATE EQUITY INVESTMENT REVEALED." Benchmark International, 22 Aug. 2018, blog.benchmarkcorporate.com/top-10-industries-for-private-equity-investment-revealed.
Latest posts by Corbin Bridge
(see all)