16 Nov

Gas, Health Insurance, Tuition: Personal Expense Growth Inversely Reflects Income Gains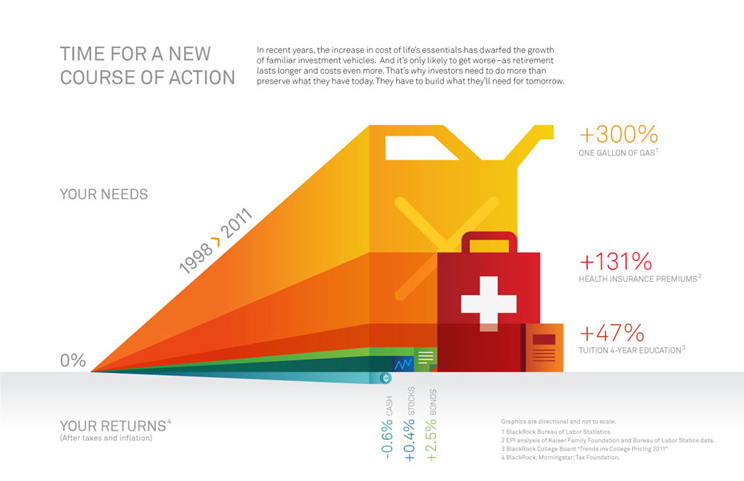 An interesting graphic comes via Blackrock. It outlines trends seen over the last decade + in the price of some of the important expenses in our lives. To many of us, the expenses are not important for any other reason than the fact that we keep a close eye on them as they exponentially increase. Gas, tuition for higher education, and health insurance have grossly outgrown overall inflation, but more importantly and perhaps more alarmingly have risen higher than the mean U.S. income in recent history. As part of the Blackrock sales pitch the chart states:
In recent years, the increase in cost of life's essentials has dwarfed the growth of familiar investment vehicles. And it's only likely to get worse–as retirement lasts longer and costs even more. That's why investors need to do more than preserve what they have today. They have to build what they'll need for tomorrow.
The soon-to-be battled fiscal cliff, the long term demographic shifts in the U.S., the entitlement conundrum and overall public and private debt burdens have many Americans very concerned for the future. Businesses owners in the middle market know what it's like to have concern over managing business assets whose risk is tied to other companies and general market trends. They're also familiar with the finding reward from the risk. In general, entrepreneurs are some of the best managers of risk through diversification and a good "spidey-sense" of being able to predict where things will end up.
Unfortunately, our current situation is much more unpredictable which is only one of the reasons we see so much volatility in the market. The economic uncertainty has caused many business owners to ask some soul-searching questions that come near retirement age in regard to the companies they operate. Among them include the following:
If I sell my company at all, when should I sell?
If I wait to sell, what can I expect from middle market multiples?
Am I secure enough to sell? Will the sale of the company garner enough to justify retiring or should I continue to work?
How can I significantly increase the value of my business before selling so as to maximize my returns?
Is my business the type that could end in a bidding war, giving me a higher-than-market value?
What options will I have after I sell?
The gas, tuition and health insurance graph included above could have volumes written about it, but if you couple it will the following image, it paints a pretty compelling story.


Preparation will be the most important piece in your arsenal for feeling calm about the impending and looming issues which may plague the country for some time. From my experience you can prepare and plan all you want, but when you can't predict it makes the former much more difficult. Whatever you choose to do, especially when it comes time to sell your business, while it may be entirely dependent on your personal situation, will probably be the most important decision you will ever make in your lifetime. So plan and choose wisely.
Image source: http://upload.wikimedia.org/wikipedia/commons/b/b8/US_Median_Income_-_Cumulative_Average_Annual_%25_Change_-_1947_to_2007_-_20th%2C_40th%2C_60th%2C_80th%2C_95th_Percentiles.jpg