11 Feb

Boyne Capital: A Brief #PrivateEquity Group Interview

The following is a brief interview with private equity group Boyne Capital. The views expressed here are solely those of the interviewee.

Can you please provide a brief history of your firm? Its founders? Tell us about your typical deal? Size? Industry? Geographic locale? Can you please provide an example?
Founded in 2006 by Derek A. McDowell, Boyne Capital is a lower middle market private equity firm focused on acquiring businesses in the U.S. and Canada with revenues between $10 million and $100 million. We employ a value oriented investment strategy around opportunistic industry themes and relationship-driven deal sourcing. While Boyne is an industry generalist, the firm has historically followed its thematic approach to sourcing investment opportunities. Once an industry or sector theme is identified, the firm takes a deliberate and focused effort to aggressively source opportunities within the theme over a meaningful period of time.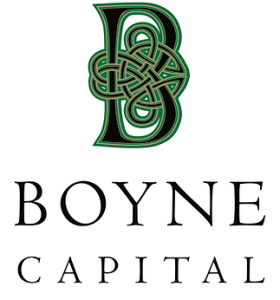 For each investment, our team takes an active operating approach to driving value creation and monitoring performance. Since 2006, we have completed 9 platform acquisitions and 17 add-on acquisitions.
How are your deals typically structured? Are you most often a majority investor or a minority
investor? Do you prefer to keep existing management in place or do you simply take over the existing business with your own management?
Boyne typically acquires a controlling interest in the equity of the companies in which it invests. While the firm prefers to back incumbent executives and management teams, it is not a requirement. We are also open to backing new executives who are industry experts, entrepreneurs, or proven business professionals.
What makes you different than other private equity firms? How does your differentiation make you a better buyer in a crowded market?
Boyne is committed to transparency and alignment with management teams and sellers of businesses. The firm is well-known for its ability to deliver on its promises and its avoidance of "re-trading" tactics. In this manner we seek to engender repeat business and mutual respect with intermediaries, and moreover, desire to be a choice party to review and respond to opportunities early on in a transaction process. Boyne's completed deals consist predominately of opportunities that stemmed from a strong intermediary relationship with either a seller or their representatives. Sellers often come to Boyne before or early in a sale process because they are confident in the firm's ability to close and respectful, straight-forward communication.
Capital is being committed to private equity funds at a rapid rate – almost the fastest rate in history. A tremendous overhang of capital commitments has caused many of our peers to shift strategies to deploy this capital. As private equity firms grow their capital under management, they are unable to efficiently deploy the capital or time on a series of smaller companies. We have observed several of our peers move up market to acquire larger assets or pay more for smaller ones. Boyne has exhibited uncommon dedication to lower-middle market companies, which we define as companies with less than $100 million of revenue.
Our firm is multi-disciplined by design. We have professionals from various fields ranging from corporate law, to private equity, to operations, to finance and accounting. Despite our diversity, we are cohesive. We believe our constituents appreciate and benefit from the multiple areas of expertise encompassed by our team as well as our honest and open communication style.
What do you look for when you are courting target companies? What separates a good company from a great company? What are mistakes you have seen from targets that, if remedied, could make the process smoother for all involved?
Boyne seeks to acquire businesses in partnership with outstanding management teams. An outstanding management team can make a good company great. Conversely, it is difficult for a great company to mask the shortcomings of a marginal management team. To truly drive value creation, Boyne views the people with whom we partner as of paramount importance. Similarly, remedying mistakes also often starts with personnel development. To strengthen our ability to affect changes in this key area, Boyne's principals have built deep industry relationships and business networks over long-tenured careers in management and investing.
Additionally, Boyne is a great partner for entrepreneurs who want to accelerate the growth of their businesses or other business owners and executives who want to diversify their net worth or transition their businesses to the next generation of ownership.
What added value do you bring to the process? How can you further assist sellers in preparing them to be ready for exit?
Boyne professionals are friendly, down-to-earth individuals that have built their careers on strong, reciprocal relationships. As the firm's constituents have come to know Boyne well, Boyne has developed a reputation for non-adversarial communication, honest negotiation, efficient transaction processes, a broad and supportive investor base, and an exceptional track record. Boyne also makes a concerted effort to work with sellers to achieve their goals revolving around, liquidity, retirement timing, acceleration of company growth, sourcing and funding add-on acquisitions, and/or general company strategy.
What is your typical investment horizon? How does your mission and goals for the fund impact your investment decisions and how you treat sellers' businesses both short and long term?
Boyne targets investment period of three to seven years. Boyne's investments typically involve significant co-investment from the limited partners in our funds. Accordingly, Boyne has the added flexibility to determine the correct strategic path for each investment. Boyne does not let our fund objectives prevent the pursuit of the most appropriate or optimal course of action for our portfolio investments.
After the consummation of a transaction, Boyne works actively with portfolio company management to identify internal growth opportunities as well as strategic add-on acquisitions in order to enhance enterprise value. Boyne participates in the development of each portfolio company's strategic plan, which generally focuses on long-term growth and emphasizes strengthening the company's profitability and market position. Through constant and consistent communication with management, Boyne addresses potential opportunities and challenges early and implements practical updates without distracting from the core business or financially paralyzing the company. As it relates to growth, Boyne's hands-on approach and cooperation with management lend toward natural identification of revenue and profit levers. A culture of continuous review, improvement, and planning also helps identify and manipulate these levers with growth in mind.
Tell us about your buy-side process including the time it typically takes from initial engagement, through indication of interest, due diligence and through final close.
Boyne has uncommon agility in transaction processes, which supports its commitment and ability to consummate an acquisition. Boyne does not have a formal investment committee and can efficiently bring senior firm personnel to bear for every transaction. These attributes increase the probability that a transaction will close. Boyne principals are adept at mitigating transaction complexity by spending extra time reviewing an opportunity, resolving complications when possible, and structuring around risk. Moreover, Boyne works to address sellers' needs in a compelling manner early in a transaction, leaving sellers with clear expectations as closing draws near.
Tell us something interesting about your fund, its founders or managers that is typically not widespread knowledge.
Boyne's name comes from the River Boyne, in Ireland, which by lore is said to flow from the fountain of wisdom. We draw from our namesake the inspiration to be ever-constant in our thoughtful approach to investing, operations, and growth. We believe this philosophy has helped us maintain uncommon discipline and garner positive outcomes for our constituents.